Thursday, June 30
Wednesday, June 29
Tuesday, June 28
Monday, June 27
Wimbledon - A Snore-Fest?


adrock2xander is 4 months 28 days without a cigarette.
Profitting BIG TIME through eBay: 186 days left.

Columnist Alan Attwood has written a really funny article on this year's Wimbledon tournament in London for Melbourne's The Age...granted...it's only funny if you've been followin tennis for a good part of a dozen years...i know i do...coz if you dont i suggest you rip ya head off and impale it in the public square for all to see...fuckin losers who dont follow tennis arent worth my bloody time...for the sake of non-Aussie readers...i thought it's worth sharin it with y'all on my blog...



Alan Attwood looks for happy faces in London. Then nods off.


So it has come to this. We're getting into the second week of Wimbledon and I haven't watched a match all the way through. A set of tennis here and there is the best I've managed. Tried to catch a bit the other night and the net fell down on Centre Court. That seemed to sum things up.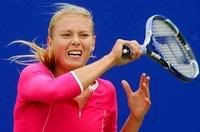 Russia's Maria Sharapova, one of many who aren't exactly forthcoming with the laughs

.
Timing's the problem. Games get going too late. Which is another way of saying I start sagging too early. Once, it didn't bother me. I'd stay up, make a bit of toast or something, and settle in. Bewdy Newk. Go Evonne. Allez Yannick. Now I catch a couple of Sharapova grunts and the sun glinting off her gilt-edged shoes and start wondering about a book I've been meaning to finish and the comfy bed down the other end of the house. The dog, meanwhile, never even lasts until Lateline.

There's another issue, one that will intensify as we head towards the finals next weekend: it's all taken terribly seriously out there on the sun-bleached grass courts of the All England Lawn Tennis and Croquet Club. (Maybe we should watch the croquet for some light relief.) It's not life and death being decided between the baselines - it's more important than that. Hence the groans. The grimaces. The shrieks of despair. The bloodthirsty yells. Listen to the sound only and you'd be forgiven for thinking you've tuned into a porno flick (a grunting girls' match) or Gladiator II (hello, Lleyton).

In dramatic contrast to this late-night viewing from London was the so-called legends footy game the other week. Some of the players were fat. Most fumbled. Few were fast. One still wore his hair long, but much of it had turned grey. Some looked like they were doing everything in slow motion, executing familiar moves at half speed. Yet as I watched a bit of the action (if you can call it that) something surprising happened. I realised I was smiling.

I was smiling because these guys weren't taking the game too seriously. You don't get many laughs in footy these days but these blokes - some of whom have only been out of the big time for a year or two - were having fun. Fun. A rare commodity in top-level sport. If I tried keeping count of players cracking a grin during the Wimbledon fortnight, I doubt I'd reach a dozen. Especially if I kept falling asleep. It's a grim business hitting a ball back and forwards over the net.

Best chance to see some smiles in professional tennis? Mixed doubles. Except if the relentless Martina Navratilova is playing. Madame Martina is still trying to reach Margaret Court's all-time record of 62 titles at Grand Slam tournaments, but she's stuck on 58. Her only realistic chance of adding to that total is in mixed doubles, which few of the top players bother entering. So Martina, 103 at her last birthday (oh all right, she's 48), is still swinging. Still sweating. Still lusting after more silverware for the mantelpiece. Still taking tennis terribly seriously.

Goran (the tennis player, not the TV detective) used to be good for a laugh. But he's gone. Ditto Henri Leconte, the French jester with the sublime backhand. I once saw him playing mixed doubles with Steffi Graf at the French Open. Actually, I couldn't get in to see them. The queue was too long.

Why? Not because they cared about mixed doubles. Nobody apart from Martina cares much about the mixed. People wanted to watch this match because it was Steffi and Henri. A sporting version of a duet between Streisand and Sinatra. Also because they knew there'd be a few laughs, mostly sparked by Henri the roly-poly French jester.

In recent years, Steffi has been ducking out of mixed matches with Mr Steffi, Andre Agassi. He kept promising that he'd get her out there while cameras whirred in ecstasy. Now the joke's on him. Agassi withdrew from Wimbledon because of an injury. So even if Steffi were waiting for him, he wouldn't get out on a mixed doubles court unless he could take a walking-frame with him.

No Andre. No Steffi. No Goran. No Henri. Not much left to smile about. Just a lot of intense looks and grunting as the field is whittled down. For laughs, we'll need to lobby for more legends' footy games. Did you see that goal Derek Kickett kicked over his head? The goal itself was amazing. Never looked like missing. But the real miracle was he could get his leg high enough to kick it. Yet he did. Then lumbered back to his posse with a big grin; one that was shared by his erstwhile opponents.

Meanwhile, on the coaches' bench, normally a place for throbbing veins and soaring blood pressure, they were falling about. Perhaps you've got to be a legend before you allow yourself a laugh. Trouble is, when you hit the legend vintage it can be hard to stay up late.

Sunday, June 26
Saturday, June 25
Thursday, June 23
Wednesday, June 22
Monday, June 20
Sunday, June 19
Friday, June 17
Wednesday, June 15
Tuesday, June 14
Monday, June 13
Friday, June 10
Wednesday, June 8
Tuesday, June 7
Monday, June 6
Sunday, June 5
Saturday, June 4
Friday, June 3
Thursday, June 2
Wednesday, June 1
Subscribe to Posts [Atom]