Monday, October 31
Pubes
Why do people leave their pubes lyin on toilet seats all the time? Why oh why?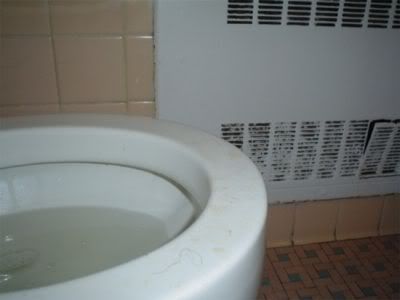 Is this a really depraved attempt at toilet humor? Because if it is...'You got me there Chuckles! Coz it's not funny!'

Or does it have a deeper meanin? Somethin only regular blokes who defy all laws of Nature and choose to go unshaven can possibly fathom... *gasps*

Frankly...the thought of not shavin my pubes just sickens me...ive had a clean manhood for bout 5 years now...after a hard day of work...removin the boxers do not only smell less foul...you know there'll be no traces of thick putrid hair danglin off the cotton fabric...

And besides...when you look at ya shaven manhood through the mirror...you look like a fuckin porn star...hell yeah...rock and roll baby...

But i digress...

Chicks with huge tits or lesbian sex will get a bloke's rocks off...yes that's a given and im full on comprende compadre on that...but how is a pube...all isolated from its parent body...thick and curly and possibly needin a deodorant bath...the object of sexual pleasure? Or is it even that?
Pubes dont just fall off...and if they do...chances of them landin on the ground...where no one will see them is a million times better than a toilet seat...perhaps im just jinxed with bad genital follicle karma...or follicly-challenged blokes who love a good bathroom humor...
Im lost...
Someone enlighten me...
micheLe

Let this Halloween be ya biggest scare-fest with a visit to the freakiest haunted house in Melbourne...i present to you...

*drum roll*

Nah...just my girlfriend micheLe...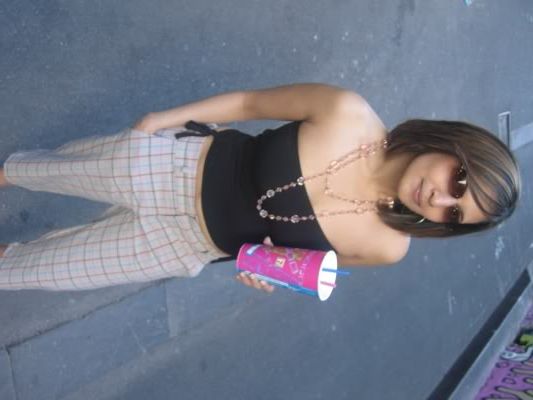 Isnt she just a hottie...potential 7-Eleven Slurpee ambassador?

Happy Halloween everyone...

Drunk - A Sobering Survey
Profitting BIG TIME through eBay: 64 days left.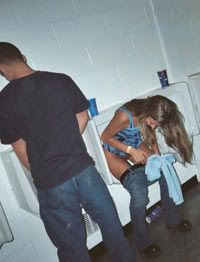 Says in the Melbourne The Age...'Almost 50 per cent of people believe
getting drunk
occasionally is part of being Australian, a survey suggests.'

They forgot to mention that Asians dont speak English.
Friday, October 28
2nd Birthday


Profitting BIG TIME through eBay: 67 days left.

It completely slipped my mind...

Outrageous. Beautiful. Misfit. turned two years old 2 days ago.
In blog years...that's fuckin old...most people start their blogs out of curiosity and never post again...many more take longer than the time it takes an egg to incubate before they post somethin worthwhile...
A check on my profile registers a total of 631 posts over a total of 732 days...that's 0.86 post a day...fuckin awesome...
The blog has travelled places...from humble beginnings in a fascist Asian country (read: Singapore) one early Sunday mornin...to a beautiful Sri Lanka...to Thailand...and now Down Under...Outrageous. Beautiful. Misfit. surely wins the prize of most Exotic Destinations Covered in a non-professional blog over 24 months...
Also...from zero hits a day (i had to call my mates to visit my blog in the early days)...to 150 hits a day with regular readers from countries includin USA, Scotland, England, Chile, Bahrain, Taiwan, Malaysia, New Zealand, Bosnia & Herzigovina...Outrageous. Beautiful. Misfit. is surely the most underated blog to come out of the facist country (read: Singapore) to never win an award...*coughs at Asian Best Blog award*
Then again...this blog was never bout the accolades...the prizes or the recognition...it's bout me...an extension of myself...
Thank you readers for makin my blog worthwhile...you folks make bloggin more interestin...keep the bloggin alive...
Happy Belated Birthday my dear blog :-)

Hope you like the cake...
Thursday, October 27
Bacon & Eggs



It's not everyday you use a popular breakfast dish to describe ya own poo...but when ya poo looks so delicious...it's gota be worth documentin...


Funny ass blog...check it out
here
...
Digweed In Melbourne
Profitting BIG TIME through eBay: 68 days left.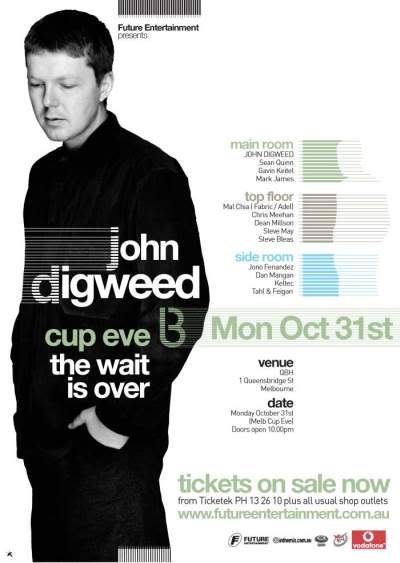 Mass mayhem murder on Monday night...and only one place is gona deliver it...be there at QBH or be a fuckin square...

Fuckin bust some moves...flashy lights and heavy bass...woohoo!

Who's comin with me? :)

Wednesday, October 26
"The O.C and The Gilmore Girls"
Profitting BIG TIME through eBay: 69 days left.
Those are Viet boy Nguyen Tuong Van's favorite television series...
Pity no one in Singapore's gona know...coz not many Singaporeans are aware of the impendin hangin of Viet boy...

While journalists in Melbourne go nuts in Australian newsroom...my mom in Singapore...and very possibly the entire Asian nation...remain blissfully unaware of this hot news...

She had completely no idea what i was talkin bout when i spoke to her yesterday evenin...this is a woman who devours news in all media format...

Nuff said...

It doesnt surprise me...Singapore doesnt have a habit of announcin anythin news worthy...much less death by hangin...uptight government-controlled newspaper...pfft...shove an avocado up ya arse...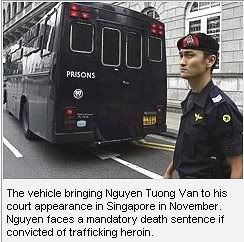 Here's a macabre
post
by journalist Nick Carter on how Mr Nguyen is to die come Friday mornin...i felt a chill in my bones just readin it...i pity the family...

My Nguyen is quite a character indeed...with just days to live...he still wears his
sense of humour
on his sleeve...fuckin respect that mate...

Noone...absolutely noone...is to die by capital punishment regardless of the severity of the crime...a lifetime of imprisonment is punishment enough...Singapore isnt gona win any friends by continuin its strict policy on just about everythin...and i guarantee you Singapore's decision to pursue this 'death-by-hangin' policy will sour the Australian-Singapore relationship...

Mr Nguyen...may God bless you when you die by decapitation...
Monday, October 24
Wow
I handed up my final assignment for the year today...
Feels kinda surreal...
How time flies...a year ago i was an Account Executive in an MNC advertisin company in Singapore...if someone had told me i'd be finished with my first year a year later in Melbourne i'd have smacked him so hard he'll know what it's like to feel the wrath of an angry Asian man...
Haha...
Still feels kinda surreal...what's in store for me now?
Well...with the extended summer holidays...ive succesfully negotiated an office job in the Melbourne CBD...it pays pretty well and that means i can save up for my 3rd year uni fees...i promised you Mom...the money's gona come from my pocket...i'll try to alleviate the family finance in any way i can...if you read this post tell Dad im workin on it :)
That doesnt mean it's all work and no play...summer holidays cannot be complete without a trip to sunny Gold Coast...micheLe and i are headin up there for a week in December...ive got old friends there to visit...and of coz...DREAM WORLD...woopeedoo...
Then there're road trips to NSW and more uni mates action...i cant wait...
Stay tuned...
Viet Boy Gets It Wrong


Profitting BIG TIME through eBay: 71 days left.

So the Vietnamese boy is gona be hanged in Singapore's gallows...what a shame...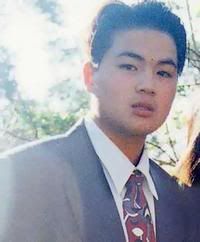 Her mom is
desperate
...makin pleas for clemency through the Australiam PM to Singapore's government...citin poor heart conditions as a reason...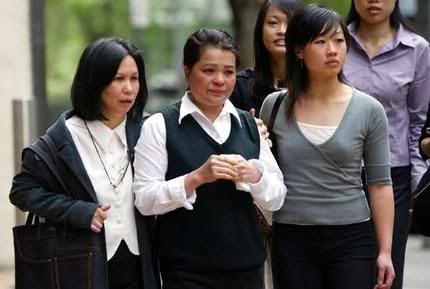 Mate...im from Singapore...leme tell you the grim reality of the state of the Singapore government...consider this:

1) The Singapore government wasted 2 years of my life by investin in a silly ideology that the tiny nation will be attacked by its larger Muslim neighbor in the North...that's not gona change in the near future as long as Malaysia still exists...

With that in mind note Singapore's strict military-based government and the need for all things black and white...

2) The Singapore government also wasted another year of my life for incriminatin me for a juvenile offence that wasn't proportionate to the severity of the crime committed...

With that in mind consider what Mr Nguyen did - traffickin drugs through Singapore...GOOD LUCK YOU VIET BOY...HOPE YOU DIDNT DIE A VIRGIN...

3) The Singapore government still practices anachronistic beliefs that it can shelter its citizens from the harmful ways of the Western world...quite remarkable when you consider Singaporeans are one of the world's most plugged-in and technologically advanced people...

How long can the Singapore government hide this story? Sooner or later the International Amnesty is gona send its top lawyers to grant Viet Boy some relief...

Explain to me again why that moron decided to traffic drugs through the gayest country in the world? What a douchebag...
Friday, October 21
FallinG From The Sky
For Kate Murphy's sake, i'll add a 'G' to my words.

So here we are...dead in the middle of a hot Spring...everyone's decked out in singlets and single layers...and wadya know...it rained cats and dogs today...

So i was in uni...and girls were runninG into Building 6 absolutely drenched...absolutely dazed...and absolutely candidates for a Wet T-Shirt contest...

Their clothes were clinginG onto their bodies...flimsy bras barely holdinG out their boobs that were poppinG out...some werent even wearinG bras...and suffice to say my eyes went to Candyland and back...

It looked somethinG like this:


Thank God for hot days and rain...
Yarra Valley Water Fiasco



Got up this mornin...did the usual...walked to the study room...turned on my laptop...walked to the kitchen and placed a glass under the tap...turned on the tap and...

No water...

Yeah no water...

I raised my half-asleep eyes...rather alarmed...

I went back to the study room and whipped out my water bill...i remember payin Yarra Valley Water several weeks ago...so...no problem there...but just to convince myself everything's fine...i gave them a call...

Guy on the other line was patient...his sense of humor made it more bearable for me...coz i was dyin of thirst...

So...after 2 sprints to the water meter cupboard...friendly banter with the Yarra Water Valley guy...a jog to the front yard...frantic tap-twistings and such...the water was back on...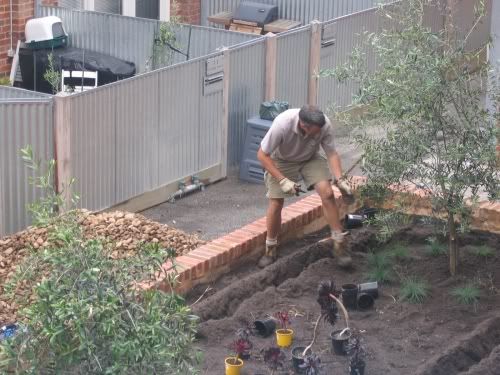 Turns out...some gardeners were plantin in the our front yard and were installin a new set of taps for waterin the plants...conveniently turned off our mains without informin the residents....geezzz...so wadya know we werent the only one complainin at 9 in the mornin...

Boy im thirsty...
More Evidence Of RMIT Communications Ball 2005

Profitting BIG TIME through eBay: 74 days left.

I stumbled upon
Emily's
blog while browsin through the Media students' blogs...Emily is the girlfriend of Frazer...one of Professional Communication's best writers...Frazer had gone around on Ball night takin pictures of everyone...here are some gems...

Her picture descriptions for Frazer's pictures were hilarious...

SLUTS PROBABLY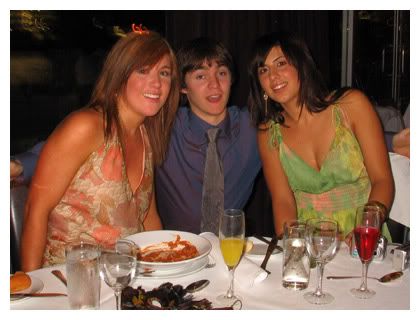 SOME PROF. COMM PEOPLE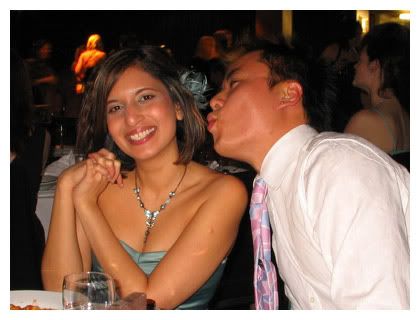 LMFAO...i dont know what to think...Emily's sense of humor...or the fact that Tenille and Adrianna (pretty ladies on left and right of Frazer) are the furthest things from sluts...or micheLe's not even in RMIT...or im not just 'some Prof Comm people'...damnit im adrock2xander...
LOL im goin back to read more funny shit from Emily's blog...
Btw honey you look very pretty in the picture :)
Thursday, October 20
End Of Semester! Hurrah! Not!
Ok enough of lame 'Damn he/she is cute' posts...it's makin me look like a deprived sex-monger...

In spite of popular beliefs...RMIT students are still makin the dreaded trip to uni everyday...the semester may have ended...but diligent students like adrock2xander trudge to school daily with their large school bags and water bottles and lunch boxes to mingle with other like-minded nerds who've decided to finish their assignments or study when everything is due in 48 hours...

I love it...the thrill and adrenaline kick you get when the deadline is loomin...there simply isnt a better substitute for R-U-S-H...marijuana? tobacco? speed? E? That's old school...try the new drug...


Q: WHAT'S BETTER THAN E?
A: MUGGING!
It can get pretty competitive in the computer labs and library i tell ya...at this time of the year...when the pressure's gettin to ya and time is a commodity one can ill afford to lose...the slightest bit of noise or talkin will warrant a barrage of "SHHHHHHHHHHHHHHHHHHHHHHHHHHHHHHH" from ya neighbours...gee they're not really friendly are they?
It gets even worse when you fart in the library...you're hopin the fart wouldnt be loud so no one will be disturbed...and you're also hopin that the fart wouldnt be offendin the ofactory senses of...again...ya neighbours...i tell ya...these neighbours sure are gettin a lot of respect...
Then we have the morons who always forget to turn their mobiles off to silent mode...that's fine with me...but when the ringtone's some lame Euro-techno tune...or worse...Chinese songs in polyphonic format...i ask myself why im in the library in the first place...
Looks like a mighty interestin few days leadin up to next week...
Sophie
Profitting BIG TIME through eBay: 75 days left.
Sophie's surname has been removed for fears of public hecklin or teasin jibes. Then again most should know who im talkin about.
Everytime Sophie of Public Relations walks past me or says "Hi!" to me i just quiver...there's just somethin bout her...
Wednesday, October 19
Cute
Profitting BIG TIME through eBay: 76 days left.
So...
This absolutely spunky-lookin white guy was walkin towards me this arvo...he glanced at me from the corner of his eye...and flashed me a smile...
He caught me lookin at him...and looked away...
Only to look back again...
I grinned at him...
He sure was cute...
Tuesday, October 18
Warm Spring Day


Profitting BIG TIME through eBay: 77 days left.

I cant believe im sayin this...but i cant wait for Summer...i miss the heat...and i miss the warmth...my very first winter was great and exhilaratin...but dressin up in 4 layers of clothes everyday for 6 months is just too depressin...

Before headin to St Kilda this arvo...micheLe and i had some business to do in Yarraville...prancin around Seddon while skippin to the heat of the sun...
i couldnt help but whip out the camera...you know Summer is round the corner when the beautiful flowers are bloomin along the road...along the road lol...a very uncommon side in Asia...
A pink rose the size of my hand! Perhaps larger! Golly...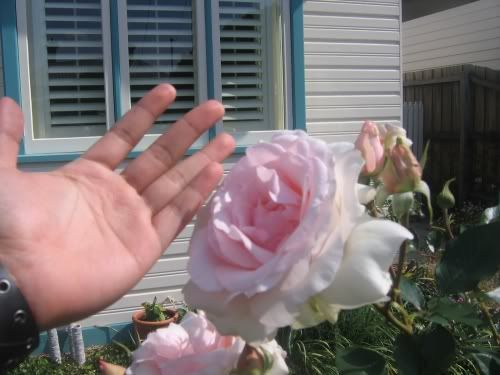 Look at the delicious luscious clouds and bright blue sky...OMG im so happy...i feel like a kid...what with all the gushin and little skippin...Summer is approaching!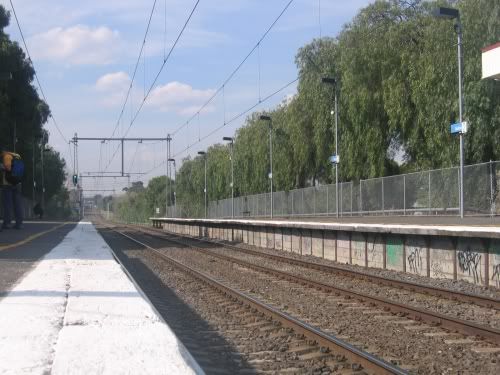 Sun tan here i come...
Saturday, October 15
Image Servers - Nightmare Onto Itself?
Profitting BIG TIME through eBay: 80 days left.
One of the problems of usin a public image server like Photobucket.com is the fact that you're totally reliant on its stability...the moment Photobucket gives in to system maintenance or somethin of the likes...your blog just caves in..
Consider this...ive made very picture-intensive posts in the last 8 days in light of the Communications Ball...as stated in Part One of the post...i knew what i was gettin myself into when i put up 5 or 6 high quality pictures each in the region of 120MB for each post...that's over 600MB for every post! *gasp* It's amazin how much bandwidth im eatin up...if Photobucket's runnin slowly...my blog runs like a tortoise too...
Strangely enough...i was discussin the possibility of usin an alternate image server with micheLe over the weekend...not like she cares lol...she likens my blog as my little obsession...my pet project...but has no wish to get involved...anyway...the possibility of even upgradin to Photobucket Premium is indeed temptin...im currently livin off 3 Photobucket accounts...yeah that's how picture-intensive my blog is...
Come to think of it...it's incredibly ridiculous how im eatin up so much space in the space of 18 months yet be at the whim of some overpaid bureaucrats who couldnt give a rat's ass bout their customers...im better off payin a little sum of money and have more control over my pictures and my bandwidth...
Other free image hostin sites such as Imageshack.us and Putfile.com do offer the flexibility of usin the sites as random 'drop-offs' for ya pictures...but i do not like the idea of sharin my pictures with other people...Photobucket's idea of a password protected individual account is perfect for all those who want privacy and arent in a rush to get that picture out now...if you know what i mean...
Friday, October 14
The Joke's On You!
Thanks Monica.
Happy Birthday! Now make a wish...and blow it out!
Takin A Chance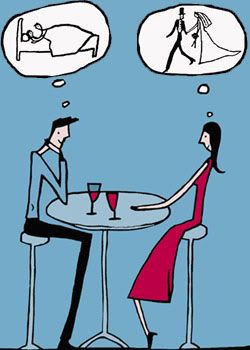 Have you ever been in a position where someone attractive caught ya eye...and he/she found you equally pleasin to the eye too...and since the both of you are in some form of public transport...you're stuck with each other's company...but none of you are forthright enough to walk up to the other half and say somethin cheesy like "Hey i i know this is gona sound really out of line but i find you really attractive and here's my number if you're interested oh by the way im *insert name here*..."

So a game of cat-and-mouse ensue...none of you willing to stare blatantly at The Attractive One...and whenever he/she looks back at you...your eyes divert to somethin less pleasant...like the fat bloke who just came in munchin on 2 cream donuts...

The worst part of this? It goes on for the entire duration of the journey...say...you board the train at Lilydale to Melbourne Central...the 2 of you play 'Eye Tag' for a good 45 minutes...

How tortuous is that? How bloody difficult is it to walk up to The Attractive One and convey ya heart's desire?

For most parts of the semester ive had to endure mind-numblin conversations with my girlfriends Sophie and Samantha...how they'll spot The Attractive One in the train/tram and not have the bloody guts to do somethin bout it...Ahhhhhhhhh....*tears hair out*

Just several days ago...Monica told me how hopelessly in lust she had fallen for a random stranger in the train...the trap was already laid and the bait taken...The Attractive One was commentin how good Monica looked...they exchanged 2 silly sentences on what musical devices they had...and then...silence...Ahhhhhhhh...*starts guzzlin petroleum*

Ok...excuse me ladies...but allow me...

Here we have...3 beautiful ladies...each with their own brand of attractiveness and sexiness...well brought up and articulated...they're white...confident and could hold a decent conversation with just about anyone...

But watch them turn into putty when The Attractive One starts playin mind games with them...

I suppose...at the back of their minds...they're afraid of the repurcussions once contact was made...what could The Attractive One possibly do once you've established the fact that you're *insert current marital status here*? At worst...The Attractive One wont be your lover or Fuck Buddy...but hey you have yourself a very attractive friend! Go nuts partyin in clubs and watch as scores of admirers walk up to The Attractive One proclaimin their undyin love...only to swell with pride as The Attractive One only wants to party with you tonight...coz you're a friend...

Unless of coz The Attractive One wants only one thing tonight...well...that's another story...

Maybe it's just me...but im gregarious by nature...that bloke in the Student Union co-op services?...i know him...owner and his lovely Thai waitresses in the uni cafe? I know them too...the candy man in Victoria Market? Been there done that...

Some people spend their whole lives lookin for their special someone...even more live in fear and self-pity as their marriage has degenerated into a divorce...and even more walk around thinkin they've got everythin as they've a different sex partner in bed every weekend...

Our lives dont last forever...on average...a healthy male in a First World country lives to ripe old age of 74...while a female outlives her male counterpart by 5 years...

80 years! Count that! 80 x 365 days = 29200 days! We spend a third of our lives sleepin...sixth of that in the bathroom...how many days do we have left for other goals in life? It's really not a lot...

Consider myself here...im already 26...i smoked for 9 years...gave it up for 7 months and kinda picked it up again these days...i try not to sleep too much as 24 hours simply isnt enough to even blink these days...apart from a dodgy back, knee and ankles as a result of my soccer and mountain-bikin activities...im a very healthy man...yet...i cant help but think if i could extend my life by another 10 years...

That man in the coffeeshop...he nodded at me as i walked past him...maybe he has somethin interestin to tell me? The old couple who thanked me last week for returnin their wallet...perhaps they've a good story to share with me...The pretty waitress who served me Fish-n-Chips in Lygon...im sure she has a story to tell too...

Everyone of us go about our daily lives without stoppin to think how amazin the world works...each and everyone of us go about our little own activities...if we only stopped and perhaps engaged ourselves in a conversation with the person next to us or the likes...our lives could be so much richer...

So i say...you 3 lovely young women...the next time someone attractive starts playin 'Eye Tag' with ya...think about the myriad of possibilities you could have with a new friendship...

Perhaps he's the owner of STA Travel...and has 2 free tickets to Malibu to get rid of...

You'd never know :)
It's Uruguay
Profitting BIG TIME through eBay: 81 days left.
Australia will
have revenge
on their minds as they host arch-nemesis Uruguay for the final slot of the World Cup Finals...

4 years ago...i was in Singapore as i watched Uruguay come back from a 0-1 defeat in Melbourne to beat the Socceroos 3-0 at home in South America...

4 years on...im now in Australia myself...and it's a case of deja vu as Australia sizes up the enormity of their task...

No doubt bout it...Australia deserves a shoutin chance at qualification...if the Socceroos fail to qualify again this time...the world will never see the talents of ex-Leeds United forwards Harry Kewell and Mark Viduka...it still brings tears to my eyes when i think about their acrimonious departure from my beloved Yorkshire club...

No prizes for guessin which team i'll be shoutin myself hoarse for in November for both legs of the tie...

Wednesday, October 12
My Stomping Ground
Warm and sunny Spring afternoon...

Little La Trobe Street...path i take to RMIT in the mornin...

You can just barely make out the university logo just up ahead...

Good cafes just up the corner...
It's An Afternoon Affair


Profitting BIG TIME through eBay: 83 days left.

You folks wana know where our annual student union fees are goin to? Yes...the same compulsory student fees that has people congregatin on public roads and the cause of heated debates within the Government...

This is the reason why we're still payin A$2 for a crappy slice of pizza in the RMIT cafeteria: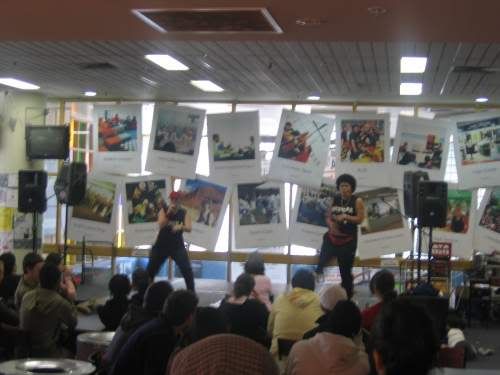 2 fat chicks with hairy underarms lip synchin to some amateur rap...noise pollution has never had it better...

Some nifty B-Boys took centerstage at the cafeteria...traffic came to a standstill...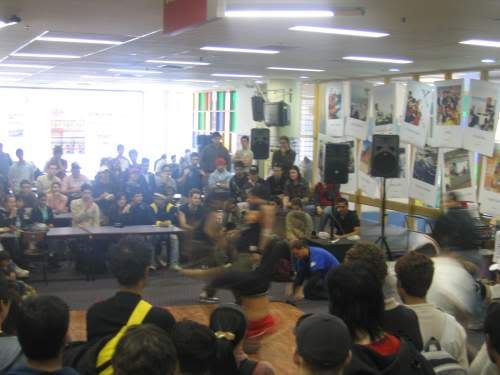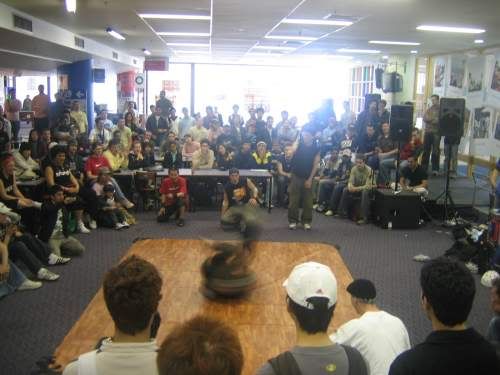 Look Howard...i geddit...inflated International Student fees to enjoy a better lifestyle, weather, English-speakin folks and education?...no worries...A$400 a year for union fees? No worries...money spent on stupid tepid cafeteria affairs? I THINK NOT...

How bout gettin Mr Nelson to lower the cost of the cafeteria food? And hand in ya resignation letter while ya at it?
Monday, October 10
The Trials & Tribulations of...a Relationship?
Profitting BIG TIME through eBay: 85 days left.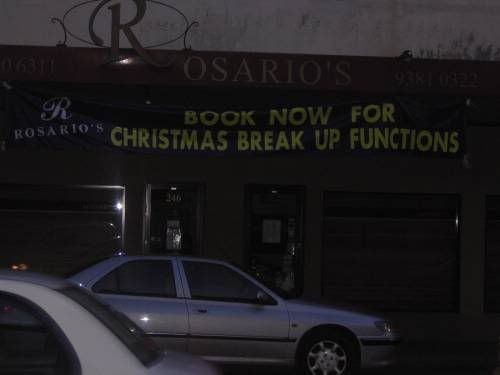 First...we had Speed Dating...all the rage in the late 90s and early 2000s...actually...it's still kinda popular with the Single and Desperate...

We must be gettin old...as all things Speedy have morphed into its ugly cousin...latest incarnation comes in the form of a Speedy Break Up in X'mas...conveniently located along Sydney Road...

This is wonderful...the perfect place to break your other half's heart...and there's a legitimate reason for it too! They'd never see it comin! Seasons Greetin indeed!
Sunday, October 9
RMIT Communications Ball 2005 Part Five


The party moves to St Kilda...where the entire entourage is shipped in Party Buses...

I like the idea of Party Buses...they're really what they're described as...picture a bus with flashin strobes of lights...loud blarin music and lots of space to stand and dance on...it's quite a sight when it zooms past long stretches of roads with people people gawkin...

You cant have a party and not have Prof Comm's bronzed-football-player-wanabe Giuseppe Matt...there's just somethin bout him..."It's his eyes!" all the girls reiterate...Ok ok i get it! Girls cant seem to get enough of him...guys like his infectious enthusiasm...in fact...i felt like a poor cousin next to him...inferior even...so i decided to mask out my face...the spotlight's on you Giuseppe Matt!



And then i saw her...Nicola! You cant not have a ball without the lovely Nicola...she looked beautiful with her mink (?) coat and sheer dress...her boyfriend Sam's a riot...and kinda drunk...if he's not tryin to kiss me...he's mixin drinks taken out of his bag...so why're we payin $70 again?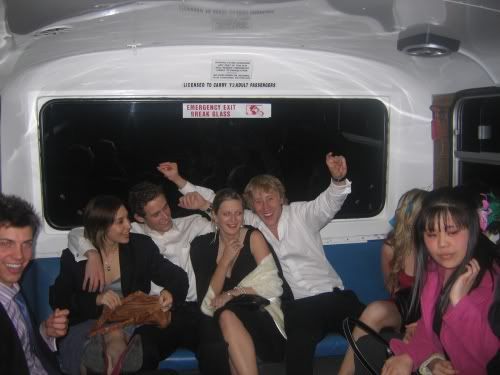 It's hard to dance with everyone standin...some of my furry friends decide a sittin posture would aid in their bowel movements...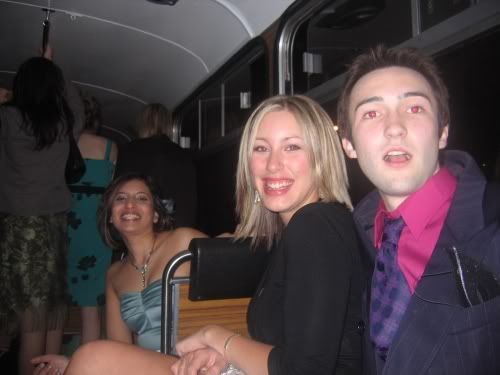 Huntin for Nicola is hard work...so why not frame a picture of her for posterity with the smoke effects? Very cool huh...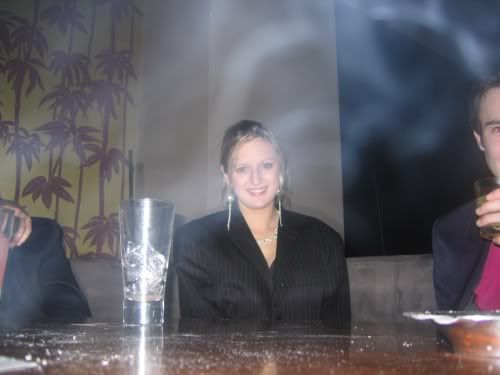 Unfortunately...the afterparty in St Kilda was a freakin disaster...majority of the crowd left within 20 minutes...the music was terrible...the public toilets a mess...and the drinks...well...they're overpriced...where's Sam and his free drinks when we need him? Alana and Joe decide to chain smoke the night away...

How dull...and what a bummer...a great start to the night...endin on a whimper...was good while it lasted...and hey...i dont mind doin it again next year...but this time i'll be headin to another club along St Kilda...where the music is great and the crowd is hot...

I would know...coz that's where i went...

But that's another story for another time...
RMIT Communications Ball 2005 Part Four


Our intrepid storyteller is thrown in the moshpit...musky scents and sweaty bodies...what illicit secrets will these pictures reveal next?

The DJ had come one just past the hour...no offence Mr DJ...but where i come from...a DJ equates to intense mixing skills with flamboyant people skills...the stuff you're spinnin tonight...is just fuckin lame...playin Top 40 hits at 110 decibels? A llama could do it better...

Bust some moves people...cmon...show me your lame R&B skillz and memorised lyrics...*gags* How can anyone dance to R&B? Golly...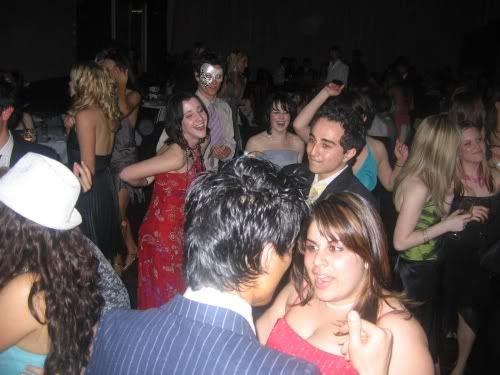 But hey...all in the name of F-U-N...so i thought i'll get wacky myself...i sized up my chances with Tenille and Maryanne...i must say...they're absolutely stunning tonight...if only they came to uni lookin like this everyday lol...

Then again...standin this close to Maryanne...i wonder if the overpowerin stench is comin from her...hey Maryanne are you absolutely sure you've showered?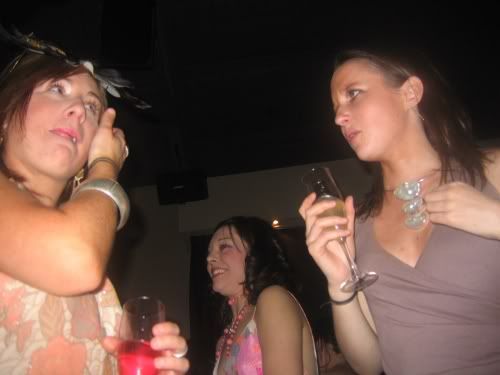 Of coz...you cant mention them 2 and not mention Adrianna - hair extensions and all - in the same breath...hallelujah to her too...just...damn...fine lookin...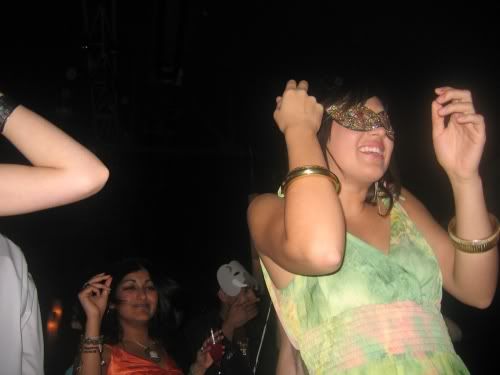 Woah! There goes our very own Latina Heat Catalina...she's got some fancy dance moves...no doubt her weekly dance lessons are payin off...shake that booty of yours girlfriend!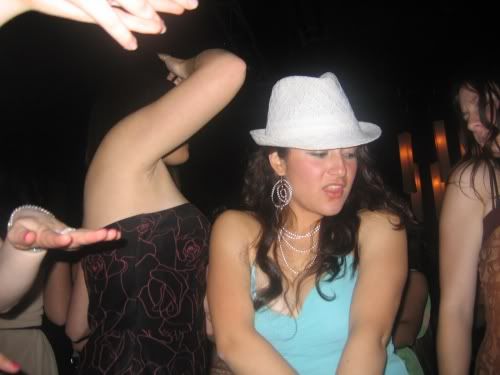 There was a Best Mask Contest...i fancied my chances...afterall i did cheat and buy the mask...check out Robin 2005...where's Batman when you need him?


It didnt matter if i'd given birth to the mask anyway...as the contest turned out to be a popularity contest...a bloke dressed in a shockin Child Molester outfit won the contest...along with an iPod...


Fuckin Child Molester...
Saturday, October 8
RMIT Communications Ball 2005 Part Three


Armed with only his camera...adrock2xander continues to traverse the dangerous and unknown terrain of heavy makeup, scented skin and glitterin jewelry...what will he expose this time round?

The reception closely resembles a ghost town...the reception lady (damn what's her name? Im really bad with names) fancies a date tonight with her phone sex buddy...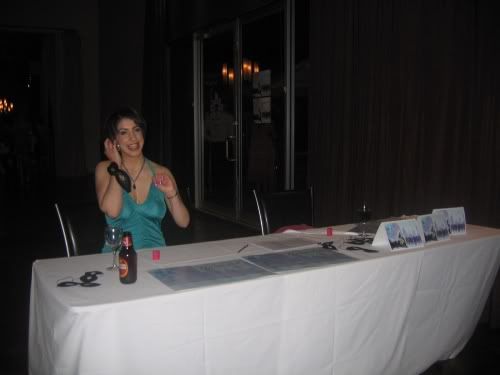 It's really quite a crowd indeed...i can just smell the sex in the air...cmon...surely no one wana go home touchin themselves to sleep when everyone's dressed to impress? I know i didnt *winks*


The live band was a pleasant surprise...perhaps that's where my $70 was goin...some talent...cant say the same for the bloke on the left...he's busy checkin out the chicks i reckon...Question again: Where IS Nicola?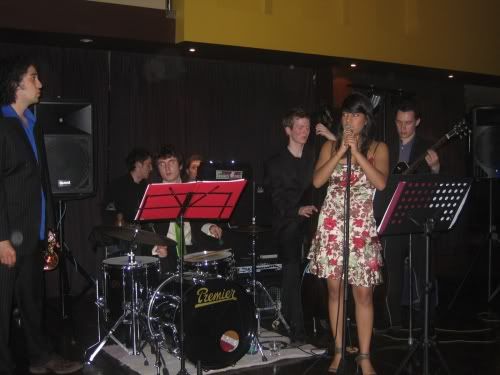 Ahhh...there's Fraser again...with his partner-in-crime Emily at his behest...i wonder what fancy article Fraser is concoctin this time...Carlton Draught ambassadors anyone?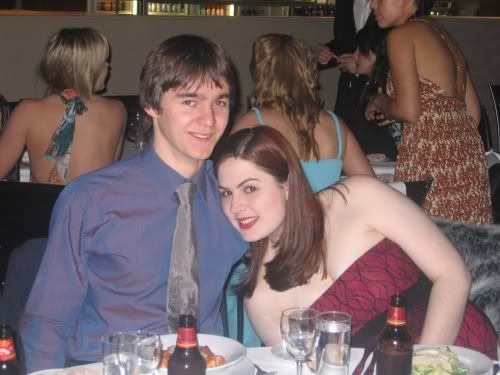 Jolly Stuart from Journalism never fails to crack me up...an absolute scream you are Stu...i'd caught him whisperin sweet nothings to Sophie...busted!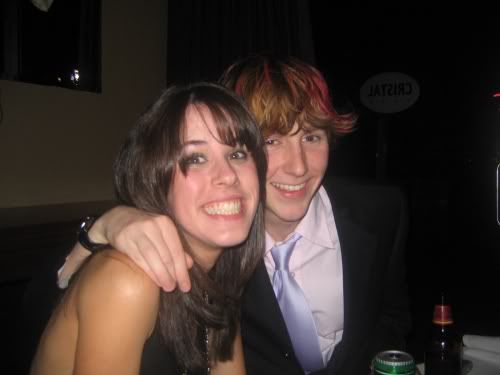 Utterly and completely shameless Sophie is...takin a self-portrait...pfft...hey she shaves her armpits!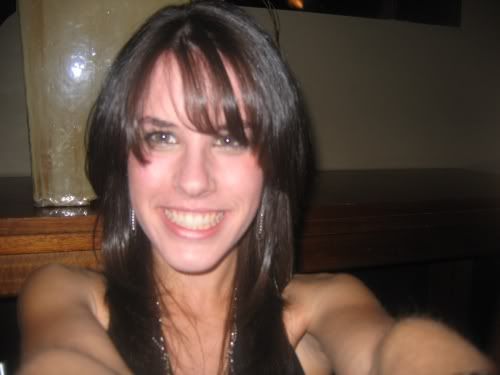 RMIT Communications Ball 2005 Part Two
In Part Two the action takes place away from adrock2xander's table as he goes in search of more interestin insights on the push-up bras, short skirts and heaps of pashing (Aussie slang for kissin)...but before he does...

Damn ive put on weight! Winter truly is over...there's really no need for the fat now...look at my puffy cheeks...gota lose that weight... 'Psycho' anyone?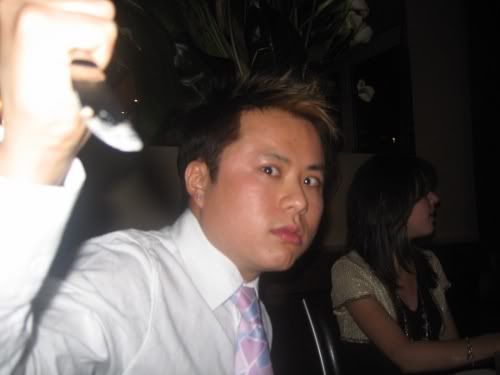 Joe doesnt seem to agree...what with his very effeminate remonstrations...Batman couldnt have looked any better...


The 'High Cats of Blonde Fashion' were sittin across the room...so i slid over for some exclusive shots of Prof Comm's very own Rodeo Drive...the 'High Cats of Blonde Fashion' are more often than not talkin bout fashion...lookin the part...and well...just glammin it up at every moment...

That's our bartender-cum-Lecture Dozer Clare...she's gettin all excited bout the prospect of being served drinks for once...while her current beau Hugh doesnt look too pleased...maybe it's the gnocchi...Liv didnt need any assistance in the blokes department...with a dress like that...they'll be linin up to cop a feel all day everyday...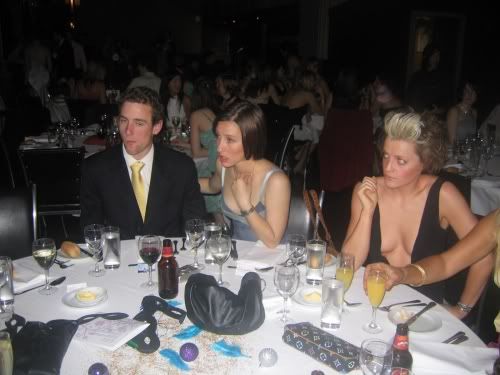 Then we've the sweet and job-swappin Felicity...all bronzed up for the occassion...i had to take a picture of her...Liv and 2 unidentified blokes (sorry guys!) decided to cop a feel join in the picture...Question: Has anyone seen Nicola yet? Why isnt she in the shots?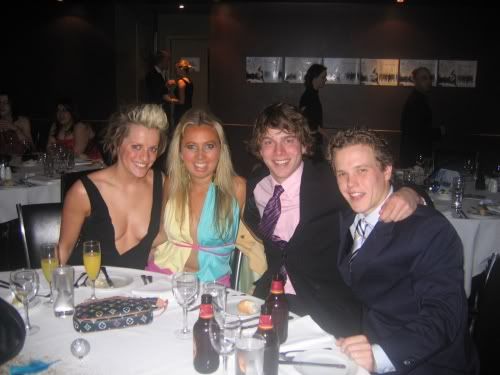 That's the willowy Siobhan...i reckon on a good day she's taller than i am (im 5'11" or 180cm)...it must have been a bad day for me...coz she chose to wear heels...and i was dwarfed by her...

*in-joke between the two of us...stay away from me Siobhan! Hair lice!*
Siobhan: "Hey Auskar what do you reckon? Head & Shoulders or Tresemme shampoo?"
Auskar: "Thank God ya sittin down...coz i hate talkin to women's chests..."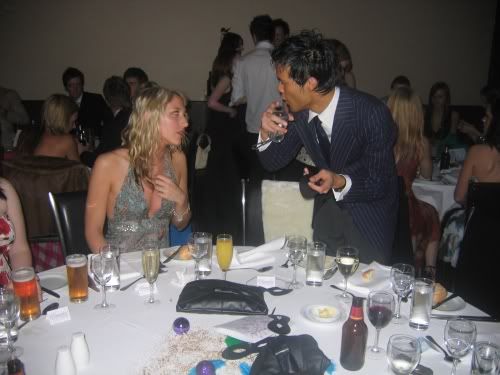 Aidan and Lauren deserve special mention for their matchin outfits...paintin the town red (pardon the pun) guys?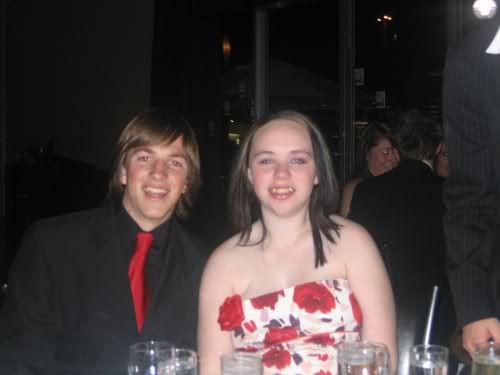 Friday, October 7
RMIT Communications Ball 2005 Part One


Ive gone out to make the pictures as clear as possible...sacrificin bandwidth and a slower picture upload...surely we dont wana have pixelated faces now do we?! In light of that and to minimise a laggy blog...ive broken up the post into several parts. This is the first.

The 5 arms of the Communications (Advertising, Professional Communication, Media, Public Relations and Journalism) school have gotten together last night for good food (not!)...party (yes!) and checkin out ya best mates in evenin attire (uhuh)...with 2 weeks of the semester left...our uni workload was goin through the roof...so that probably explains why many werent willin to fork out A$70 for the gala night...

Nonetheless...the 180 odd party-goers werent gona let some crappy uni work and seriously overpriced tickets affect our enthusiasm...us blokes...we pay 70 dollars to get our hands on the female booties!


Nah...that's just micheLe and i...i'll get thrown out of my apartment in my boxer shorts if i do anythin as risque as that!

Know what's the best thing bout a ball?...for 70 bucks...we get crappy gnocchi...and that's the entree...main course and dessert? Gee i dont even remember eatin that...why are we payin $70 for this?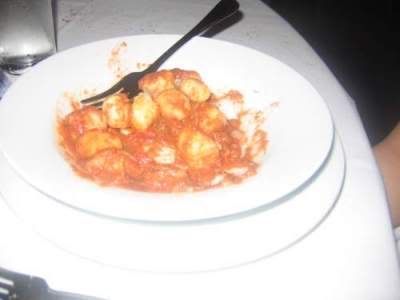 ...free booze...and my female classmates who morph into beauties overnight! Class Award for Best Looking Girls for the night - Tenille, Adrianna and Maryanne...and wadya know...the pretty lasses were seated at our table...


This being a fancy masquerade...i brought in a Phantom-of-the-Opera-ish mask as part of my look...does anyone like my new hairdo? I reckon pink/red still looks best on me...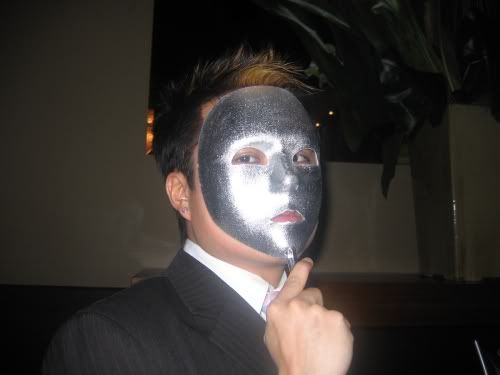 Also seated at our table were the my motley crew...Sophie looked pretty in her Zimmerman dress and *gasps* straight hair...Joe you're just charmin in ya dapper-ish suit...and our resident rock chick Alana stunned all of us with a rousing rendition of Black Dress and Heels...that bloke in the mask...i dont know who he is..some moron...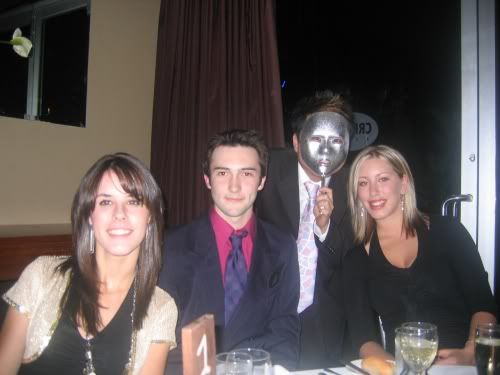 I am the luckiest man in the world! My harem of women waitin on my hand and feet...hear me roar!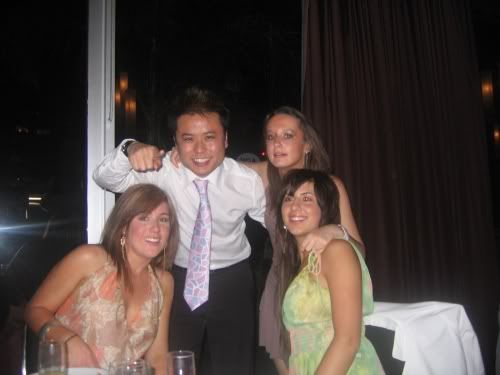 Fraser...one of Prof. Comm's best writer (imho)...swung by from another table...and we played up the silliness...God i feel young...gota pinch myself...these are 18yo im foolin around with...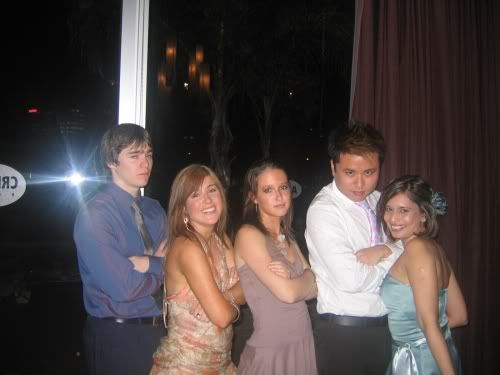 Subscribe to Posts [Atom]