Monday, October 31
Pubes
Why do people leave their pubes lyin on toilet seats all the time? Why oh why?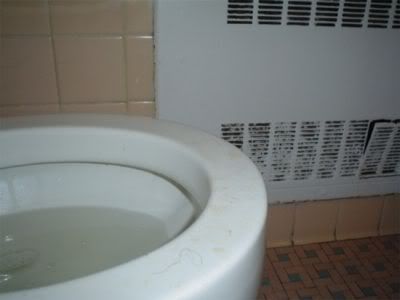 Is this a really depraved attempt at toilet humor? Because if it is...'You got me there Chuckles! Coz it's not funny!'

Or does it have a deeper meanin? Somethin only regular blokes who defy all laws of Nature and choose to go unshaven can possibly fathom... *gasps*

Frankly...the thought of not shavin my pubes just sickens me...ive had a clean manhood for bout 5 years now...after a hard day of work...removin the boxers do not only smell less foul...you know there'll be no traces of thick putrid hair danglin off the cotton fabric...

And besides...when you look at ya shaven manhood through the mirror...you look like a fuckin porn star...hell yeah...rock and roll baby...

But i digress...

Chicks with huge tits or lesbian sex will get a bloke's rocks off...yes that's a given and im full on comprende compadre on that...but how is a pube...all isolated from its parent body...thick and curly and possibly needin a deodorant bath...the object of sexual pleasure? Or is it even that?
Pubes dont just fall off...and if they do...chances of them landin on the ground...where no one will see them is a million times better than a toilet seat...perhaps im just jinxed with bad genital follicle karma...or follicly-challenged blokes who love a good bathroom humor...
Im lost...
Someone enlighten me...
Subscribe to Posts [Atom]