Saturday, April 30
Watchin a rerun on Australia Channel 9


adrock2xander is 3 months without a cigarette.

"I've never fired a gun before"

- American actress Annette Benning, as Carolyn Burnam in the Oscar-winnin
American Beauty
...

An American claimin she's never fired a gun before...

Now THAT...is funny...
Friday, April 29
Anti-VSU rallies in Melbourne
adrock2xander is 2 months 30 days without a cigarette.
Excerpts from the
public demonstration in Melbourne
yesterday...

For those not in the know...students across Australia are campaignin against the Voluntary Student Union (VSU) that's drawn up by Prime Minister John Howard...he's obviously had too much marijuana...as he insists that students will no longer pay a compulsory Student Union fee...thus rippin the heart and soul of a university - the unions...without em...us students no longer have access to sports and social facilities...single mothers would not be able to deposit their little babies at Union-funded child care centers before headin to classes...we have no avenues to turn to when legal services are needed...or when we just had a fuckin bad week and student counsellors are nowhere to be found...you get the picture...

RMIT students met up in the campus...where we were treated to a barrage of enthusiastic 'Fuck Howard' speeches...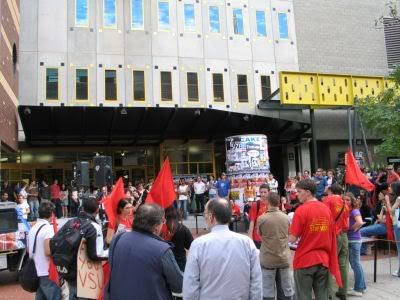 I must say...it was such a wonderful feelin to be surrounded by people who believe in a cause and are vocal bout it...im VERY tempted to turn this harmless post into an anti-Singapore middle finger...but that's another story...

The RMIT students marched down to the Victoria State Library which was conveniently just next door...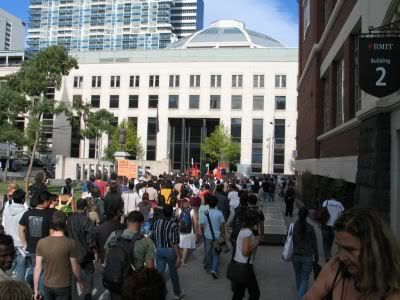 There must have been around 500 RMIT student protestors...we were met up with a further 1000 student protestors from Melbourne University...and about 2000 from the various universities in Melbourne city...includin Deakin...Swinburne...La Trobe and Monash...i heard several hundred protestors from Deakin University broke through a police barricade just to meet up with all of us...OMG...such fanaticism...you go Deakinians!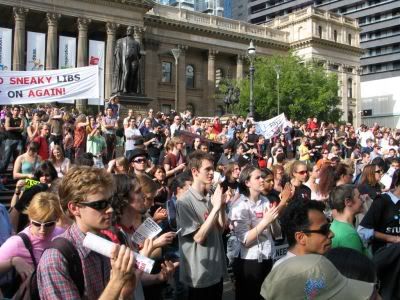 Cops were on hand to fight off violent protestors...yeah...many were on horses...what is this...medieval times? Someone give em a lance and shield while i give
William Wallace
a phonecall...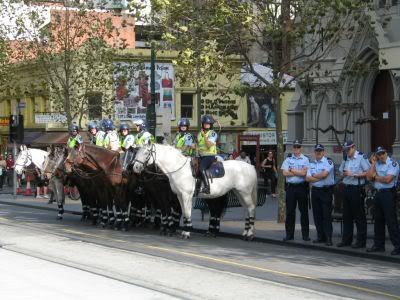 The entire contingent in Melbourne represents protestors in the state of Victoria...in other states...particularly New South Wales...5000 students in Sydney are doin the same thing...chantin anti-VSU slurs and cursin at John Howard...




The commotion kinda got to everyone in the city...hell even one of the horses wanted VSU out...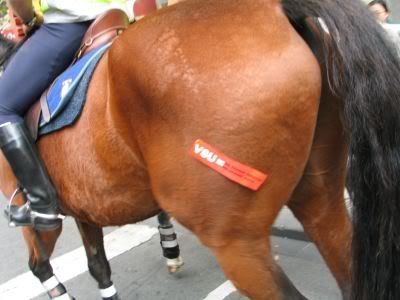 The contingent stretched across 3 city blocks...causin an enormous jam in the city...traffic came to a standstill and amused tourists and Melburnians stopped to take pictures...some anti-Howard blokes joined the rapidly swellin numbers...we marched down Swanston Street...




To the quieter end of busy Bourke Street...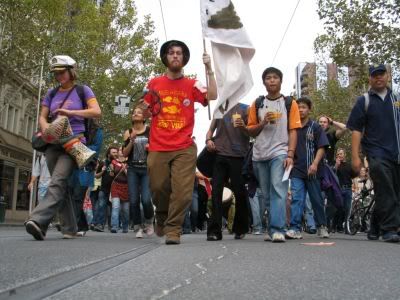 To Spring Street...where the Treasury Building stood...here...a handful of Liberals (read: John Howard cock suckers...YEAH THAT'S RIGHT YOU COCK SUCKERS!!) staged a counter rally...resultin in a heated exchange...'Fuck you' and various parts of a human anatomy were flyin around...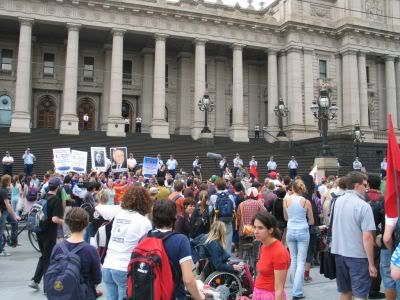 Good thing cops were around...i was perched on the stairs of the Treasury Buildin...attemptin to take a better shot...when a cop shouted firmly at me to 'Get off the stairs!'...i didnt want trouble...so i meekly obliged...

These cock suckers must have it bad at home...whatever would compel them to be pro-Howard...do they want to see more Australian troops being sent to Iraq? Higher taxes? Adjustments of the Australian Medicare Fund? More fuckin lies? God...are they all fuckin gay!*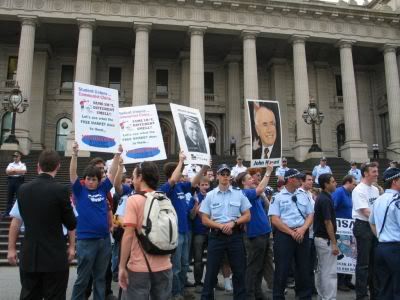 *No offence...i love gays...but you know what i mean...

Thursday, April 28
Message from the Vice-Chancellor regarding Voluntary Student Unionism
adrock2xander is 2 months 29 days without a cigarette.

Dear Students and Colleagues

RMIT has provided long standing support for the RMIT Union and Student Union Council. RMIT University Council has also expressed its opposition to the Voluntary Student Unionism proposals of the Federal government on more than one occasion.

RMIT does not have compulsory Student Union membership, however the University does collect a fee from students to ensure the ongoing activities and services of the RMIT Union and the RMIT Student Union. This fee is distributed to a number of different areas that enhance the overall experience of our students while studying at RMIT.

Fees collected are used to provide academic support, health and welfare services, student leadership programs, cultural, social and recreational programs, sporting facilities, scholarships and grants, student publications, SYNFM (Student Radio), RMITV, indigenous and international activities, childcare and equity programs.

This year's National Day of Action on April 28, organised by various student bodies across the country, will focus on the proposed VSU legislation. On this day a number of students may choose to attend activities, commencing with an RMIT get together at 1pm in Bowen St., followed by a rally at 2pm in front of the State Library.

These activities are aimed at highlighting the important role the RMIT Union and Student Union play in life on our campuses. I support these students in their efforts and would encourage my colleagues to do the same, by ensuring that students are not disadvantaged by their attendance at these activities on the day.

It is important that the wider community be made aware of the detrimental impact of this proposed legislation on education, on the student experience and on the community.

Professor Margaret Gardner
Vice-Chancellor
RMIT University
GPO Box 2476V
Melbourne 3001
Australia
------------------------------------------------------------------------------------------------
Im headin to my first rally right now...gona be fuckin protestin against John Howard's stupidity...stay tuned to this post...
Hope i dont get arrested ...
Wednesday, April 27
Black women cant sing
adrock2xander is 2 months 28 days without a cigarette.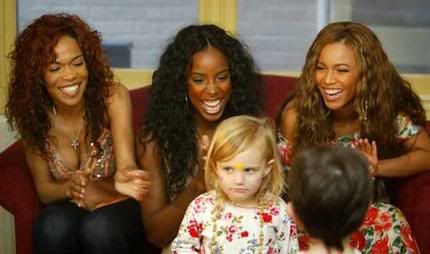 RnB outfits Destiny's Child briefly gained a new member yesterday...and *gasps* she aint a nigger!

The group's in Melbourne for a visit as part of McDonald's sponsorship of a world tour...and in a visit to the Royal Children's Hospital they were briefly upstaged by a 2yo Willow Small...who just had her kidney removed...

The poor girl...clearly not knowin she's being surounded by a group of women whose family members pimp women...do drugs...get arrested in streets and queue up for food coupons...was in a world of her own as she sang nursery rhymes and spent bout an hour with the women...

Can someone please tell the Destinies that the real star is really just Beyonce Knowles? Who gives a flyin fuck bout Kelly Rowland and Michelle Williams...cmon the genuine Michelle Williams is the star of Dawson's Creek...an all-American WHITE show! Not a black chick!
And that picture above...omg...all of them look the same...
Tuesday, April 26
Out with the old...in with the blonde
Seems like bosom blondes really dont get along sometimes...




Accordin to CNN...sultry Paris and fugly Jewbag Nicole
aint best buds
no more...

"Nicole knows what she did, and that's all I'm ever going to say about it." quips Paris...

Wow...i wonder what Nicole did...wait...did her ex-boyfriend start sellin tapes of them havin sex too? Aww cmon...surely we dont want another Nicolegate incident...i meant...one hot blonde was enough...two's just urge overkill...

And who's replacin Nicole as Paris's best friend in the next Simple Life? Wayda know...a daughter of another musician...Rod Steward...

I can so hear Rod's song in my head now...

'Some guys have all the luck..."
Stand Alone Complex
Anime isnt one of my prefferred interests...but with its cross-over themes and similarities to Marvel comics and science-fiction games...i find myself watchin anime with subdued affection on some days...

Im currently watchin
Ghost in the Shell: Stand Alone Complex
...fans of anime will no doubt remember the original movie that shook the entire anime universe...it was so ahead of its time...and although i saw the movie bout 7 years ago...i still vaguely remember the storyline...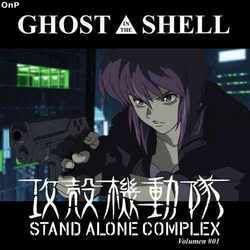 The series kinda expands on the movie's concepts...a special task force consistin of humans and genetically-enhanced cyborgs are assigned to protect a world where cyber crimes and criminal espionage is rampant...each member of the task force has a useful skill that's brought up in each episode...the brilliance of the advanced weaponry and intellectual storyline makes for fascinatin viewin...im totally hooked...
Wrong Game
adrock2xander is 2 months 27 days without a cigarette.
This is only funny if ya into soccer and soccer games on PC...

I know my buddies back home will laugh so hard if they read this...so hey guys...excuse me...but this wont make me less of a friend ya? :O

Ive just bought a soccer game at A$89.90...brought it home...eager to play...only to realise...to my dismay...that ive bought the wrong game altogether...im so fuckin stupid...

-------------------------------------------------------------------------------------
adrock2xander's Art of Survival #80 - Always ensure the game is the RIGHT one before commitin a large sum of money to it...and did i already mention to ensure the RIGHT game is bought?
-------------------------------------------------------------------------------------

Game to buy:



Game i bought: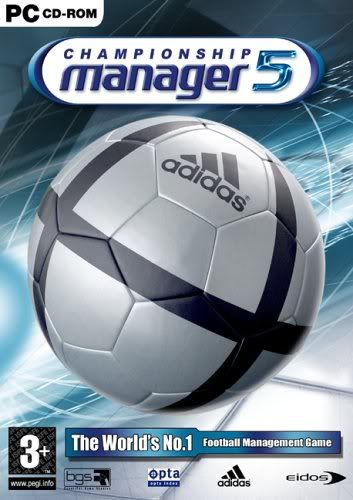 No fret though...the shop does practice a 7-Day refund policy...thank God...A$90 down the drain would be quite a bummer...
Monday, April 25
Attack of the Chilean Intern



Ive been wantin to do this for so long...but i never seem to remember it...good thing i remember it now...

Been in touch with Stefanie since she left Singapore late
last year
...she's been sendin me heaps of pictures of South America and has finally moved in with her boyfriend Miguel in Santiago...and she's been travellin...some pics from Lima, Peru...one word: Byoo-tee-foo!!

Stefa and Miguel lookin like the intrepid travellers they are: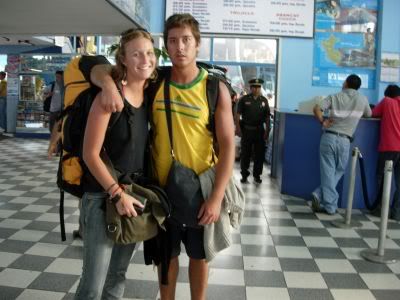 Picnic at the beach:




Golly...the view from the pool: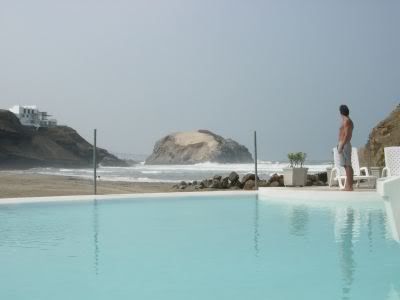 That's a really orange sunset: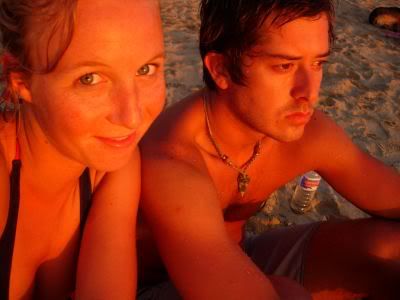 Palm trees drapin over their heads: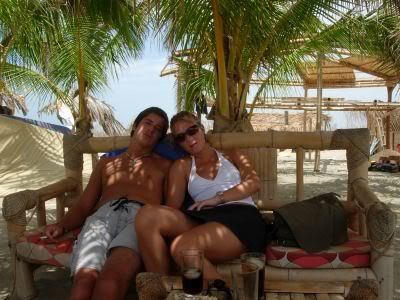 She's been dog-sittin this pitbull for quite awhile...and ehm Stefa...you may wana change those bed sheets...they look awfully tacky: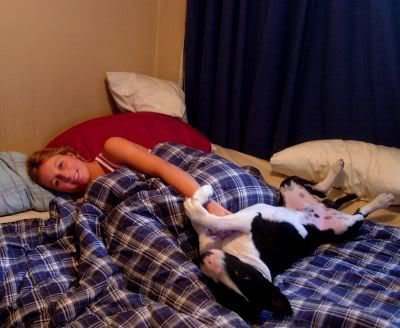 Miss you heaps Stefa...keep sendin those beautiful pictures...
My work area...
...crikeys what a mess...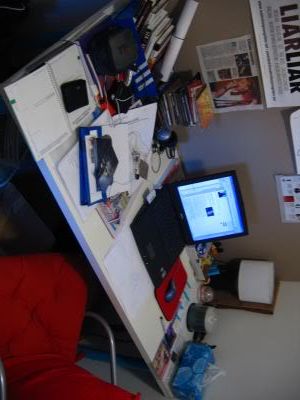 Just to the top of the picture is a Liar Liar poster...universities across Australia came up with this hilarious parody of Jim Carrey's movie...students in Melbourne are protestin against Prime Minister John Howard's decision to abolish student union fees...try and make out what it says...the issues are serious...yet we...the students found a humorous side to it...funny ass shit...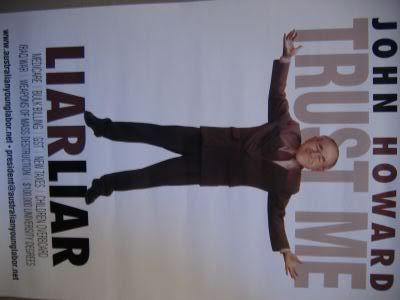 There'll be a public protest outside the Victorian State Library this Wednesday...you bet ya last dollar i'll be there...too blog-worthy to miss out...and yes...hailin from Communist Singapore...where protestors are put to death (or somethin along the lines of it)...it'll be my first time...golly im gona lose my Protest Virginity...
A weekend in the country
adrock2xander is 2 months 26 days without a cigarette.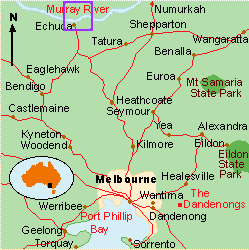 The northerly town straddles the states of Victoria and New South Wales...Echuca is a pleasant 3 hours' drive from Melbourne...



I'd just returned to Melbourne from a 2 nights' stay in the country town of
Echuca
...once one of Victoria's busiest inland ports...the sleepy town of 13,000 is ideal for your weekend getaway if ya into lazy lunches and relaxin strolls...the curiously quaint (well...if ya from the big city like most of us out there) town does have a lot to offer though...one just needs a 'lil luck and lotsa 'scratchin-the-surface'...the town surprised me on so many occassions...and somewhere along the way i learnt something bout myself...but more on that in a later post...trust me all of you would wana read this post...
Time to unpack and do my laundry! And somethin that i havnt had for awhile - beauty sleep!
Thursday, April 21
Some Blogs Are Better Than Others



One of the web's most infamous sites has been closed down...durin its tenure...James Stanford (if that's even his name) has ruffled the feathers of countless Americans...noone was safe...im absolutely...positively sure that if i were American...i would have been in his line of fire...
I can only speculate and guess why one of the funniest and abusive sites is shut down...chances are James took on more than he could muster...and some hot shot lawyer in New York decided to sue him...there're only so many fugly Jew-bags James could poke fun at...
Now that this blog is gone...we'll noone to laugh at or laugh with...

We'll miss you...
The Misfit is famous!
adrock2xander is 2 months 22 days without a cigarette.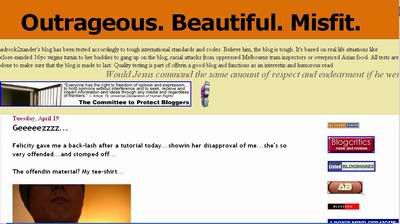 My blog is covered by Moses Francis of
AwesomeBlogs.com
...the graphic designer tracks down blogs across the net that appeal to him...the site is so very new...and it's funny how he found me...since he's so far from Melbourne...the graphic designer also interviews me...check it out...
To Moses:
Hey mate thanks heaps for that 'publicity stunt'...props to you...
Wednesday, April 20
New Pope is a fuckin Nazi with a breakfast name...


Damn it! Just when i had hoped the new Pope would be a black man...along came another white trash who's an ultra right-wing...i pity all Catholic gays and pro-abortion lobbyists...with this bloke in town...the world as we know it...aint gona change...gays will still be repressed and misunderstood...innocent babies that dont belong to this world will be put up for adoption...

Pope Benedict XVI? You've gota be kiddin...how many cardinals' cocks did he suck before he was elected? Them bloody cardinals..they dont know how to read resumes these days do they?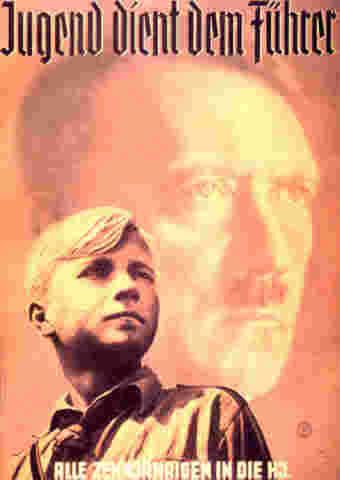 This 78yo octogenarian has served in the Hitler Youth and has helped out in a Nazi anti-aircraft unit...this fucker has killed Allied soldiers and he's the Pope? I spent 2 wasted years in the barren-ness of the Singapore Armed Forces...ive not killed a soul and im a peace lovin dude...does that mean i get to be the President of the United States? Great!

And Benedict...what's with the breakfast name? He might as well just call himself Pope Eggs Benedict XVI...yeah...that's a tasty name alright...
God bless the new Pope...
Sex, Drugs & Watch 'em' Roll!
adrock2xander is 2 months 21 days without a cigarette.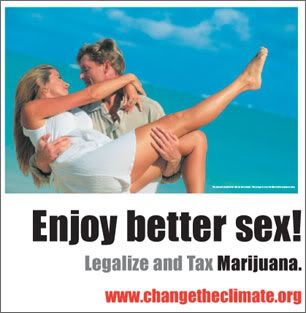 Was doin a little research for an essay...chanced upon this
article
on how television affects kids...the long story short...here's a dainty little line that piqued my gray matter...

"New research shows that teenagers who have a television in their bedrooms are more likely to use marijuana, smoke and have sex..."

Now...that would be more plausible than havin a hooker and some weed in the room...

I dont know what TV those kids were watchin...but i sure would like one...is it made in China?
Tuesday, April 19
Lygon-mania!

Ive this gut feelin several female friends in Singapore...*counts them*...bout 3 - 4 of em...would hate me for postin this...but hey wadya know...i want them to hate me! :O

So...my partner in crime and her partner in crime micheLe and i decided on Italian for dinner...some of the best Italian food outside of Italy itself can be found in
Lygon Street in Carlton
...i was dyin for pasta...and decided the best way to scout for the food's popularity was to gauge the restaurant's occupancy rate...

We found one...and boy it was busy alright!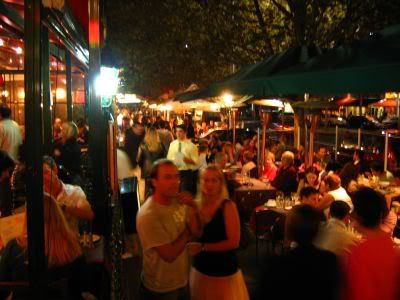 micheLe ordered a Spaghetti Marie Monti...i swear...ive never seen a bigger bowl of spaghetti...enough for 2 heads!




The food's so bloody good...this boy decided to take a convenient nap...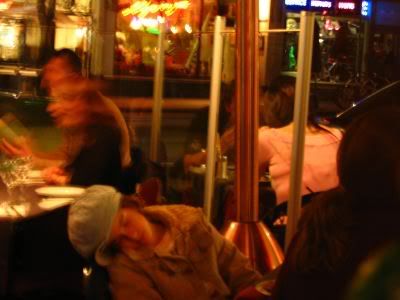 Im goin back to Lygon for more pasta in the weeks to come...anyone wana join me? :O
Geeeeezzzz...
Felicity gave me a back-lash after a tutorial today...showin her disapproval of me...she's so very offended...and stomped off...

The offendin material? My tee-shirt...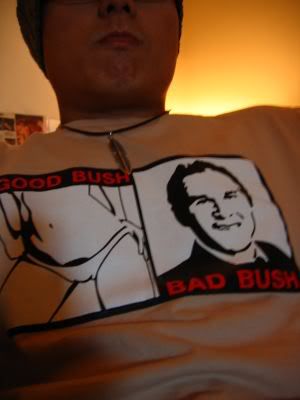 Hey where's ya sense of humor?? Even Chevonne and Jessica thought it was cheeky and laughed it off...

Unless ya pro-Bush...or pro-Howard...

Either way...it's offensive to me...

Yup...i have no sense of humor alright...
Not Another Britney!
adrock2xander is 2 months 20 days without a cigarette.
There used to be a time when Britney Spears is the prettiest thing on the planet...she couldnt do anythin wrong...she had the media feedin outa her hands...and had millions of males masturbatin to her Photoshop-ped body...

Things are different these days...with her pregnancy...and the sex of her baby
now determined
...allegedly no less...my crystal ball paints a very un-rosy picture for her...

I mean...does anyone wana have kids that look like this?

K.Fed + Brit = ARGH!




The kids look like they've stepped straight out of a Child's Play movie...a small consolation...considerin how K.Fed will divorce Britney within 2 years and father more bastards...
Monday, April 18
Grampians & Cops...


adrock2xander is 2 months 19 days without a cigarette.

So...The Three were in the Grampians...it was so fun..i couldnt keep my feet planted on the ground...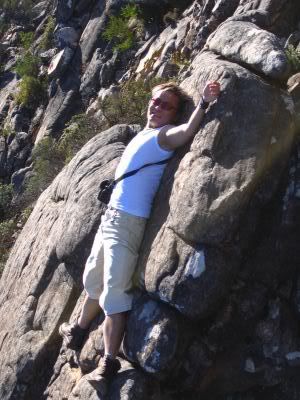 Just vast expanses of rock formations and nature reserves...it's so temptin to lean back and fall over...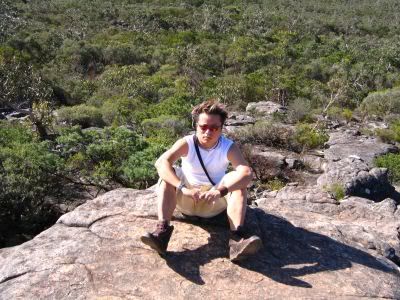 Yup...without a shadow of a doubt...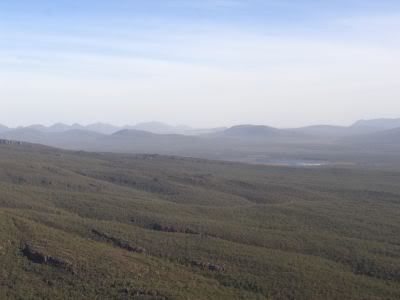 micheLe's enjoyin her day trip...hello beautiful!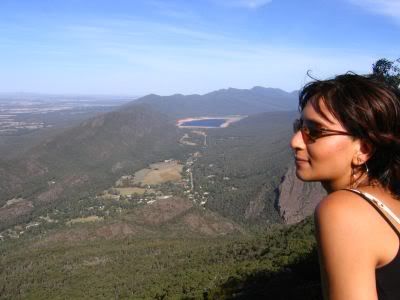 Here's a shot of my hairstyle from the back...wowzers...more fascinatin than the scenery dont ya think...




MacKenzie Falls...the highest waterfalls in Victoria...a steep trail leads to this spectacular sight...there's a series of flat rocks just opposite this falls...most people lie on em in summer...tannin...or in this case...dead in the middle of autumn...were just sittin around...starin at the falls in a trance-like state...




People splashin in the cold freshwater notwithstandin...Gavin and i were obviously more interested in the camera...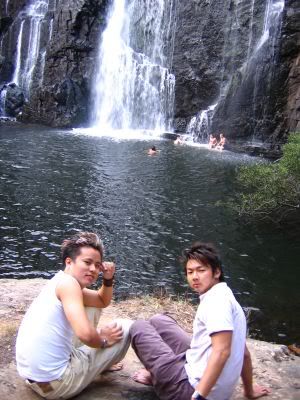 We decided to take a swim in the cold water...stripped of our clothings...and teethered to the edge of the falls where the water cascaded on us...




Gavin chickened out eventually...fair enough...he's not a strong swimmer...there's no knowin how deep the waters were...i wasnt gona let this opportunity pass up...swimmin in natural waters...a bloody dream of mine...so in i went...fuckin cold the water was...5 degrees at most...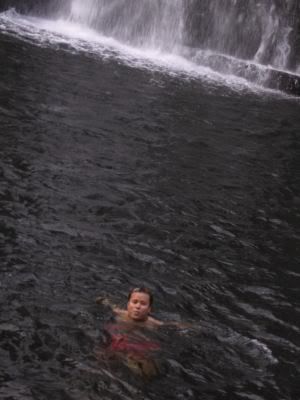 It was my first experience swimmin in a freshwater 'pool'...the water's refreshin and revitalizes you in a way...and coz it's freshwater...it doesnt leave a sticky layer on you...i felt like i'd stepped out of the shower...

Then there was the cops that we ran into while drivin back to Melbourne...golly...ive never been pulled over by one before...but after experiences like these...i dont know whether cops are as dangerous as they're made out to be...lol...

1) Gavin was caught speedin in the town of Beaufort...2 cops pulled us over and Gavin was given a breath test...was issued a ticket and went back into the car to record Gavin's particular from his Singapore's driver's license...still shakin...Gavin returned to our car...and drove off...without his driver's...

2) Amazingly...he didnt realise that...the cops did...and must have thought we were tryin to scoot away...so they chased us down...golly...it's so embarassin...being chased by the same cops who pulled you over 5 minutes ago...the cops werent so amused...and chided us for not stayin in our car...

The funniest part? After apologisin profusely for all the troubles...the cop said "Hey no worries we're gettin paid to do this..."

*chuckles* Aussie cops sure have a sense of humor...

3) The third time...was the day after we returned from Grampians...it was just Gavin and i in the car...and we were lost on the outskirts of the city...makin a detour to somewhere quiet...we stopped to check the City Map...

I almost laughed when i saw a cop pull up next to us...he shined a light into our car and asked what we were doin...i swear...it could have looked a lot worse...i mean...2 adult men...in a car...all quiet and dark...see where im gettin at?

The cop was friendly enough to give us directions after we explained ourselves...jesus...i know ya just doin ya job...but hey...loosen up on the uptight will ya?

Bummers...the next time a cop pulls up next to me...im gona ask for an autograph...
Sunday, April 17
Of Pads and Men
adrock2xander is 2 months 18 days without a cigarette.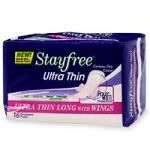 Early yesterday mornin...micheLe rolled over to my side of the bed with some distress and woke me up...bleary eyed...i spied her discomfort...and asked her what was wrong...

"Sweetie i ran out of pads...the only one i have left is soaked..."

Ok she went somewhere along the lines of that...in my comatose delirium i could barely make out what she was tellin me...but the thought of an angry woman yakkin at her boyfriend's inaptitude at buyin women's products drove me to the bathroom...where i washed up real quick...pulled on somethin warm and stepped out of the house...

Needless to say the funny looks i got from amused women at the sanitary section was all too obvious...and that's discountin the queue at the cashier...

Im not too fussy when it comes to buyin women's products...hey if my woman wants somethin...she gets it...im sure she'll do likewise for me...

You happy now micheLe?

:O

Saturday, April 16
Just another hot & ordinary autumn's day...


adrock2xander is 2 months 17 days without a cigarette.

...in Melbourne...

The city's Federation Square is to Melbourne what the Opera House is to Sydney...it was a lazy day...sunny as hell...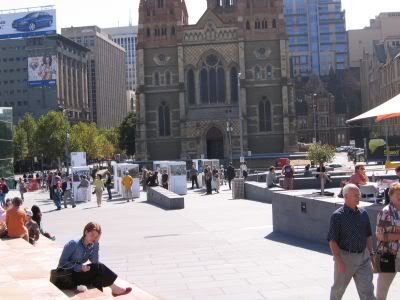 Everyone's just lunchin in the sun...why cant Singapore's weather be as beautiful as Melbourne's?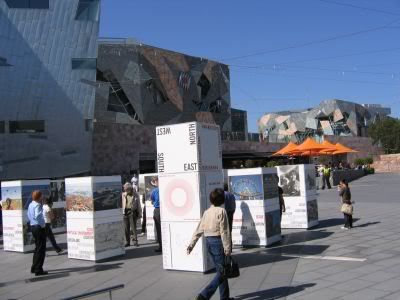 There's an exhibition on Global Warmin goin on...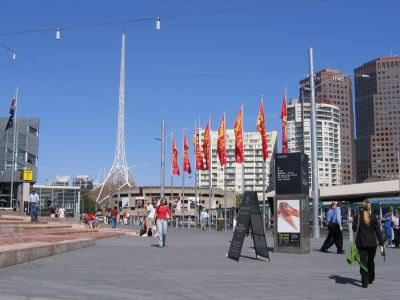 That's Melbourne's Arts Center...more affectionately known as the mini Eiffel Tower of Melbourne...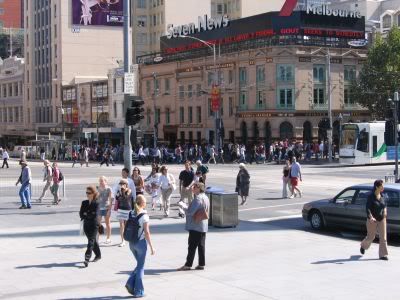 The bustlin Flinders Train station junction...teemin with people...gettin on with their busy little lives...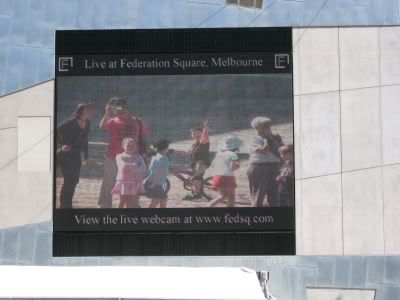 Live feed from Federation Square to people worldwide...wave to your friends or loved ones...that's me in the screen alright...for a live glimpse of Federation Square right now...go
here
...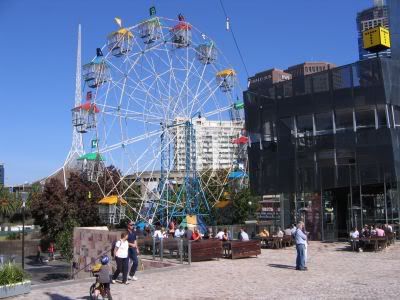 A freakin ferris-wheel smack in the middle of the city...now how cute is that...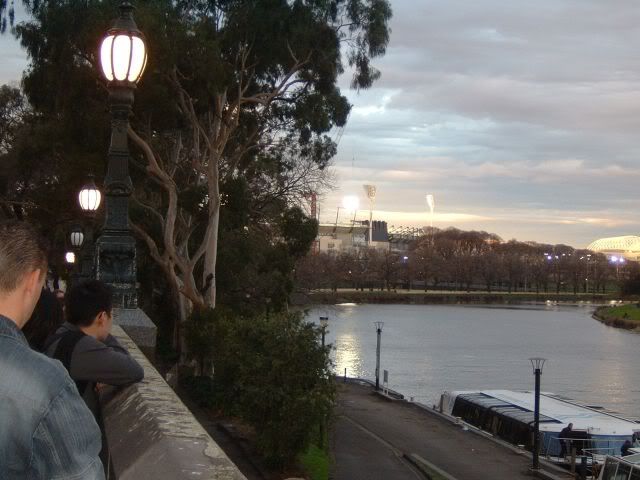 Time goes by...we get older...yet things dont change too much...the exact same spot i stood last July on
my holiday
...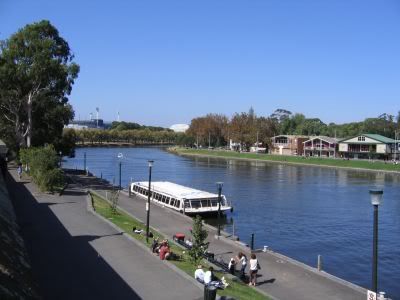 ...is a picture of sun and fun right now...

Honestly? I hate the heat...i left Singapore to escape the heat...so damnit Melbourne...geme the bloody winter now...

Subscribe to Posts [Atom]