Monday, April 25
A weekend in the country
adrock2xander is 2 months 26 days without a cigarette.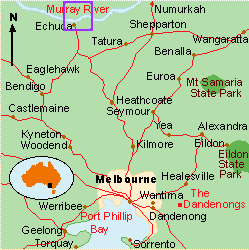 The northerly town straddles the states of Victoria and New South Wales...Echuca is a pleasant 3 hours' drive from Melbourne...



I'd just returned to Melbourne from a 2 nights' stay in the country town of
Echuca
...once one of Victoria's busiest inland ports...the sleepy town of 13,000 is ideal for your weekend getaway if ya into lazy lunches and relaxin strolls...the curiously quaint (well...if ya from the big city like most of us out there) town does have a lot to offer though...one just needs a 'lil luck and lotsa 'scratchin-the-surface'...the town surprised me on so many occassions...and somewhere along the way i learnt something bout myself...but more on that in a later post...trust me all of you would wana read this post...
Time to unpack and do my laundry! And somethin that i havnt had for awhile - beauty sleep!
Subscribe to Posts [Atom]