Sunday, February 26
Oh The Cats And The Dogs
The Outrageous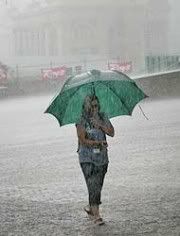 As

if on cue...rain greets Melbourne and back-from-Tasmania-i...


The rain
sits on the cusp of summer and autumn...the season has changed...the days of long, hot and sticky summer are really over...Melbourne now descends into a desparin world of neverendin cold...only the brave will bet against that...

It doesnt rain often in Melbourne...i can count with one hand the number of times it has rain since i arrived last year...my initial fears of witnessin another
record-breakin thunderstorm
were allayed when the downpour started to abait by late evenin...

Good thing it did...or i'd have started to think it rains only in February...
Friday, February 24
The Prince Arrives



The Misfit

Fear not...for I have returned from Tasmania.
Thursday, February 16
Off To The South!
The Misfit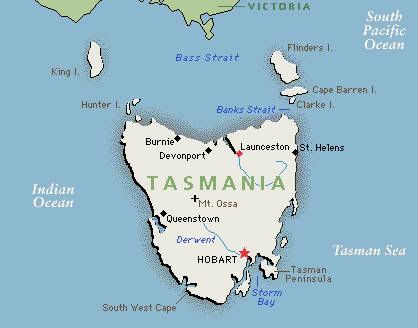 Outrageous. Beautiful. Misfit. will now be in Tasmania for the next 6 days.

Happy Holidays!
Racism - From Invisible To Subtle? Or Vice Versa?



The Misfit



We're

surrounded by subtle racism in the society we live in...

micheLe and i had taken a cab from Flinders Street Station to our cozy apartment yesterday evenin...she was anxious to get home and get some rest before workin the night shift...

Our cab driver was a friendly and chatty driver of African descent...i observed the driver from where i sat (somethin i like doin - watchin people)...he was of middle age and had a deep brow wrinkled silly for some reason or another...i could tell he commanded respect from his friends and family alike...and his deep boomin voice resonated like James Earl Jones on a good baritone day...it was the usual banter bout the Melbourne traffic at peak hours...how long he's been drivin in Melbourne and which route we ought to take that'll take us home quickly...

Turnin from Swanston Street into Collins Street (a
hook turn
junction)...our turnin cab was unceremoniously cut off by a white Honda...our chatty African driver let out a "Come on!" and honked at the Honda...curiously...both Honda and cab approached the next junction fresh from a red light...both cars pulled up along each other...this being Melbourne...where somethin and everythin happens...i knew a simmerin pot was bout to spew...

Our cab driver rolled his windows down and started hurlin admonishments at the driver...who very conveniently...was white...cab driver was angry and punctuated his abuse with 'dickhead' and 'learn how to drive'...well i guess he had a reason to be mad...what got to me was what the white man said...

"Shut up!" "Yeah whatever!" "Go back to your own country!" in an unmistakable Aussie accent...

Almost immediately our driver shot back, "And you go back to England!"...

The lights turned green and the white wanker sped off...

I had the last laugh though...as i immediately jumped to the driver's defense, "You did the right thing. That bloke doesnt belong here either. The Aborogines do."



Racism

is encrypted in us...who needs DNA these days...racism acts like a weird mysterious way of introducin yourself when ya in a group a strangers...stereotypes are immediately formed and alliances are made...when push comes to shove...a heated exchange between 2 strangers of different ethnic backgrounds (yes...that includes the white people) will almost always trade racial diatribes against one another...

Where racism was rampant and used as a class determinant in the early days...today's racism is much more subtle...and it is based more on stereotypig and upon unquestioned assumptions...than it is upon direct racist actions and bigotry...days of white cops beatin up black/asian men are a thing of the past (though who's to say it wouldnt surface again)...

It's safe to say there's a little bit of racism in everyone of us...racial stereotypes are developed and moulded by our education, exposure to the outside world and to a large extent...our culture...

Take myself, for example...i will be the first to step up on the guillotine...havin admittingly being a racist towards Asians...i profess to not havin any interest in Asian women at all...i hang out with the Anglos, Latins, South Asians and Blacks...but never an Asian...my friends in Singapore are almost exclusively Asian...but in Melbourne i have zero Asian friends...heck im not even datin an Asian...ask me why i do what i do and think what i think...i dont know...

I see a black man walkin with his mate in the street...they're outfitted in hip hop gear...they walk towards me and are obviously sharin a joke and without a care in the world...very harmless...but my first thoughts are, "Them niggers could rape my fuckin arse and rob me." or "They're dangerous." I know it's absolutely ludicrous and they're just regular folks like you and i...But Why do i think that? I blame the western media for glorifyin the white culture at the expense of the beautiful black culture...

A wog drives past in his loud, souped-up car...i could 'hear' his car 50 meters away as his Europop song assaults my ears...his muscles are large...his tattoos are menacin...he has his collars raised and is busy baskin in the adulations passers-by give him...my first thoughts, "Fuckin
toolie
"...He could be a successful engineer and a father of 3, lettin it down on a Saturday night with his mates...but why do i think that? I blame the perceptions built upon by wogs past...

It's not to say that i havnt been on the receivin end of subtle racism as well...ive noticed many white people in the hospitality and retail industry (particularly women) givin me 2nd class treatment over their own folks...for example I had a wine steward cuttin me off early last year while i was out buying a 'rare' wine (it was hard to obtain in Melbourne as it's a regional Victoria wine)...he cut me off thinkin i had said 'red' wine...it still sickens me when i think about it...

Waitresses and shop assistants dont look me in the eye when im payin for my products...im talkin to them and they reply curtly...but never cast a glance at who i am...i dont know...perhaps it's my pink hair? My good English? Or is it my natural double eyelids? They've never seen these traits in Asians before? Bleah...

I realise at this point that what im talkin about could be more of prejudice than racism...

The finger pointin...the nudges or the head nods and sniggers as 'ethnic minorities' walk past...the shoutin of racist names from a crowd or the loud voices in bars who believe they cannot be heard...the hidden voices around a canteen or work area whose language holds stereotypes and helps perpetuate the myths of 'ethnic minorities'...

Somethin peculiar micheLe and i have noticed since we begun datin...we get weird looks and stares from people of all races...the Asians would look at me and wonder to themselves "Why is he datin that European/South American/Mixed Indian lady?"...white folks look at micheLe and ask "Why are you datin that Asian man?"...

The obvious starin and whisperin at a mixed race couple, or the hidden talk and racist commentary of such around their peers or workmates is still rampant...this type of racism (or prejudice, whichever way you look at it) is rarely reported...many people do not acknowledge it as it is so subtle...and such is the regularity of occurences that they are being racist without them knowin it...

The path to racism is a slippery slope...broad generalizations and misunderstandings of a culture would always bring about a stereotype as ignorance and fear creeps in...finger pointin and blame is the next...and in the worse case scenario...our good mate of an 'ethnic minority' is suddenly an outcast...

As the world wakes up to find Africa and Asia openin up...i do hope the rest of the world will embrace them just as them 'ethnic minorities' have welcomed them in their continent...



As

the driver pulled up to our driveway...i asked him where he's from..."Ethiopia" he replied...

"Keep doin whatever ya doin and never stop believin in yaself." I said as i paid him his dues...

He laughed...thanked me and waved as he sped off...

Sometimes it takes a minority to understand another minority...
Wednesday, February 15
A Wet Patch



The Outrageous

This is so embarrassin...but i thought it's a good laugh...

I had a really full bladder as the sun rose this mornin...and sometime between runnin to the bathroom and grabbin the hair dryer...i let out a tiny trickle of pee onto the bed...

My mind kept flashin horror stories of big healthy blokes with weak bladders as i sat in bed lookin rather amused...
Cut me the slack when you see me guys...i can do with some comfortin though :-)
Friday, February 10
Does Anyone Wanna Be My Valentine?
The Misfit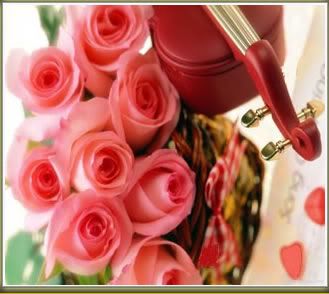 Ive added a Valentine motif for my mouse cursor in light of this overrated day where roses and 3-course dinners are overpriced...

Happy Valentine's Week everyone!
Wednesday, February 8
My Housewarming Party? No worries...



The Outrageous

micheLe and i have spent the last couple of months shoppin for a new home...

You see...the apartment we live in now...the lease ends in October...and with that around the corner...i have heaps of things to think about...

I promise to elaborate on them one day...but without gettin too much into detail...i spend many parts of the week lookin at real estate pricin...studyin the market and examinin Melbourne's many suburbs' little treats...well not exactly...im no housin guru and im not even from Melbourne...but hey ive gota start somewhere yeah? Haha...

Over the weekend we checked up on Pentridge Village in Coburg...one of the more popular suburbs in Melbourne's inner north...

The residential area is pretty...large houses that scream 'I am rich so i live here' flank wide open spaces and a flat road...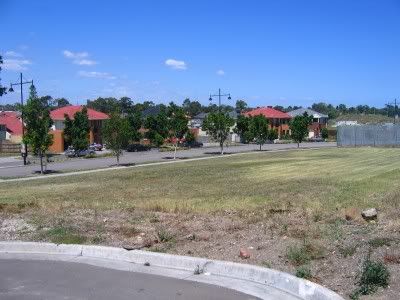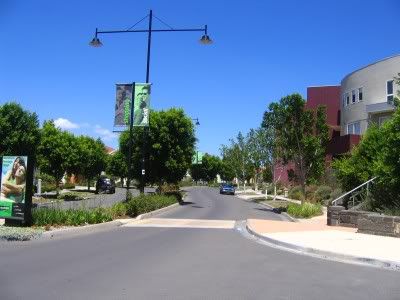 Pentridge Village
is distinctively unique in more ways than one...it has a certain somethin that no other housin blocks possess...and for that reason alone i took the trouble of clearin my afternoon just to check out the fuss...

You see...Pentridge Village used to be a prison...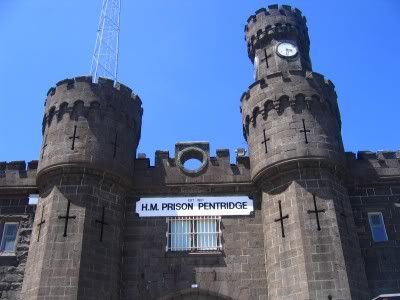 For aesthetic reasons and perhaps for historical reasons...the developers have decided to keep the high sandstone walls...i didnt know what to think..."A residential area in a former prison?"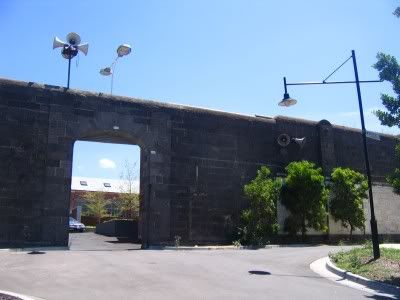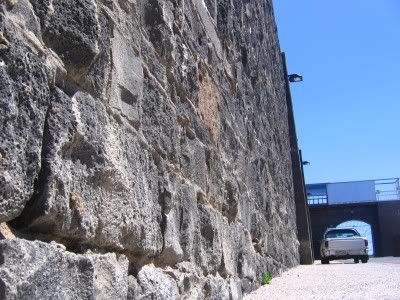 If it's a joke...it's perhaps God's way of payin respects to the former inmates...if it's not...it's Melbourne's way of usin ingenius methods to sell their property...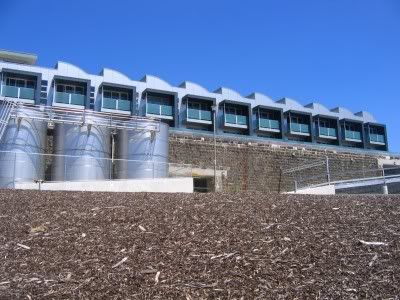 These single units with high ceilings used to be factories...inmates would spend their days makin glasswares and furnitures...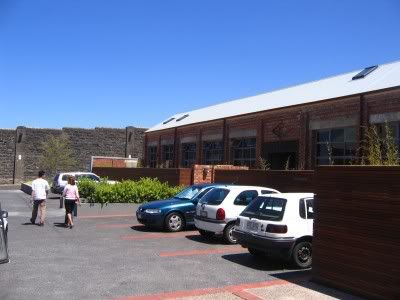 I cant deny how beautiful Pentridge Village is...the developers try really hard to reduce that prison feel...but upon steppin into one of their single units (which is still under construction) i couldnt help but feel claustrophobic...dont the corridors paint a depressin look? I can picture rapists...murderers and druglords walkin these corridors...fuck people may have died here!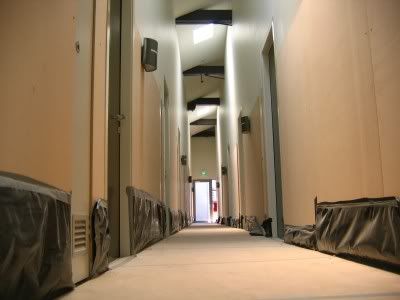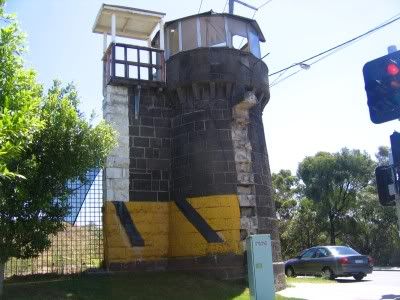 I suppose exorcism will help...but how people are willin to pay in excess of A$300,000 for somethin like this is beyond me...

It was a good day of 'house-shoppin'...but uh uh...Pentridge village aint for me...
Monday, February 6
Prophet Mohammed Is Funny



The Outrageous

So the Muslim world is goin bazonkas over the controversial cartoons bout their
'
Praised One
'...

Bite me Islam...

The Danish and Norwegian flags are burnin...riots in Lebanon threaten to spill into non-Islamic countries...a global debate (rivallin the Israeli's rights to cling on to Palestine land) between freedom of speech and religious tolerance is now on the tip of every journalists' tongue...

Scenes of chaos it appears...

As
Joe
casually pointed out over MSN Messenger...it's the mark of an advanced culture if they can truely laugh at themselves...

For thousands of years the history books have chronicled volumes of hate crimes against different cultures and religions i.e Romans, Christians, Protestants, Catholics...as barbaric as some of their actions were...you dont see them chargin headlong into battle declarin war on nay-sayers and critics alike...

My blog has been mocked, abused and called names till it's out of fashion but you dont see me filin lawsuits against homophobes, racists and juveniles alike...

The Western media calls Muslims stupid...on the contary i feel otherwise...many people grew up in a world where racial tolerance is as alien to them as Jerry Springer is to Asia...perhaps the Western media is too quick to judge Muslims and their behavior...i have the privelege of growin up in a society where Muslims socialise and bond with Hindus, Christians and Buddhists alike...it is this ideology that many countries lack...why not put your shoes into a Muslim for awhile? They embrace Western cultures to a certain extent...so why not us?

What i cant understand is why Muslims are willin to spill blood against XYZ the moment ABC is being satired...look mate....it's a fuckin cartoon...George Bush has been pilloried forever on Letterman...one day he's a fuckin joke...another day he's a funnier joke...where's the letter of defamation?

As much as im neutral on the Muslim's stance and the free (read: Western) world's ideology...i do hope one day the Muslims will stop usin violence as the end all be all...

Until then...here are the caricatures that's the toast of the town:



Hanabishi - Perfect Japanese



The Beautiful

Mention King Street in Melbourne and the image of seedy strip joints and bars springs to mind...King Street is however, where one of Melbourne's if not Australia's best Japanese restaurant squats comfortably like a sumo wrestler...tossin salt and stompin their feet as if to make a statement...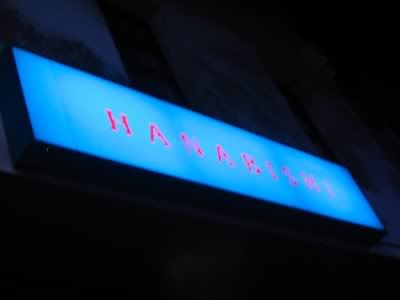 My trip to
Hanabishi
was triggered by my sudden desire to eat
wagyu beef
...i had once tried the ultra-premium wagyu (wa means Japanese and gyu means cattle) back in Singapore in my early twenties...as a Japanese foodophile progressin to wagyu was the next ascension to Japanese food...it's been over 5 years but ive not once forgotten the soft texture of the beef that literally melted in my mouth...i reckon wagyu connoiseurs and promoters could borrow M&M's slogan 'Melts in your mouth, not in your hands' here...a great advertisin campaign the wagyu beef promoters could do with...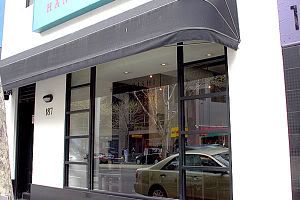 I suppose the only reason why it's taken me so long to consume wagyu beef again is the price...unless ya a rich bloke...i reckon it's prohibitive to eat copious amounts of wagyu beef regularly...

I was undetered by the price for once...my desire to eat the king of beef dulled my common sense and rapidly diminishin credit...together with micheLe and our friends and Hanabishi veterans-of-war Shannon and Natasha...we ventured out to King Street for some zen-like Japanese experience...banzai!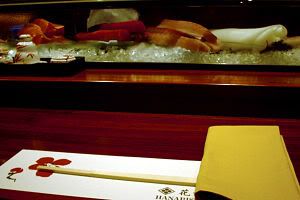 The food and presentation at Hanabishi is absolutely sublime and superlative...although we were here for the wagyu beef...i managed to spy on the dishes on our neighbors' tables...i was amazed by Hanabishi's comprehensive attention to detail...most Japanese restaurants in Melbourne (and throughout the world) have pseudo-minimalist architectural designs and serve their dishes in simple bento boxes with little frills and fanfare...Hanabishi ups the ante with beautiful, almost ornate decorations with each dish...it's almost like an interior designer was hired to work in tandem with the chefs in the kitchen...the minimalist modern decor is very elegant (one of the best ive seen)...and when you throw in the beautiful
ikebana
displays...i gota admit...i truly havnt seen anythin like this...and this is comin from a bloke who's been eatin Japanese food for over 15 years...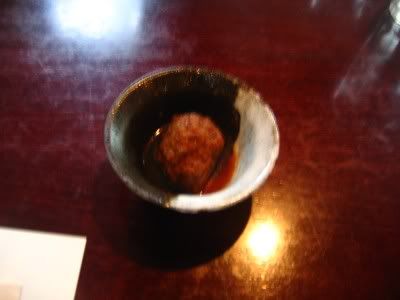 I wished i knew what this meatball was...as it came as an appetizer...Shannon and Natasha were ravin bout this oddity...they mentioned unabashedly that the previous times they've been here...they loved the meatball so much...they even slurped and drank up the meatball sauce...i never knew Japanese food came with meat-based aperitif...i truly enjoyed the tiny morsel...it was firm on the outside (it didnt break apart when i picked it up with the chopsticks) but extremely soft on the inside...the texture is similar to a half-boiled egg...the taste lingered in your mouth...and sure enough i found myself lickin the sauce off the bowl...a quick question to the waitress revealed it's a mixture of beef and pork...wow...how's that for Japanese food...beef and pork! How quirky...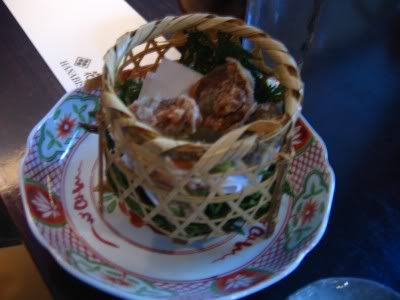 micheLe and Natasha werent big on sashimi...so they went the way of the crustaceans and ordered the soft-shelled crabs...i genuinely liked the way the crabs were presented...a straw basket with bite-sized morsels...it reminded me of a bowl of Chinese chicken herbal soup...looks nice on the outside...tastes nice on the inside...after the delicious meatballs the crabs were definitely whettin the girls' appetites...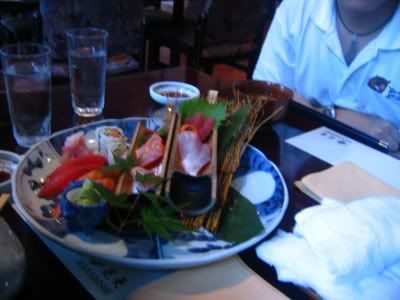 Real men eat raw food...and as much as sashimi critics wax lyrical bout the awful taste of raw fish...i'll like to see them put their money to where their mouth is after our sushi/sashimi platter arrived...i sincerely think that to convince non-raw fish eaters to try a piece of sashimi...Hanabishi's presentation of the platter is half the battle won...when it arrived on our table i thought i was lookin at a painting! So exquisitely beautiful...with little tufts of leafy greens in the background...red and pink pickled ginger depictin the flowers...the bamboo sticks gently cradlin the sashimi slices and the sushi pieces carassin the plate...i honestly couldnt bear to eat it...every slice of tuna, salmon, garfish and
nigirizushi
were tops! What a piece of art! What beautiful food!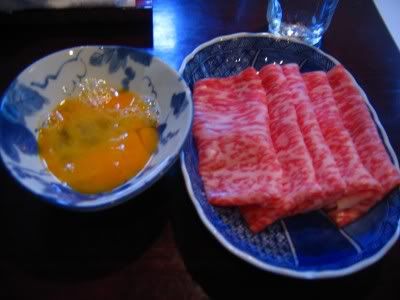 The pièce de résistance finally arrived...for those not in the know...wagyu beef is eaten with a cracked raw egg...the beef (notice how thinly sliced and marbled it is) is cooked in a hot pot for a few seconds...and dipped into the raw egg...i prefer to dip the beef into the egg first before cookin it...there's no difference to the method of madness...but i believe my preference allows the egg to be slightly cooked...enhancin the flavour of the beef...just 5 slices of wagyu beef we were allowed...how disappointing (sic)...such delectable taste...such expensive beef...i believe the wagyu beef were a third of the banquet set price...


The hot pot sits on a butane slow cooker...in it sits mushrooms (the black Asian kind)...leafy vegetables...tofu...and a thicker version of cold soba...all this is cooked in a soya sauce-like stock...the wagyu beef goes in here...everythin is eaten with the Japanese sticky rice (free flow of rice i must add!)...because the beef slices are so thinly sliced and soft...the beef turns to a mushy pulp if it's left in the stock for too long...not like it's any difference to me...i ate like a Wagyu-eating Champion...no worries mate!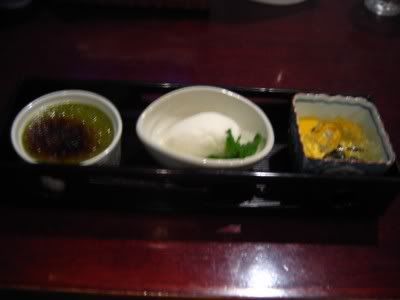 The dessert arrived...and i was presented with a conundrum...in front of me sits a triumvirate of dessert so exquisite and pretty i almost didnt eat it! The bowl on the left is the much harped about Green Tea Creme Brulee...a light green tea paste sits atop an extremely rich and thick cream base...it was ridiculously yummy and surprisingly...not too sweet...which was to my likin...

The dessert in the middle is the lemon-scented buttermilk sorbet served with mint leaf...again...it's not too sweet and appeals greatly to my rather citrus-unfriendly palate...

Desset on the right is the mango custard with jello...after the first 2 desserts i was just about ready to give up...im not big on desserts...growin up on an Asian diet always presented me with problems when it came to dessert...Asians just arent big on dessert...i would never be able to finish any dessert...yet somehow the third dessert dish sat so well with the other two i didnt think twice bout eatin it...the custard wasnt extraordinary...plain and simple...nothin fancy...but i liked it nonetheless...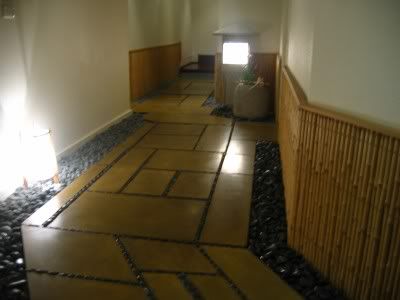 Ive already mentioned how elegant the decor is...but nothin prepared me for the Little Japan that greeted me on the way to the washroom...little slabs of marbles flanked by pebbles and bamboo lining...Japanese lanterns adorn the path...i was so taken by the beautiful sight i failed to notice the waitresses gigglin at my takin of this shot..."You like this place dont you?" she asked...

Hell yeah i do...and rest assure i'll return one day...

Hanabishi was awarded one chef's hat in The Age Good Food Guide 2006.
Sunday, February 5
From MCG...To The City
The Beautiful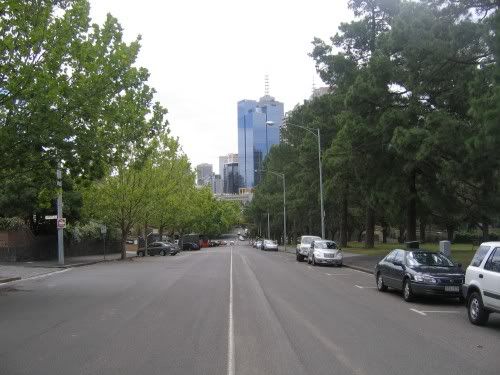 MCG sits adjacent to Wellington Parade South...the road leads directly to the city...it was a beautiful cool day...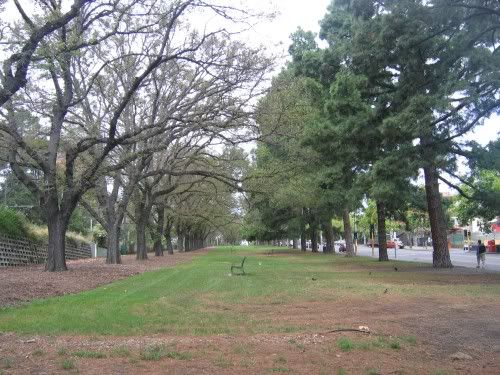 A gentle green stretch of grass parks itself next to Wellington Parade South...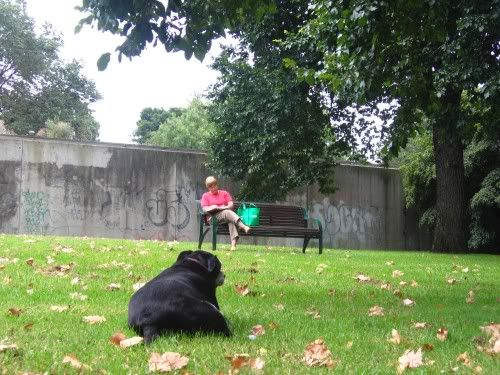 A lady enjoys the final days of summer with a book and her dog...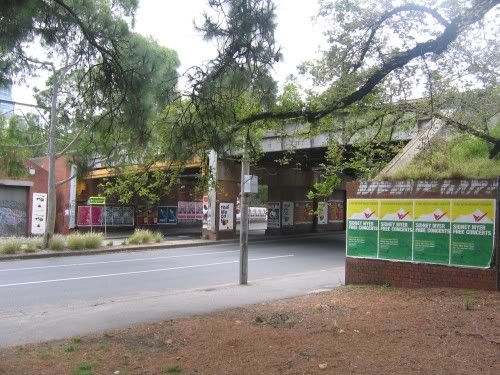 The Epping train line leading from Jolimont station runs above Jolimont Road...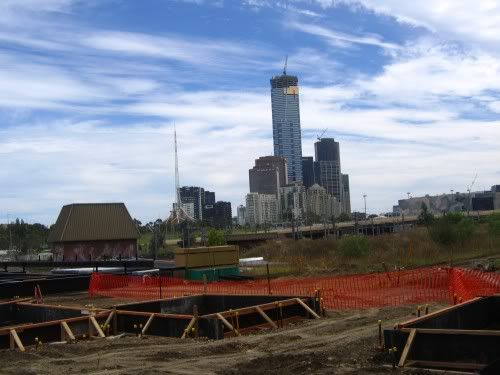 The Old meets the New...Melbourne's always in various state of undress construction...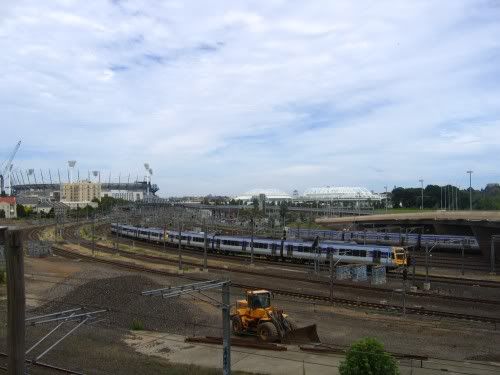 Trains running to and from Flinders Street station runs between MCG and the tennis grounds of Melbourne Park...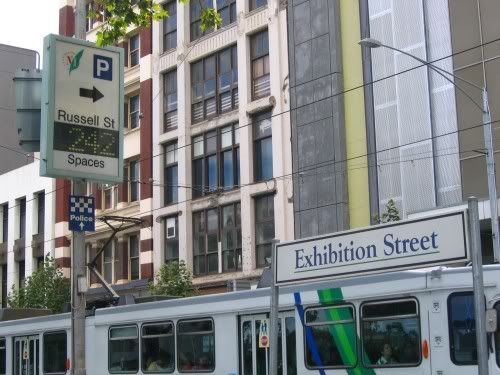 Yep...Russell Street is just a hop, skip and jump away from Exhibition Street...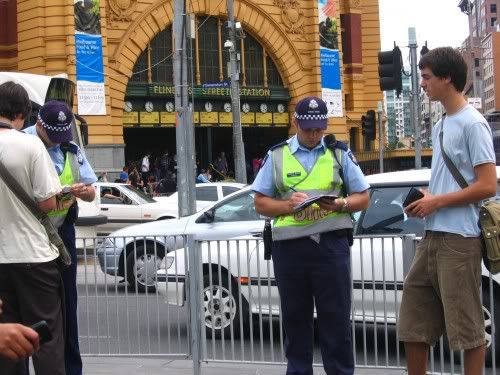 These 2 teens were especially unlucky to be caught jay-walkin at the corner of Exhibition and Swanston...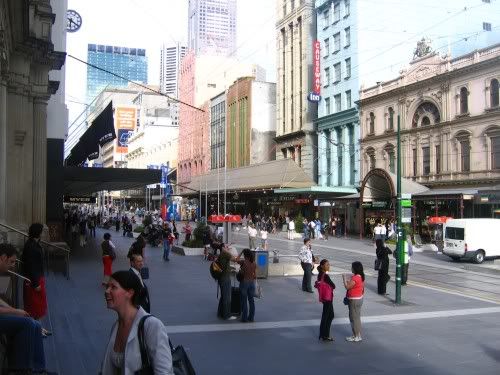 Mid-afternoon crowd along Bourke Street...
Melbourne Awaits



The Beautiful

2006 is an excitin year for Melbourne and sports buffs alike...

The world was entertained with the enthrallin Australian Open in January...in March Melbourne welcomes participants from 71 Commonwealth nations and territories for the
Commonwealth Games
...and get your ear plugs ready in April as the world's fastest cars descent upon Australia for the
Australian Formula 1 Grand Prix
...

I have the very satisfyin pleasure of being involved in both the Commonwealth Games and F1 Grand Prix...as jobs have it...it doesnt get any better than both events...as they're telecast live to countries around the world...i get to rub shoulders with world class atheletes and if im really lucky...a picture or an autograph...

I'd spent Friday afternoon in the Melbourne Cricket Ground (MCG) for an event briefin and collection of my work roster...MCG is currently in the final phases of upgradin - Commonwealth Games standard - i like to call it...with the Games only 38 days away...MCG will be in the spotlight as they host the Opening and Closing ceremony...and all Track-and-Field events...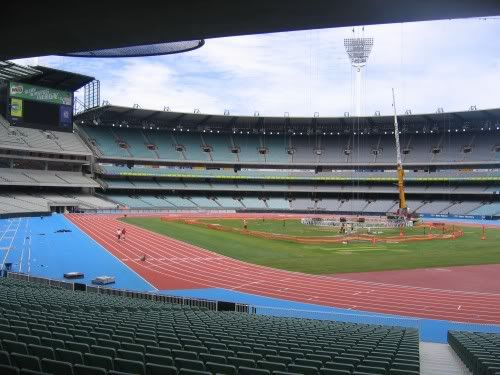 From the Lower Stands...the behemoth MCG finalises its renovations...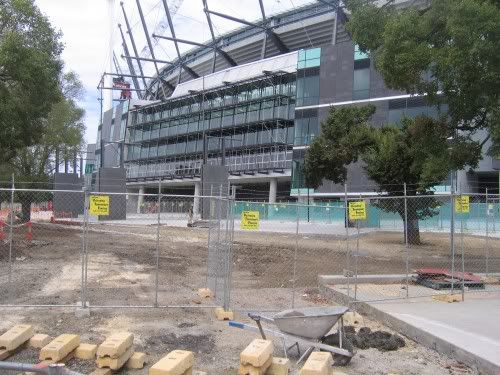 Pathways and walkways will witness hundreds and thousands of patterin feet in a few weeks...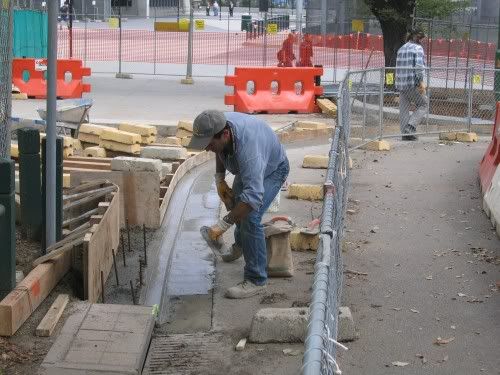 The worker seems to agree with me...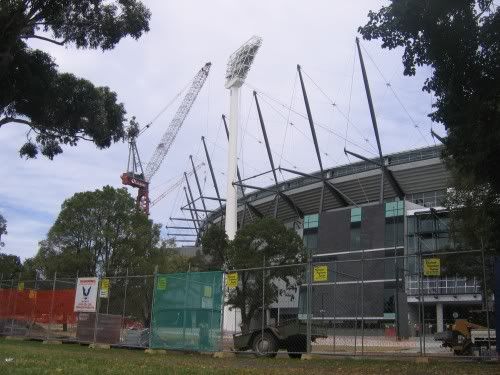 The scaffoldin and crane overlooks MCG...c'mon lads...get them work done...the world expects!
Subscribe to Posts [Atom]