Sunday, February 26
Oh The Cats And The Dogs
The Outrageous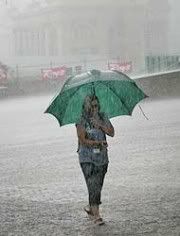 As

if on cue...rain greets Melbourne and back-from-Tasmania-i...


The rain
sits on the cusp of summer and autumn...the season has changed...the days of long, hot and sticky summer are really over...Melbourne now descends into a desparin world of neverendin cold...only the brave will bet against that...

It doesnt rain often in Melbourne...i can count with one hand the number of times it has rain since i arrived last year...my initial fears of witnessin another
record-breakin thunderstorm
were allayed when the downpour started to abait by late evenin...

Good thing it did...or i'd have started to think it rains only in February...
Subscribe to Posts [Atom]