Sunday, October 31
Saturday, October 30
Wednesday, October 27
Tuesday, October 26
Monday, October 25
Sunday, October 24
Friday, October 22
Tuesday, October 19
Monday, October 18
Sunday, October 17
Saturday, October 16
Friday, October 15
Thursday, October 14
Wednesday, October 13
Tuesday, October 12
Monday, October 11
Sunday, October 10
Saturday, October 9
Revenge of the English Language
I would like to take some time off to reply to
Joe's
comments on my take on British English from a
previous post of mine
.
Ok Joe...now...where do i start...first things first...i grew up listenin to the
BBC
(British Broadcasting Corporation) World Service and never ever had a problem with that sweet accent that's melodious to my ears...ive never been to the British Isles and home of the Queen Mother...so any comments ive to make now are a direct result of the way English from the United Kingdom is portrayed in the media...i would like to one day though...Ireland and Scotland appeal greatly to me...but England doesnt look too cool to me...too many racists white bigots there...oh wait...that's not just an issue inherent to the United Kingdom...
anyway
...here's a breakdown of the English that's spoken in your region...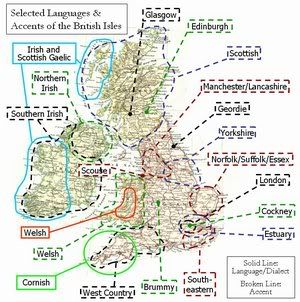 You must be familar with the
Globe Trekker
series that's helmed by the whacky
Ian Wright
...for everythin he says i just cant put a finger to half the things he says...that broad Cockney accent that has strange American nigger lingo to it...im glad the traditional English BBC uses isnt anythin close to this...i dont wana grow up being ostracised by the people around me coz things i say simply dont make any sense...take for example the word 'WATER'...pronounced 'war-ter' by most people...Ian pronounces it as 'wart-er'...i mean...WTF?
Then we have the gum-chewin prune faced manager of the world's most hated company...i mean...football club
Scumchester United
(on a side note...
FUCK YOU RED DEVILS...SUCK MY AZN DICK YOU FUCK FACES!
)...Scotsman Alex Ferguson...i tell you Joe...i cant fuckin understand
everythin
this bloke rattles off from his mouth...whenever there's a post-match interview or post-game wrap and Alex is involved...my fingers would invariably wander off to the remote control and change it to another channel...take for example...after Scumchester United has just been comprehensively trounced 3-0 in the Battle of the Roses by
Leeds United AFC
(on a side note...
GO WHITES...ROLL UP THOSE SOCKS AND WE'LL BE RUBBING SHOULDERS WITH THE EUROPEAN ELITES AGAIN!
)...and an angry Alex spouts off
"Yeearh arh waas vierie deesapoutard weef der boirs toedae" (all made up...all that gibberish Alex spouts...unfathomable)
Translated: Yeah i was very disappointed with the boys today...
FFS...im here to watch football...not learn another language...oh...you mean that's English?
Ok Joe im biased...although i listen to the BBC...much of my TV and readin diet's more than sufficiently weaned by the proliferation the American meda...their TV serials...movies...pop culture...and news...it has affected the way i speak (in the perfect world where Singaporeans are not insipid English speakers...i would like to speak my English with the sexy American lilts...twangs and drawls)...the way i spell (armor...not armour)...the way i dress (goth and punk > all)...the way i behave (Fuck you if you've got a problem with me)...the way i think (fillial piety and respect to parents? Go fuck yourselves!)...and just bout every aspect of my life...
In an alternate world...perhaps the British media would have been the all-conquerin beast...one media to rule them all...and i wouldnt have been able to understand the Americans for all they're worth...perhaps...i would have bought the
British version
of Queer as Folks instead of the
American version
...the
Beatles
would have been the band of choice instead of
Guns N' Roses
....i would say "I'd like to have a sweet" instead of "I'd like to have a candy"...
Gah i could go on and on...but you get my drift Joe...no offence to your English whatsoever...im sure we could trade insults and have barrels of fun while we're talkin online...for every difference in our accents...good and proper English will always be spelt in a way that's universally recognized...
Here's to good and proper spoken and written English...cheers mate :O
Friday, October 8
Thursday, October 7
Wednesday, October 6
Tuesday, October 5
Monday, October 4
Sunday, October 3
Saturday, October 2
Friday, October 1
Subscribe to Posts [Atom]