Friday, July 29
Flinders B/W
adrock2xander is 5 months 30 days without a cigarette.
Profitting BIG TIME through eBay: 154 days left.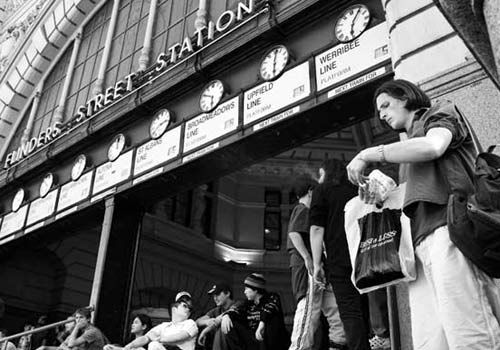 Flinders Street Station, a popular meeting place.
Thursday, July 28
I Hate iPod
adrock2xander is 5 months 29 days without a cigarette.
Profitting BIG TIME through eBay: 155 days left.

I hate iPods...i mean...i really fuckin hate them...

If i could exact my anger and bitter childhood at one inanimate object in life this year...it'd be the iPod...

Anyone who spends more than 5 minutes in a public transport here in Melbourne would notice the recent surge in the number of people...who come in all sorts of sizes and professions...who plug into a white device the size of a deck of cards...

And as if that wasnt ostentatious enough...the number of losers who conform to the Apple idealism like to think that a large and oversized headphones you could hide 2 hamsters in seems to be the weapon of choice these days...as if the telltale white ones arent a dead giveaway...

And what's with the loud blarin music? I dont wana know how Eminem likes ejaculatin in his mom...i dont wana know why Slayer preaches death...i definitely dont wana question Britney Spears' choice of pop these days...

To keep up with the runaway consumer fetish that is the iPod...Melburnians subscribe to a theory that befuddles me completely...walkin around with 10,000 songs...includin 150 remixes of 'Hit Me Baby One More Time' and 299 tracks by Guns & Roses...in a thinly concealed marketin gimmick's a wonderful thing to do...

"Hey John...do you own an iPod?" Random Joe asks...

"Nah im too cool for an iPod...i have a Creative Zen Touch."

"Mate wtf are you on?"
"Mate wtf are YOU on?" i reply...
Riiiiiight...
There's a common quip amongst Melburnians..."Dont Conform"...it all started when the goths-inspired fashionista decided that people who walked around in jeans and tees were too bloody uncool...and anythin that conforms to society's expectations is deem too...well...conformist...so yeah im just gona give one back to all the Melburnians who gave me a glare when i proudly display my Zen Touch...
"Mate...dont conform!"
And the price...WTF? The price may have fallen...but who's seriously gona pay A$500+ for a deck of cards?
What with down and uploadin all the rage of the moment...the only losers are CD sales...i cant see any reason for casual music fans to shell out A$25 for a CD when the same price gets you a legit number of songs you'll actually enjoy listenin to...hands up to those who bought a CD just for one song...yeah...y'know who you are...
It's not fair...i spent a large part of my teenage allowance to build up the impressiive CD collection im proud of today...only to be humbled when a 12yo kid spends several hundred bucks to put my collection to shame...
It wasnt always like this...even when MP3 players were released...CDs were still popular among non-purists...but the Fruit Company had to spoil it all...yeah that's right...the Fruit Company...damn you!
Thank God some iPods afficionados know their sound systems...i may have dissed them earlier in this post...but kudos to those who've done away with the earphones supplied by the Fruit Company...ive had the displeasure of stuffin the overgrown white cotton buds into my ears once...and i must say i rather hear a high school rendition of Cats...the Fruit Company earphones are so pitifully shaped and built...the acoustic was atrocious and the bass sounded like a poundin jackhammer...iPods may have contributed to the decline of CDs...but somehow inadvertedly increased sales of good...DJ-quality headphones...
Just as ive done my whole life - not conformin to society's expectations...i refuse to become a Fruit Company zombie...if everyone's thumbin their MP3 player in a circular manner...i'll do it vertically (my Zen Touch)...if everyone's plugged into an expensive cotton bud...i'll do it with egg shells (my wrap-around Sony MDR series)...and damnit if everyone's podcastin with iPods...i'll fuckin do it with the hard way with my Zen...
iPod - the quintessential tech must-have for those not in the know.
Tuesday, July 26
Dissectin Britney's Boobs Pregnancy

Apparently no one has told Britney's boobs not to get preggies when the world's biggest i-am-too-big-for-Hollywood-so-my-music videos-all-look-slutty gets knocked up by a jerk of a father...


She needs a complete makeover and a new wardrobe...

Seriously...Xtina > Britney
B&W
adrock2xander is 5 months 27 days without a cigarette.
Profitting BIG TIME through eBay: 157 days left.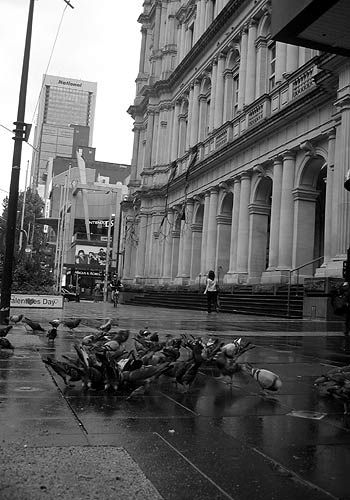 Pigeons outside Melbourne's famous shoppin mall GPO.
Monday, July 25
Bored Monday Post


adrock2xander is 5 months 26 days without a cigarette.
Profitting BIG TIME through eBay: 158 days left.

You know what's the worst thing in uni? Nope...not the workload...not the lecturers...not the tutors...not the daily commute...and definitely not the exhorbitant school fees us international students pay...

It's the ridiculous breaks we have between lectures...fuckin time schedulin is FUCKED UP...

I hate Mondays...fuckin 3 hours break...WTF are 6 poor RMIT uni students to do when they've got nothin to do?

Take a lame picture and flash ya pearly whites!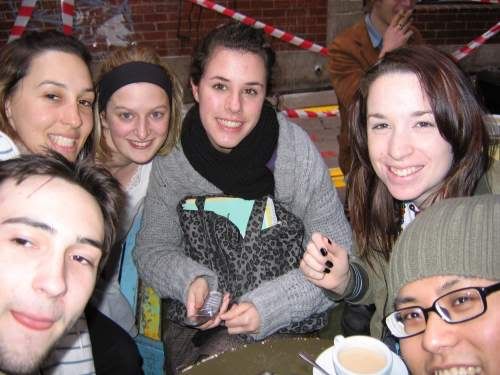 Hi guys...let's do coffee again next Monday...it was fun wasnt it? :O

Or watch a bloke spray graffitti in one of Melbourne's back alleys...always interestin...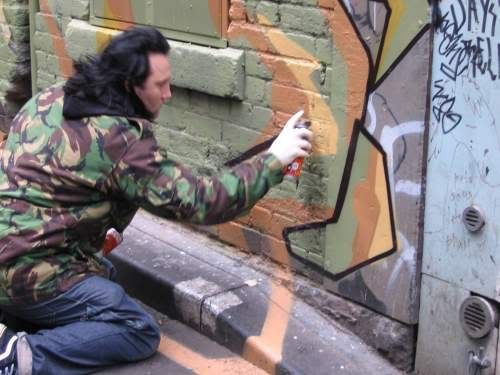 I find myself bloggin on a less regular basis these days...it's really really crazy...speakin of schedulin of time...i rarely have time to sleep these days...for those who've been vaguely followin...adrock2xander is currently:

- temporarily employed by the City of Melbourne Precinct as a writer/photographer
- a Student Representative fightin (for the lack of a better word) for student and study rights
- lookin for a day job
- appearin on 88.3 Southern FM every Wednesday
- preparin to write the City of Melbourne newsletter

On top of that...he has:

- signed up with
RMIT Syn 90.7 FM
for volunteer work and radio trainin
- a crazy uni workload
- to manage a burgeonin online business that he wishes will make some good income

I think somewhere in there i try fittin a girlfriend...my personal time...some semblance of a social life...and hey WTF you mean there're only 24 hours a day??

Funny how people complain they could pursue their passions...but grumble when them opportunities present themselves...
Friday, July 22
Buh-Bye Bitch
Singapore's most famous
blog
has been hacked...

HAHA...

ROFL noobcake GG NO RE...

Singapore's best blog? GG NO RE...

Stop sellin ya blog with ya looks and write some REAL posts will ya...

And sponsorships and what not? Get out of the country already...you need a life...along with a face job...

Note: Ive never mentioned the bitch's blog since this blog's inception 21 months ago...and i never will...that pussy cant hold a candle to Outrageous. Beautiful. Misfit.

And besides...i will never beg for money...both publicly and the Singapore newspapers...to purchase a new digital camera...
Confessions of an Emotional Wreck


adrock2xander is 5 months 23 days without a cigarette.
Profitting BIG TIME through eBay: 161 days left.

There comes a point in the relationship where it's not all honey and lollies...

micheLe and i had one of those coupley talks today...she ended up cryin buckets and sobbin into her favorite pillow...and i...in spite of my earnest and franks confessions...felt so terrible and somewhat guilty...

It's like being honest has its pitfalls...who would have thought?

Ive been livin with micheLe for almost 6 months now...and contary to what many people think...livin with someone is a very claustrophobic experience...on the good days the perks are really worth lookin out for...the fact that micheLe's always physically and emotionally there for me...havin someone to hug or just make cute gestures at is really quite charmin indeed...

On the bad days i feel like micheLe's just crampin my space and my style...before comin to Melbourne ive spent 25 years of my life sharin a room with my brother...i never did have a room to myself...it's complete liberation to have a sanctuary that you can call your own...comin to Melbourne was liberatin...but to live with another person within four walls is a case of deja vu for me...

Sometimes...i feel pressured by micheLe to stay in the relationship...i feel like i need to perform duties or take her to a fancy holiday just to appease her...micheLe's driven by sensual emotions...and can get very attached to me...clingey is the word...

I feel a sense of loss and failure when im not able to provide for her...sometimes i feel like she doesnt seem to understand my financial situation...i may be an adult...but i am in a foreign country...and that incurs heaps of expenses...as much as i want to take her to Fiji to suntan or the Great Barrier Reef to snorkel i am limited by what's left of my budget after the essentials (read: rent, food and the likes)...and what's left is one to be sneered at most times...fuck i barely have enough for myself...

There's a common misconception in Australia that international students come from fuckin rich families and have a giant pot of money that you could bathe in...oh yes a rather large percentage of them are...but the rest are just ya regular peeps whose parents fork out A$30,000 a year just to finance and see their children through universities while forsakin their retirement fund...

There's no high life and fast cars...i take the tram and keep an eye out for odd jobs...i eat simple and frugally...nights out are kept to a minimum...the moments i pamper myself are a result of 2 weeks of absolutely NO SPENDING...so yes...i just bought the awesome
Dynasty Warriors 5
...and yes im gona fuckin take my time to play it...coz i saved a month for it...

But i digress...

Money aside...i feel that im not doin enough to make micheLe happy...many times i wonder what she sees in me...my wonderful personality...wit and charm will only get old after a while...im 26...almost broke...severely misunderstood by his parents...ostracised from his home country...i feel like a fuckin homeless man sometimes...what can i possibly provide for micheLe? Perhaps i should seek asylum lol...

Im not wantin a breakup with her...she's just the most gorgeous woman...you know what's the sweetest thing? When micheLe wakes up from bed...opens her eyes and peers out from beneath the sheets...gosh i can do cartwheels on the spot...can anyone be more allurin???

The relationship's in a transitional phase now...the intensity's still there...but it's strangely more subtle and different...i no longer feel the need to grab her and pash her full on...there's just this occassional need to do that...i dont want her to be apart from me...but i dont want her to get too clingy...coz that's what she does best...cling...

Come to think of it...i have so many things to look forward to in Melbourne...ive been given so many oppotunities to shine here...opportunities that would never have been presented to me in the current Singapore regime...ive got this brilliant radio gig...im a Student Representative in uni...im scorin good grades...i'll be writin for the Melbourne Town Council...im popular in uni...my girlfriend is beautiful...so why am so unhappy? Is somethin missin in my life?

Fuck this is so not me...im not one to write bout my emotions...Outrageous. Beautiful. Misfit. is never bout my weaknesses...why am i being subjugated and a slave to it...why...

Perhaps this blog...and maybe even my relationship...needs a new direction...

Not feelin too good now...

I feel like lightin up a cigarette...
Wednesday, July 20
I am the Jude-minator! Feel the Wrath of my sexy Penis!
Still from the film Alfie - Sienna Miller and Jude Law
So Sienna and Jude are kinda on the rocks...yeah Jude cheated on Sienna...but this is Hollywood...Sienna must have been livin in La-La Land...coz in her perfect world Hollywood engagements/marriages are for life...

If i looked anythin like Jude...i would so fuckin go around with my one-eyed snake pokin at hot actresses' pussies...that killer Alfie British accent...stiff upper lip (among other stiff body parts)...and a red hot portfolio could only equate to lotsa free sex...

Damnit why am i not lookin like Jude?
Touchin myself to sleep every night is no fun *sobs*
Tom Avatar


adrock2xander is 5 months 21 days without a cigarette.
Profitting BIG TIME through eBay: 163 days left.

Thanks to my man
Harry
.





This avatar is wrong in so many ways.
Tuesday, July 19
Join The Club
adrock2xander is 5 months 20 days without a cigarette.
Profitting BIG TIME through eBay: 164 days left.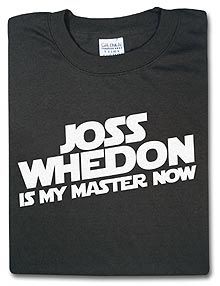 Coolest.
Tee-shirt.
Ever.
Saturday, July 16
Haloscan Sucks Dick
adrock2xander is 5 months 17 days without a cigarette.
Profitting BIG TIME through eBay: 167 days left.
Ive finally discovered why my comments mysteriously disappear after several months...apparently the commenter i use...the popular Haloscan...removes comments unless the account ya usin is upgraded so as to keep their server 'lag free' (for the lack of a better word)...

Im very very upset at Haloscan's decision to
remove comments
without us 'client's' approval...yes it is cleary indicated in the FAQ section...but how many people actually read FAQs unless it had a distinct impact on their secular lives eg. readin a FAQ when indicatin one's credit card no. online...

This is very very disturbin...comments...especially when written with lotsa wit and humor...is really upliftin...if you've had a bad day...someone's cheery comment could mean the difference between 1 less beer or lyin in a cesspool of ya own vomit...

Im actively lookin for another reliable commenter...by removin my blog's comments without prior notice or notification via email is a fuckin invasion of privacy...removin comments completely defeats the purpose of leavin a comment after readin a post...you'd wana return X years from now and look back on what others have thought about ya thoughts...

Im not happy...someone give me a chainsaw...i wana skin someone's ass raw...
Friday, July 15
Penis or no?

Samukeliso Sithol while competing as a female.
A Zimbabwean court has jailed a man who masqueraded as a female athlete for three-and-a-half years...

Samukeliso Sithole...a triple jumper and runner who competed as a woman at several international sports events...was convicted on charges of impersonation and offendin the dignity of a woman athlete who undressed in his presence...unaware he was a man...

Ok that is kinky and all...but is somebody stupid or is somebody stupid? How could no one have noticed the one dead giveaway that seperates all men from women...the penis...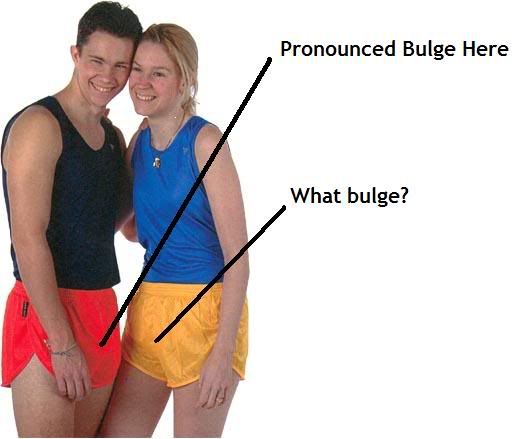 I'd have to forgive most female athletics for not havin breasts...but surely the penis...or the lack of it...is a way to identify a man these days? Or is the system different in Zimbabwe?
Just Another Movie Post
adrock2xander is 5 months 16 days without a cigarette.
Profitting BIG TIME through eBay: 168 days left.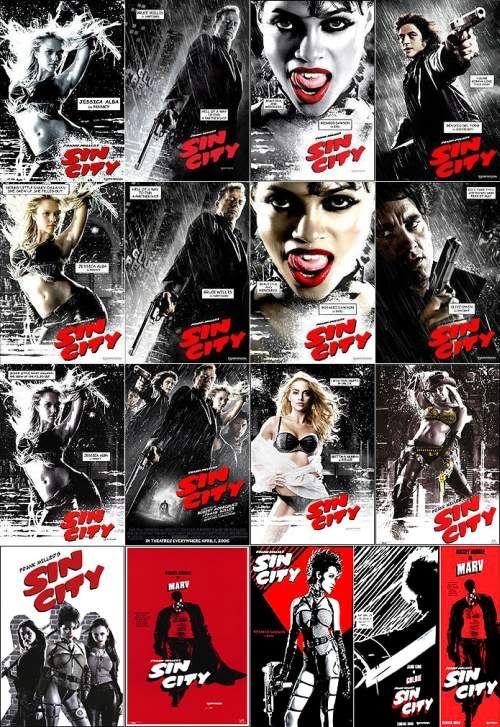 Ive mentioned on countless number of occassions how Australia screws us royally over the delay of movies and entertainment news...the piss-fucks who import movies have done it again...the cult
Sin City
...released over 2 months ago in the US and generally world-wide...was released in Melbourne just yesterday...

Yay...

In fact...it has been so long since the movie's opened...the DVD will be on sale in North America (thanks Gerret for the info) and Amazon next month...

Yay...

Now do i save A$11 to catch the movie or do i fork out another A$10 to buy the DVD...

Yeah...piss-fucks...
Thursday, July 14
House of Wax
adrock2xander is 5 months 15 days without a cigarette.
Profitting BIG TIME from eBay: 169 days left.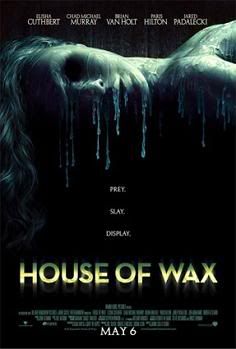 There are only 3 reasons why adrock2xander would wana pay A$11 to watch a crappy B-grade remake of the 1953 classic...

Paris Hilton screamin her tits off wearin nothin but her tight panties...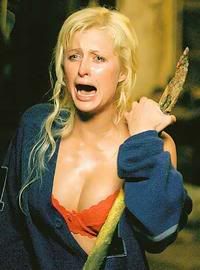 Elisha Cuthbert (of the magnificent
24
fame for you dumbfucks who arent pop-culturey enough) screamin her tits off wearin nothin but her tight panties...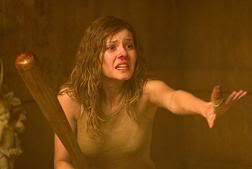 Just a teaser...can you imagine Elisha wearin this in the movie? Thank God ive bought insurance...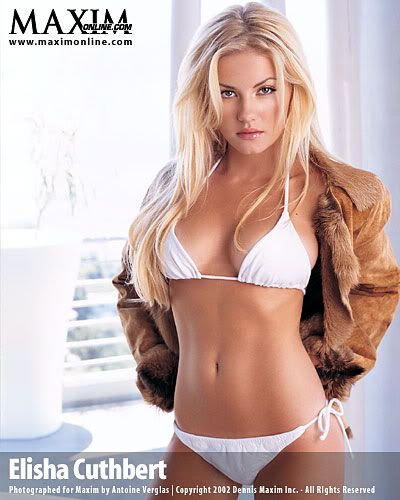 Now...all we need is Elisha and Paris gettin on with one another...

Yeah...
Wednesday, July 13
Terror in Melbourne


adrock2xander is 5 months 14 days without a cigarette.
Profitting BIG TIME from eBay: 170 days left.

How safe is Melbourne from a terrorist attack?

On my way to the radio station this afternoon...i'd noticed how eerily desolate and unsafe train stations in Melbourne are...i'd taken the Cranbourne/Pakenham line to Murrabin (that's where the radio station is)...and mind you the journey takes a blink-and-you'll-miss 30 minutes...but it was long enough for me to stay non-dozy...

With London and all of Europe gripped with panic...and fearful of appraisals or another Muslim-inspired attack...Australia...whose close ties with England is often shown to all and sundry...has not taken any efforts to increase the security within Australian soil...PM John Howard...imho...is a fag who needs his testicles checked for chicken pox...so it costs money to step up the number of patrollin done my security officers...yes hirin them officers cost money...and hey wadya know installation of cameras THAT ACTUALLY WORK would set the Australian budget by nary a whisker...

John reckons all is well...but who the fuck is to claim responsibility when one fuckin bomb goes off right in the middle of busy Spencer or Flinders Street Station? How bout scores of dead shoppers/tourists lyin dis-membered and bloodied in the middle of Bourke Street? I would like to see what all that millions of dollars put into fancy advertisin and colorful billboards could do...

Train stations in Melbourne are completely ill-prepared for a terrorist attack...i cant say ive been in Melbourne long enough...but ive not been able to find a single station that's capable of filterin large crowds of panic-stricken people out to safety...Flinders Station is over 150 years old...sayin it's beginnin to show its age is clearly an understatement...for all it's majestic and iconic appearance...i dont suppose the musty and dingy lookin tunnels that lead to the various platforms speak highly of the Melbourne Town Council's city planning...


Flinders Station looks nice on the inside...but is aesthetics more important than the safety of the public?
What kind of damage and reputation would Melbourne be left with should such an attack happen? As it is...fuckin drunks and groups of youths who're out for trouble are able to get through the ticketin system without payin...they leave graffitti and bottles of alcohol lyin around...they do drugs in the train...train stations outside the Melbourne CBD look like a turd-collection point...i shudder to think when Channel Nine reports that 348 people are believed dead and thousands more are injured as several bombs go off the train stations in the CBD...

Mind you...USA had chosen not to heed hints that it will be attacked by terrorists just weeks before 9/11...and see where it got them...Americans are...and will always...suffer the repurcussions of the attack...

What of Melburnians? Are we ready to battle terrorists? Australia has been lucky...her isolation from most parts of the developed world makes her a secondary target...but how long more would this persist? We tend to take safety and security for granted until we get hit face-first with a sucker-punch...and by the time we bother to look around and care...the damage has already been done...

Walkin out in the streets of Melbourne is dangerous enough...gangland killings and shootings...though low in recent years...are still a constant source of consternation to the police...there're muggers and rapists...child molesters and drunk retards...they're motley enough a crew to keep my eyes peeled to my surroundings...i dont wana watch for hidden bombs as well...i dont wana wear protective body gear or a gas mask when i go out...the air is clean and the city is beautiful...nobody deserves to die...

So why isnt somethin being done then?
Monday, July 11
Why Fantastic Four: The Movie sucks (and things we already knew but adrock2xander thinks it's worth mentionin)
adrock2xander is 5 months 12 days without a cigarette.
Profitting BIG TIME through eBay: 172 days left.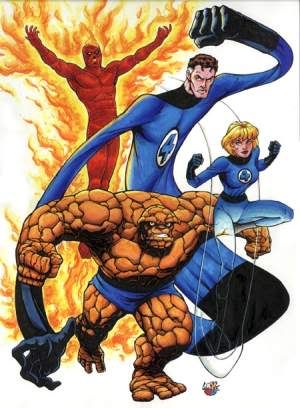 If ya not a Marvel fan...you should stop readin...no really...stop readin there you fuckhead-cheese-scrapin-non-Marvel-fan...

Ok now that we've established that...the movie...

1) Jessica Alba is not white enough.
Perhaps the Hollywood producers are myopic...or perhaps they havnt been eatin enough carrots...but Jessica isnt white...she's a fuckin Hispanic...she's got the Latino blood in her...Sue Storm has always been magnificently white...bad castin...ive browsed the web and cant agree more with
Cinegeek's
castin choices...Naomi Watts would have been perfect...she has enough depth of an actress to portray Sue's motherly figure of the group...and fuck she looks old enough to actually resemble a mother...and yes! She's white!


2)Too Human Torch-ey.
5 minutes into the movie...and we've Johnny makin smart-ass wise cracks that makes all the ladies laughin together with him...25 minutes into the movie Johnny shows his easy-goin side and all the ladies start pennin 'C-H-R-I-S E-V-A-N-S' as their next wet dream...45 minutes into the movie Johnny walks around topless and buff with a pink jacket draped around his genitals...yeah i paid fuckin A$11 to watch a man squeeze the bejeezes out of a comic book adaptation...

Dont get me wrong...in the fantastic Fantastic Four comics (no pun intended)...and in various Marvel cross-overs...Johnny Storm is a hothead...wired to act and not think...more than often enough his brashness gets him into all kinds of trouble...his enemy list ranks almost as high as Spiderman's...he doesnt get along with most of his allies...and he just wants things his own way...come to think of it...the Human Torch is a spoilt brat...but hey he still saves the day doesnt he?

The next time i see Chris Evans make popcorn out of his hands im gona ask him for a fuckin A$11 refund...

3) Too Spiderman-ey.
Marvel finally found the formula to a successful Marvel movie in the Spiderman movies...a tinge of human drama...a splash of action...a dash of accurate comic book adaptation...and voila! straight to a great weekend at the box-office...the producers of Fantastic Four arent the same blokes who worked in Spidey...and their efforts to mirror the Web Crawler were too apparent...but this time there was too much human drama...too little action...a decent adaptation...and yes...the casting...maybe Fantastic Four should have their own formula...

4) Michael Chiklis has no face time.
One of TV's better series The Shield has a ready-made star in Michael...my opinion on the show hasnt changed since
my Emmy post
last year...he has a good range of emotions that accurately portrays The Thing's anguish...but ask any casual non-Marvel fan who The Thing is a year from now...no one is gona remember Michael's face...what a complete shame...

5) Incredibles vs The Fantastic Four.
Hands up for those who thought the Incredibles did an incredible job of spoofin the famous four...yeah...i sure did...wtf...what the Incredibles only served to do was made it look like an animated prequel of the Fantastic Four...it was a case of deja vu...been there done that...same powers...different person...

Someone in Hollywood is definitely lackin in ideas...but hey...people have already thought of
possible
battle scenarios between the two factions...

I wonder how the next Marvel movie will turn out...
Sunday, July 10
Buffy/Angel on DVD? NOOOOoooooooo...
adrock2xander is 5 months 11 days without a cigarette.
Profitting BIG TIME through eBay: 173 days left.

Ive been spendin lots of time on eBay and shops around Melbourne lookin high and low for the now discontinued DVD box sets of BtVS and Angel...it's crazy when i think of it...just several months ago the box sets were on sale everywhere...and somewhere along the line...the production was stopped...and hey wadya know now im stuck with half a series..and then some...

It's temptin to purchase the Region 1 version...but i reckon the Region 4 box sets look better as well detailed and beautifully designed artwork is prominently displayed on 2 seperate cases...whereas Region 1 comes in only 1 case...
There're options still available to me...i could buy the entire season 1-7 set of Buffy and 1-4 set of Angel on Amazon US in Region 1...and sell the rare Region 4 box sets i have now...as it is each set sells for at least A$100...come to think bout it the retail price was A$20 just several months ago...imagine the profits people are rakin in...i could make almost A$2000 by sellin all my box sets...

And i know what ya thinkin! NO! IM NOT FUCKIN BUYIN THE AMARAY VERSION! NO FUCKIN AMARAY! ONLY BOX SETS WILL SUFFICE!

My Buffy/Angel DVD collection now stands at:

BtVS:
Season 1 Region 4
Season 2 Region 1
Season 3 Region 1
Season 6 Region 4
Season 7 Region 4
Seasons 4 and 5 are selling at exhorbitant prices right now...eek!

Angel:
Season 1 Region 4
Season 2 Region 4
Season 3 Region 4
If you thought BtVS seasons 4 and 5 were expensive...you havnt seen Angel...eek!

Now that ive mentioned it...i do have season 1-6 of BtVS on VHS back in Singapore...but VHS versions cant sell for peanuts to save ya life...besides...who watches VHS anymore...wtf?

A search on eBay Australia still gives me promisin results...every season is still on sale (at a cut-throat price)...i could do away with my Region 4 collection...earn mega bucks and stare at an ugly Region 1 version...or sell my Region 1 collection...eat bread and water for the next 2 months and have a beautiful Region 4 collection perched like a pretty yellow canary on my shelf...

What should i dew? What should i dew?
Thursday, July 7
Some Pictures


adrock2xander is 5 months 8 days without a cigarette.
Profitting BIG TIME through eBay: 176 days left.

They say it's winter in Melbourne...but someone must have forgotten to call the meteorological department...coz accordin to the books and movies...winters dont resemble anythin this beautiful...


Winters in Melbourne city are quite the charm...a lack of snow not-withstandin...the weather breathes hot and cold...as far as im concerned you dont get 13 Degrees Celcius in winters...but hey in Melbourne we do...

The leaves still fall...i love the way the branches fan out to resemble a hand...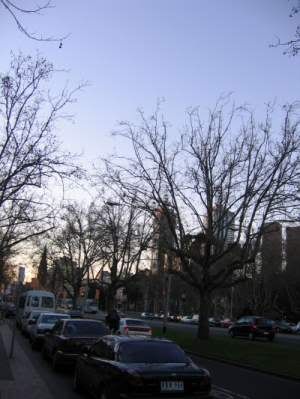 Voyeurism is a big thing in Melbourne...fans cant get enough of Big Brother...so they've taken matters into ya own hands...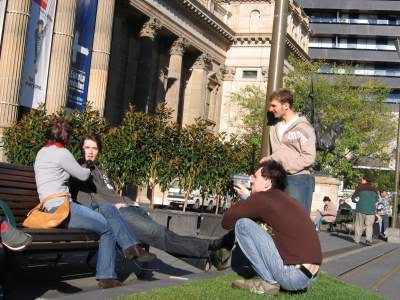 Melburnians have a quirky way of dispensin with information in free magazines...when all else fails...there's always the pram...10 points for effort there...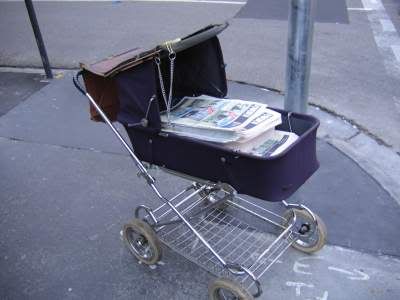 I reckon the best place to shop is in Chapel...where ritzy glam, fine dinin and artsy shops amalgamate to form a giant shoppin belt...best kept non-secret in Chapel? The Chapel Street Bazaar...groovy knick-knacks and hidden retro gems all under a roof...look hard enough and you might just find Kylie Minogue's birth certificate...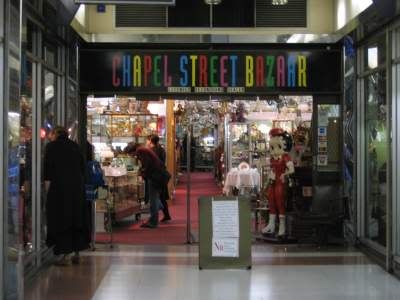 Lamb on Chapel serves the best souvlaki a man could lay his tongue on...A$9 and it's almost an all-u-can-eat Greek buffet...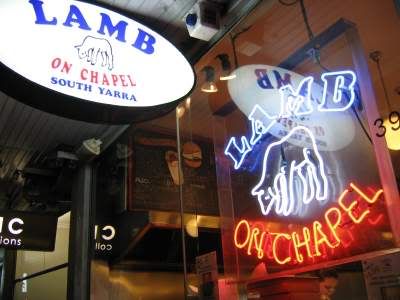 micheLe and i sat along the Yarra River watchin the sun set upon the Melbourne skyline...


Like a color template...i love the way lights play with the skyline...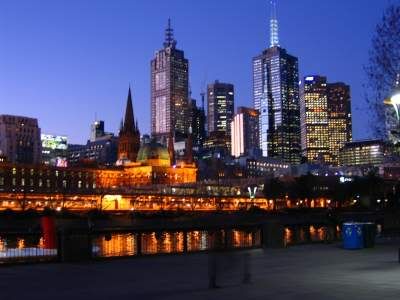 Tuesday, July 5
First Anniversary


adrock2xander is 5 months 6 days without a cigarette.
Profitting BIG TIME through eBay: 178 days left.

It's July 5th today...the 5th day of winter...and also my first anniversary with my beautiful micheLe...

No fanfare celebrations is the new black...so micheLe and i decided to keep things simple and to a minimum...the specialness of the day cannot be denied...it is our first anniversary in a relationship...non of our previous relationships have lasted 12 fuckin months...woopeedoo...

In my
Melbourne holiday
post in July last year...i'd not mentioned my secret relationship with micheLe on my blog...back then we both knew it was a long distance thing...so writin bout a doomed relationship that defied the space-time continuum just didnt make sense...however the risk taker in me threw caution to the wind...and decided to work on a small project - a book for her when she returned to Singapore in December for holidays...

Writin feverishly everyday...i'd secretly recorded every single SMS text message she has sent me over 6 months...it was to detail our trials and tribulations of a very messed up long distance couple...every highlight of our day and nadir of our week was recorded without her knowin...before i knew it the number of text messages numbered over 1000...

After decidin to abandon my Advertisin job in Singapore for love in Melbourne...i decided to extend the book by another month...the book was given to micheLe in Valentine's Day this year...i will never ever forget the expression on her face when she opened the book...she sobbed like someone had just passed away...in an instant all the hard work i'd put into the book vanished...knowin the effort was well worth the wait...

The Valentine's Day gift is bound in leather...roughly an inch thick...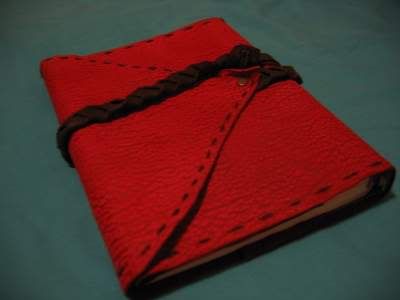 It opens up to reveal pages of meticulously written words...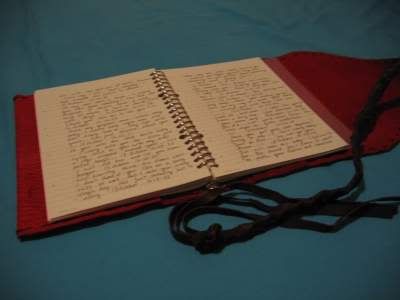 ...and pictures of us...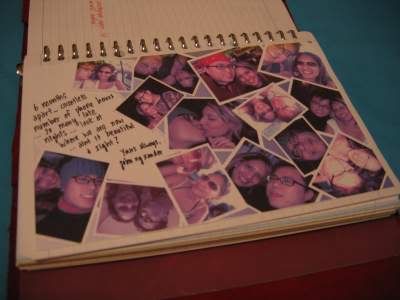 Fast forward 5 months...and it's our first anniversary...to avoid the old cliche 'how time flies' would be an understatement in itself...

I brought micheLe to one of Melbourne's premier restaurants...
livebait
in the Docklands has been consistently voted as one of the
Top 10 restaurants
for 3 years runnin...im not one for the easily impressed...but i'd left livebait with a glowin reference to anyone who's not visited the restaurant...the service was impeccable (A$4.30 tip i left LOL)...food was brilliant (A$85.70)...the view of the Docklands and West Gate bridge at night - (Priceless)...


You cant bloody go wrong when ya payin A$32 for a basic Fish-n-Chips dish...or A$13 for a teensy-weensy dessert of banana fritters and ice cream in a large plate...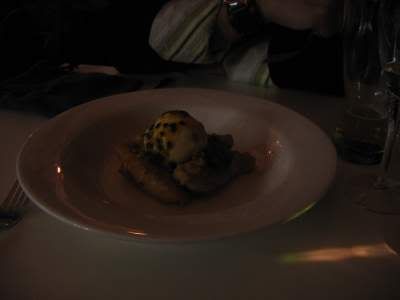 Suffice to say...if ya payin a premium for a dish...your belly fills faster than a thirsty Australian reservoir *insert sarcasm here*...

365 days have gone my love...here's to 365 years together...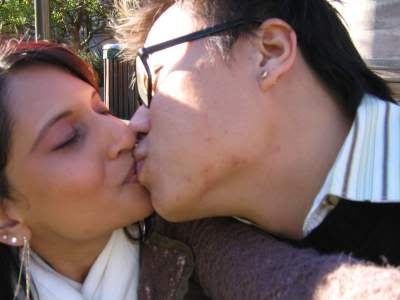 I love you micheLe. Happy Anniversary.
Monday, July 4
Dodge the Online Scams!


adrock2xander is 5 months 5 days without a cigarette.
Profitting BIG TIME through eBay: 179 days left.

Online transactions via eBay can be a dodgy affair sometimes...the product has been sold...the money has been paid...but the seller can always scoot off with the money and dissappear without a trace...ive been suckered for these gimmicks one too many times weeks...and im not too pleased...

I wonder why these people do that? Not only does it hurt their reputation...but people are less willin to trade with them in the future...high scores and feedback is one thing...but to jeopardise everythin they've worked so hard for...golly...it just doesnt make any sense...

I can understand why people are unwillingly to shop and trade online...the lack of trust from legit buyers and the inabilitiy to view the goods...but mind you these sellers are one in a million...i trust that the majority of sellers...myself included...arent the dodgy sleazebags that many make out to be...
Sunday, July 3
Victoria Day 2005
adrock2xander is 5 months 4 days without a cigarette.
Profitting BIG TIME through eBay: 180 days left.

It's gettin increasingly more difficult to blog on a regular basis...with the approval of my student and work visa...i find myself applyin for jobs with my updated resume in the day while spendin time with micheLe...who has conveniently taken a 2 weeks hiatus in view of my uni. holidays...also...with my chance meetin with Peter Harrington...my days are filled with amazing experiences with a potential life-alterin future...

Case in point...after my radio stint in 88.3FM...Peter had taken a look at my resume and was suitably impressed with my portfolio of published works and articles...and wadya know Peter decided to 'hire' (for the lack of a better word) me as the City of Melbourne Council's photographer for 3 hours on 1 July...

It was Victoria's 154th birthday...and every eminent and prominent person in Melbourne and Victoria were invited to the important ceremony and prize-givin event...each year a distinguised plaque is given out to Victorians who have brought about a better life/service to everyone through their humanitarian or philanthropy efforts...it was indeed a great honor for anyone to receive this plaques...and for a non-Australian...in my case a foreign student...to witness this momentous occassion warrants nothin but respect and awe...

I had the opportunity to meet many illustrious people throughout Melbourne and Victoria...the Lord Mayor of Melbourne himself Mr John So...several Commodores who had served in the Australian Navy in the Second World War...imagine that! World War 2 veterans! I couldnt believe my luck...just listin all the people here would be a real mouthful...

It felt kinda odd being the only Asian in the entire roomful of dignitaries and cameramen...i had several old nannies comin up to me wonderin if i was Vietnamese...my family name being Ng...and Nguyen being such a common Vietnamese name...good thing i decided to charm these old ladies away from their frail husbands...it felt good knowin even old women like talkin to young men...LMFAO...

I also got to meet the mother of megia-mogul and multi-billionaire Rupert Murdoch...now if anyone of you readers do not know who Rupert is you should be fuckin shot and sent to hell immediately...no self-respectin person with interest in pop culture and journalism should walk around with no clue as to who he is...

Neways...i digress...the mother of Mr Murdoch...Dame Elizabeth Murdoch...is such a charmin old lady...brimmin with humor and life...and apart from her frail appearance...it betrays the fact that she is 94 years old...Dame Elizabeth was presented with 2005's Victoria Day Award for Public and Community Service...she has been a generous philantropist for many decades...and for Victoria to bless her kind efforts in 2005 was indeed too many years too late...

Ive decided to post some pictures i took for the City of Melbourne newsletter...it's wonderful to be part of such dignitaries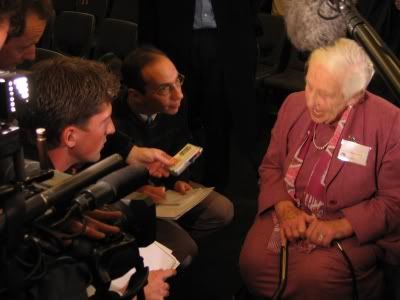 Dame Elizabeth Murdoch being interviewed by the media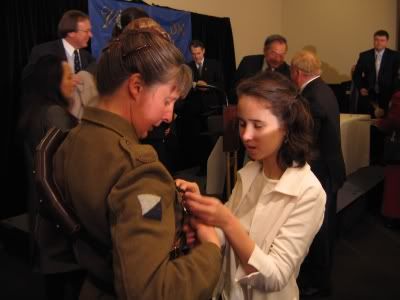 Miss Caren Burns feels the medals of an Australian officer. Miss Burns...who is blind...read out the significance of Victoria Day in braille...ive ever seen anyone read in braille before...to watch her read at such great pace was quite humblin indeed...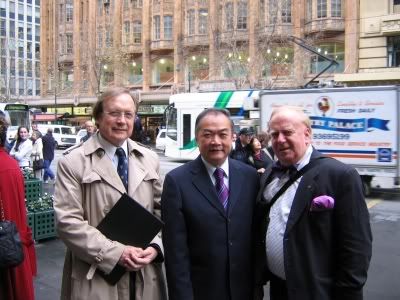 From left: Unidentifiable man in trench coat, Lord Mayor John So and Peter Harrington himself outside the Melbourne Town Hall
The corridor of the 3rd floor of Melbourne Town Hall...the Mayor's office is just up ahead...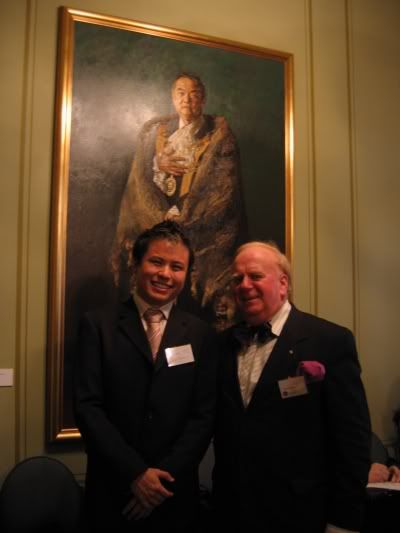 adrock2xander lookin suave in a suit and Peter Harrington (again!)


Im lookin forward to what plans Life has for me in the months to come...within a week ive appeared on radio and am rubbin shoulders with VIPs...wowzers...now here's to more of that!

*raises glass to toast*

Cheers mate...
Subscribe to Posts [Atom]