Monday, July 25
Bored Monday Post


adrock2xander is 5 months 26 days without a cigarette.
Profitting BIG TIME through eBay: 158 days left.

You know what's the worst thing in uni? Nope...not the workload...not the lecturers...not the tutors...not the daily commute...and definitely not the exhorbitant school fees us international students pay...

It's the ridiculous breaks we have between lectures...fuckin time schedulin is FUCKED UP...

I hate Mondays...fuckin 3 hours break...WTF are 6 poor RMIT uni students to do when they've got nothin to do?

Take a lame picture and flash ya pearly whites!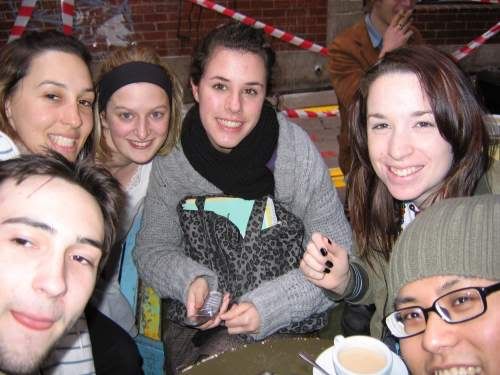 Hi guys...let's do coffee again next Monday...it was fun wasnt it? :O

Or watch a bloke spray graffitti in one of Melbourne's back alleys...always interestin...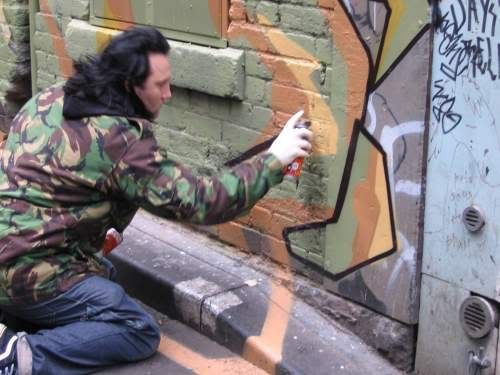 I find myself bloggin on a less regular basis these days...it's really really crazy...speakin of schedulin of time...i rarely have time to sleep these days...for those who've been vaguely followin...adrock2xander is currently:

- temporarily employed by the City of Melbourne Precinct as a writer/photographer
- a Student Representative fightin (for the lack of a better word) for student and study rights
- lookin for a day job
- appearin on 88.3 Southern FM every Wednesday
- preparin to write the City of Melbourne newsletter

On top of that...he has:

- signed up with
RMIT Syn 90.7 FM
for volunteer work and radio trainin
- a crazy uni workload
- to manage a burgeonin online business that he wishes will make some good income

I think somewhere in there i try fittin a girlfriend...my personal time...some semblance of a social life...and hey WTF you mean there're only 24 hours a day??

Funny how people complain they could pursue their passions...but grumble when them opportunities present themselves...
Subscribe to Posts [Atom]