Monday, December 8
Last post - Redirecting
Hi all, this is the last post for my blog. A new blog - incorporating my dog Toby, my family and myself - has been created. Visit
The Marching Jester
.
Until then, so long from Blogger.com.
Wednesday, October 3
"Hello, have you met my boobs?"



With the Spring Carnival just around the corner, everyone's gearing up for another great season of racing. Healthy horses permitting.

While punters have a flutter at the races, fashionistas prefer to put their money on a sure bid. Yes, the annual fixation on the Big F.

Here's hoping flat-chested girls have as much of a chance as Hillary Berry. Berry, the new 'Face of Caulfield', had on herself the most hideous boob dress. Designed by Sydney designer Alex Perr, the dress looked unflattering and uninspired. If anything, Hillary looked like she had Glad-wrapped herself with thrashy garbage bin liner and went to town with it. Her boobs are too squashed, and the shape it completely wrong.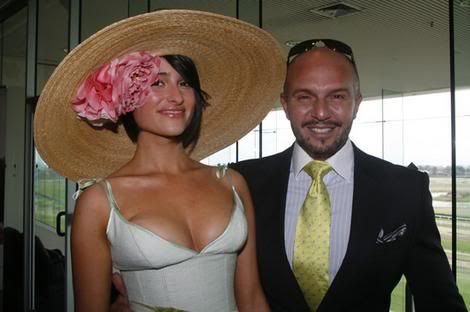 Above: Hillary Berry, her boobs and designer Alex Perry.
I'm completely opposed to skimpy looking hoe-dresses on race day. Firstly it's not appropriate. Secondly knowing how unreliable the meterologists are in Melbourne and the weather in Melbourne, prancing around like a slut screaming 'Fuck Me' doesn't exactly warm my heart.

Give the dress to a flat-chested girl Alex. Spare Hillary's boobs the blushes. And pain.
Wednesday, September 26
If this had happened to my wife...
Horror birth
I'd be scarred for a very long time.
According to
economicobjectorvism
, Sydney's patient-doctor ratio is along the lines of 1700:1. It gets worst as you head out to the coast, with ratios of 5000:1.
That is shocking. This is Australia. A modern, extremely wealthy and resource-rich country. Public hospitals should not be lacking the funding to hire more doctors. While everyone's playing catch up and apologising to the Aboriginals, we do tend to forget about the other 'forgotten' people in Australia - the middle class.

What happened in Sydney's Royal North Shore Hospital could have been prevented, and while the genuinely ill or patients with life-threatening symptoms wait in queue for their turn, fucking morons who wana chuck a sickie in the next day beats them to the doctor.

I say hospitals should have two queues - Sickie queue and the Genuinely sick queue.

Saturday, September 15
As Kevin Sheedy would say it...
Was channel surfing free-to-air tele earlier, and caught about 10 seconds of the footy between West Coast Eagles and Collingwood. The commentator commented on how the semi finals (or perhaps footy?) is the greatest sporting spectacle in the world.
More on adrock2xander's latest post in
Metroblogging Melbourne
.
Saturday, March 17
24 hours?

When i look back at three years worth of blog entries, it brings me joy and i feel like a little jig, skip and hop.

However, with the way my schedule is going right now, i simply don't have time to commit myself to my experiment. Outrageous. Beautiful. Misfit. is temporarily on hiatus.

Again, you guys know where to find me.

Or grab a copy of Catalyst! :O


Sunday, January 21
I'm Baaaaackkkkkkk!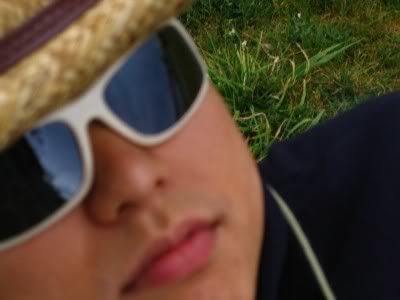 I knew it had to come. One day, i'll return to Outrageous. Beautiful. Misfit. To bitch (perhaps), discuss (probably) and blog (definitely). And hey, the bloody bug bit me real hard today.

It didn't really go away. For the last 6 months, i have been blogging regularly for
Metroblogging Melbourne
and every other week or so,
I am Toby
. Besides, i've always known i'll return to the blog anyway. Hey, i still remember the password!

After a three months hiatus, i'm completely recharged and feel like a raging bull has risen from within me. This bull wants to do some really silly and spontaneous stuff. I just hope i can keep the bull restrained.

Remarkably, this blog consistently gets several hundred hits a day. The blog is still churning out at least 150 hits a day in the last three months. Weird, i say. Half of them come from keywords including 'fuck', 'sex', 'gay', 'bisexual', 'melbourne', 'asian' and 'singapore'. I know. Weird, you say.

For my new take, Outrageous. Beautiful. Misfit. will now take a new direction. I won't reveal too much yet. I hope the readers return.
Above: Dodgy self-portrait on dirty grass patch in Ballarat, Victoria.
Monday, October 30
Just Another Update - New or Old Template Notwithstanding



Hi guys,

God i hate this new template. It's so ugly and simple. I much prefer the older template from August 2006 before.
Anyway, just to reiterate my point just over a month-and-a-half ago on September 11 (of all dates), i've decided to take a breather on the blogging front. Yes, it appears that i've stopped blogging completely and as my mate Joe Gordon of the
Woolamaloo Gazette
said in a desperate email sent a week ago in a plea to tempt me to blog again, "Are you in a coma?"

Well, i'm still here am i not? :O

Blogging commands a lot of importance in my life, so i've never truely given it up. I never will. Just that after 3 years of blogging you tend to lose track of the other things in life. And i'll be the first to admit i spend far too many hours in front of the PC.

You can all still find me blogging on
Melbourne Metroblogs
; i'm an authorised author of the city blog and though it's nowhere as witty or sarcastic as Outrageous. Beautiful. Misfit. i'm sure many will appreciate a different adrock2xander. And hey, i do live in Melbourne. So find out what i think of the beautiful city.

Also, i have my hands full with my puppy Toby. He has a blog as well - the aptly named
I am Toby
- so do visit the site and find out what's going on in my real life.

There're some other developments and projects that i'm working on at the moment. In a nutshell, i've successfully campaigned and was elected editor of RMIT Union student magazine Catalyst for 2007.

I have a new tv program and am working out plans to set up a media company; these are all out in the horizon and should all become clearer over the Australian summer holidays. Right now, i'm just concentrating on my own 'personal effects' such as just having a normal life, sleeping in to 12pm and pigging out on ice cream and marijuana. It'll be an exciting few months to come.

Whether this blog is revived again is another matter. I do appreciate all your friendly comments and questions related to my sudden hiatus; it warms my heart knowing that people still find irreverance, sardonic comments and wit a part of their lives. In this political environment that we live in post 9/11, nobody laughs at themselves anymore.

Well i really am still alive, and you can all find me on MSN (adrock2xander@email.com) or email me on the same address. To my Melbourne friends, i'm only a phonecall away :O

Ok i've got a 1.30 appointment with my Playstation 2. Ciao.


Subscribe to Posts [Atom]