Sunday, July 3
Victoria Day 2005
adrock2xander is 5 months 4 days without a cigarette.
Profitting BIG TIME through eBay: 180 days left.

It's gettin increasingly more difficult to blog on a regular basis...with the approval of my student and work visa...i find myself applyin for jobs with my updated resume in the day while spendin time with micheLe...who has conveniently taken a 2 weeks hiatus in view of my uni. holidays...also...with my chance meetin with Peter Harrington...my days are filled with amazing experiences with a potential life-alterin future...

Case in point...after my radio stint in 88.3FM...Peter had taken a look at my resume and was suitably impressed with my portfolio of published works and articles...and wadya know Peter decided to 'hire' (for the lack of a better word) me as the City of Melbourne Council's photographer for 3 hours on 1 July...

It was Victoria's 154th birthday...and every eminent and prominent person in Melbourne and Victoria were invited to the important ceremony and prize-givin event...each year a distinguised plaque is given out to Victorians who have brought about a better life/service to everyone through their humanitarian or philanthropy efforts...it was indeed a great honor for anyone to receive this plaques...and for a non-Australian...in my case a foreign student...to witness this momentous occassion warrants nothin but respect and awe...

I had the opportunity to meet many illustrious people throughout Melbourne and Victoria...the Lord Mayor of Melbourne himself Mr John So...several Commodores who had served in the Australian Navy in the Second World War...imagine that! World War 2 veterans! I couldnt believe my luck...just listin all the people here would be a real mouthful...

It felt kinda odd being the only Asian in the entire roomful of dignitaries and cameramen...i had several old nannies comin up to me wonderin if i was Vietnamese...my family name being Ng...and Nguyen being such a common Vietnamese name...good thing i decided to charm these old ladies away from their frail husbands...it felt good knowin even old women like talkin to young men...LMFAO...

I also got to meet the mother of megia-mogul and multi-billionaire Rupert Murdoch...now if anyone of you readers do not know who Rupert is you should be fuckin shot and sent to hell immediately...no self-respectin person with interest in pop culture and journalism should walk around with no clue as to who he is...

Neways...i digress...the mother of Mr Murdoch...Dame Elizabeth Murdoch...is such a charmin old lady...brimmin with humor and life...and apart from her frail appearance...it betrays the fact that she is 94 years old...Dame Elizabeth was presented with 2005's Victoria Day Award for Public and Community Service...she has been a generous philantropist for many decades...and for Victoria to bless her kind efforts in 2005 was indeed too many years too late...

Ive decided to post some pictures i took for the City of Melbourne newsletter...it's wonderful to be part of such dignitaries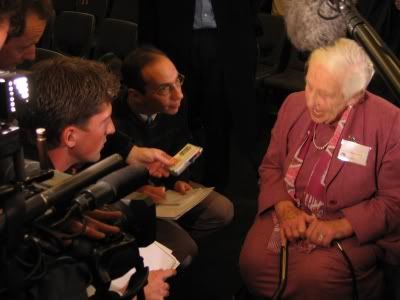 Dame Elizabeth Murdoch being interviewed by the media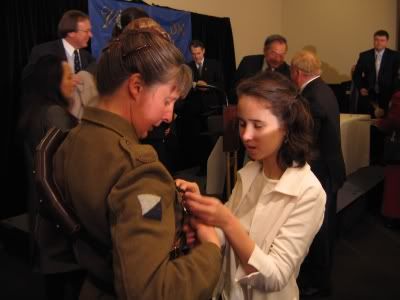 Miss Caren Burns feels the medals of an Australian officer. Miss Burns...who is blind...read out the significance of Victoria Day in braille...ive ever seen anyone read in braille before...to watch her read at such great pace was quite humblin indeed...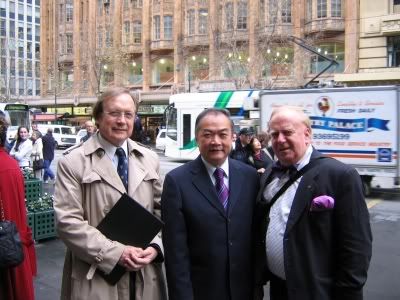 From left: Unidentifiable man in trench coat, Lord Mayor John So and Peter Harrington himself outside the Melbourne Town Hall
The corridor of the 3rd floor of Melbourne Town Hall...the Mayor's office is just up ahead...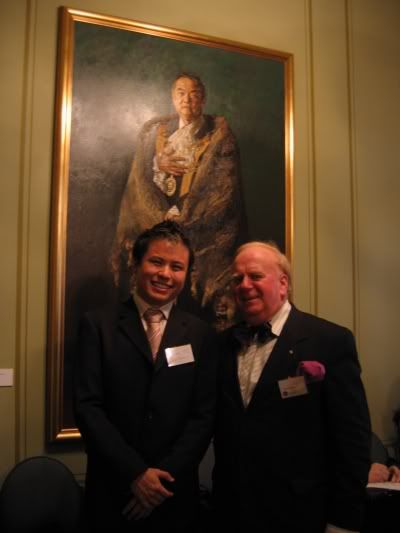 adrock2xander lookin suave in a suit and Peter Harrington (again!)


Im lookin forward to what plans Life has for me in the months to come...within a week ive appeared on radio and am rubbin shoulders with VIPs...wowzers...now here's to more of that!

*raises glass to toast*

Cheers mate...
Subscribe to Posts [Atom]