Sunday, February 5
Melbourne Awaits



The Beautiful

2006 is an excitin year for Melbourne and sports buffs alike...

The world was entertained with the enthrallin Australian Open in January...in March Melbourne welcomes participants from 71 Commonwealth nations and territories for the
Commonwealth Games
...and get your ear plugs ready in April as the world's fastest cars descent upon Australia for the
Australian Formula 1 Grand Prix
...

I have the very satisfyin pleasure of being involved in both the Commonwealth Games and F1 Grand Prix...as jobs have it...it doesnt get any better than both events...as they're telecast live to countries around the world...i get to rub shoulders with world class atheletes and if im really lucky...a picture or an autograph...

I'd spent Friday afternoon in the Melbourne Cricket Ground (MCG) for an event briefin and collection of my work roster...MCG is currently in the final phases of upgradin - Commonwealth Games standard - i like to call it...with the Games only 38 days away...MCG will be in the spotlight as they host the Opening and Closing ceremony...and all Track-and-Field events...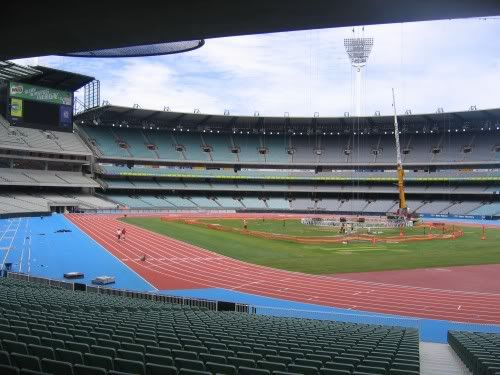 From the Lower Stands...the behemoth MCG finalises its renovations...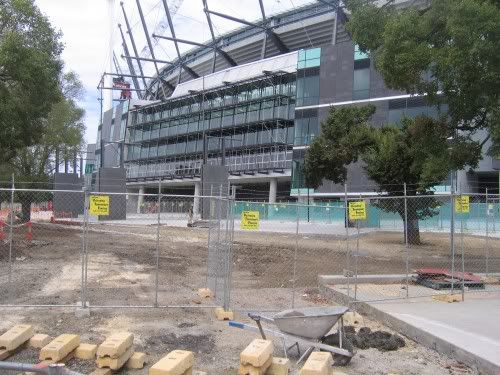 Pathways and walkways will witness hundreds and thousands of patterin feet in a few weeks...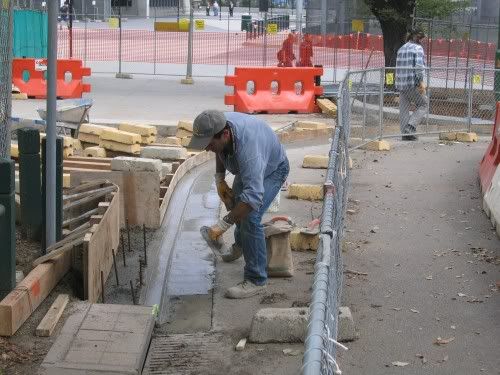 The worker seems to agree with me...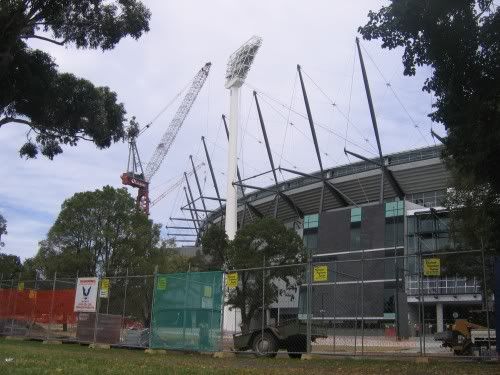 The scaffoldin and crane overlooks MCG...c'mon lads...get them work done...the world expects!
Subscribe to Posts [Atom]