Monday, February 6
Hanabishi - Perfect Japanese



The Beautiful

Mention King Street in Melbourne and the image of seedy strip joints and bars springs to mind...King Street is however, where one of Melbourne's if not Australia's best Japanese restaurant squats comfortably like a sumo wrestler...tossin salt and stompin their feet as if to make a statement...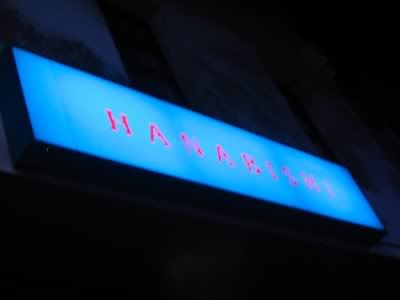 My trip to
Hanabishi
was triggered by my sudden desire to eat
wagyu beef
...i had once tried the ultra-premium wagyu (wa means Japanese and gyu means cattle) back in Singapore in my early twenties...as a Japanese foodophile progressin to wagyu was the next ascension to Japanese food...it's been over 5 years but ive not once forgotten the soft texture of the beef that literally melted in my mouth...i reckon wagyu connoiseurs and promoters could borrow M&M's slogan 'Melts in your mouth, not in your hands' here...a great advertisin campaign the wagyu beef promoters could do with...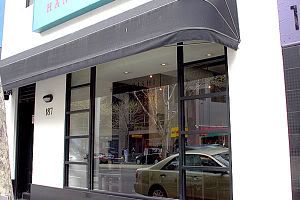 I suppose the only reason why it's taken me so long to consume wagyu beef again is the price...unless ya a rich bloke...i reckon it's prohibitive to eat copious amounts of wagyu beef regularly...

I was undetered by the price for once...my desire to eat the king of beef dulled my common sense and rapidly diminishin credit...together with micheLe and our friends and Hanabishi veterans-of-war Shannon and Natasha...we ventured out to King Street for some zen-like Japanese experience...banzai!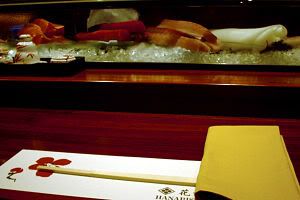 The food and presentation at Hanabishi is absolutely sublime and superlative...although we were here for the wagyu beef...i managed to spy on the dishes on our neighbors' tables...i was amazed by Hanabishi's comprehensive attention to detail...most Japanese restaurants in Melbourne (and throughout the world) have pseudo-minimalist architectural designs and serve their dishes in simple bento boxes with little frills and fanfare...Hanabishi ups the ante with beautiful, almost ornate decorations with each dish...it's almost like an interior designer was hired to work in tandem with the chefs in the kitchen...the minimalist modern decor is very elegant (one of the best ive seen)...and when you throw in the beautiful
ikebana
displays...i gota admit...i truly havnt seen anythin like this...and this is comin from a bloke who's been eatin Japanese food for over 15 years...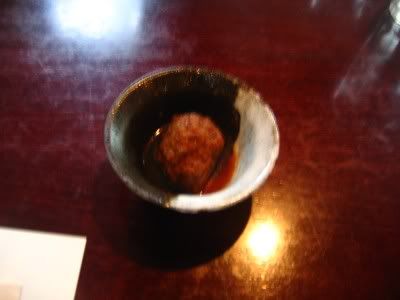 I wished i knew what this meatball was...as it came as an appetizer...Shannon and Natasha were ravin bout this oddity...they mentioned unabashedly that the previous times they've been here...they loved the meatball so much...they even slurped and drank up the meatball sauce...i never knew Japanese food came with meat-based aperitif...i truly enjoyed the tiny morsel...it was firm on the outside (it didnt break apart when i picked it up with the chopsticks) but extremely soft on the inside...the texture is similar to a half-boiled egg...the taste lingered in your mouth...and sure enough i found myself lickin the sauce off the bowl...a quick question to the waitress revealed it's a mixture of beef and pork...wow...how's that for Japanese food...beef and pork! How quirky...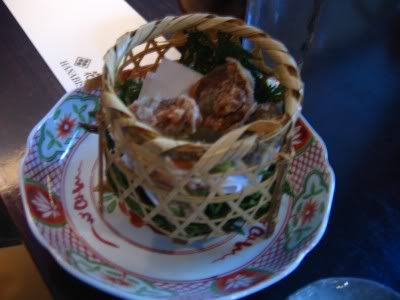 micheLe and Natasha werent big on sashimi...so they went the way of the crustaceans and ordered the soft-shelled crabs...i genuinely liked the way the crabs were presented...a straw basket with bite-sized morsels...it reminded me of a bowl of Chinese chicken herbal soup...looks nice on the outside...tastes nice on the inside...after the delicious meatballs the crabs were definitely whettin the girls' appetites...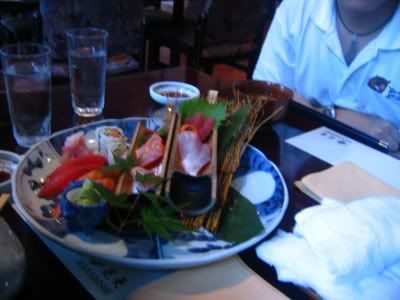 Real men eat raw food...and as much as sashimi critics wax lyrical bout the awful taste of raw fish...i'll like to see them put their money to where their mouth is after our sushi/sashimi platter arrived...i sincerely think that to convince non-raw fish eaters to try a piece of sashimi...Hanabishi's presentation of the platter is half the battle won...when it arrived on our table i thought i was lookin at a painting! So exquisitely beautiful...with little tufts of leafy greens in the background...red and pink pickled ginger depictin the flowers...the bamboo sticks gently cradlin the sashimi slices and the sushi pieces carassin the plate...i honestly couldnt bear to eat it...every slice of tuna, salmon, garfish and
nigirizushi
were tops! What a piece of art! What beautiful food!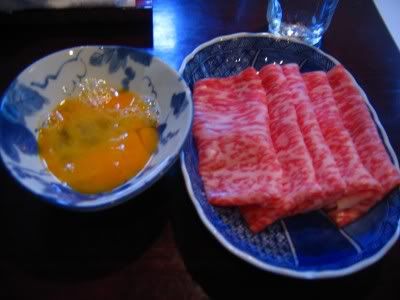 The pièce de résistance finally arrived...for those not in the know...wagyu beef is eaten with a cracked raw egg...the beef (notice how thinly sliced and marbled it is) is cooked in a hot pot for a few seconds...and dipped into the raw egg...i prefer to dip the beef into the egg first before cookin it...there's no difference to the method of madness...but i believe my preference allows the egg to be slightly cooked...enhancin the flavour of the beef...just 5 slices of wagyu beef we were allowed...how disappointing (sic)...such delectable taste...such expensive beef...i believe the wagyu beef were a third of the banquet set price...


The hot pot sits on a butane slow cooker...in it sits mushrooms (the black Asian kind)...leafy vegetables...tofu...and a thicker version of cold soba...all this is cooked in a soya sauce-like stock...the wagyu beef goes in here...everythin is eaten with the Japanese sticky rice (free flow of rice i must add!)...because the beef slices are so thinly sliced and soft...the beef turns to a mushy pulp if it's left in the stock for too long...not like it's any difference to me...i ate like a Wagyu-eating Champion...no worries mate!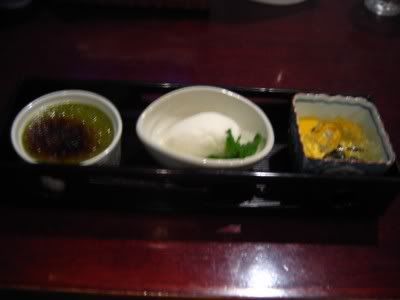 The dessert arrived...and i was presented with a conundrum...in front of me sits a triumvirate of dessert so exquisite and pretty i almost didnt eat it! The bowl on the left is the much harped about Green Tea Creme Brulee...a light green tea paste sits atop an extremely rich and thick cream base...it was ridiculously yummy and surprisingly...not too sweet...which was to my likin...

The dessert in the middle is the lemon-scented buttermilk sorbet served with mint leaf...again...it's not too sweet and appeals greatly to my rather citrus-unfriendly palate...

Desset on the right is the mango custard with jello...after the first 2 desserts i was just about ready to give up...im not big on desserts...growin up on an Asian diet always presented me with problems when it came to dessert...Asians just arent big on dessert...i would never be able to finish any dessert...yet somehow the third dessert dish sat so well with the other two i didnt think twice bout eatin it...the custard wasnt extraordinary...plain and simple...nothin fancy...but i liked it nonetheless...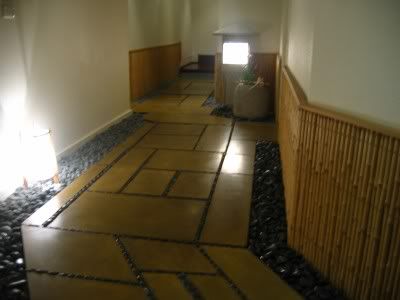 Ive already mentioned how elegant the decor is...but nothin prepared me for the Little Japan that greeted me on the way to the washroom...little slabs of marbles flanked by pebbles and bamboo lining...Japanese lanterns adorn the path...i was so taken by the beautiful sight i failed to notice the waitresses gigglin at my takin of this shot..."You like this place dont you?" she asked...

Hell yeah i do...and rest assure i'll return one day...

Hanabishi was awarded one chef's hat in The Age Good Food Guide 2006.
Subscribe to Posts [Atom]