Thursday, April 21
The Misfit is famous!
adrock2xander is 2 months 22 days without a cigarette.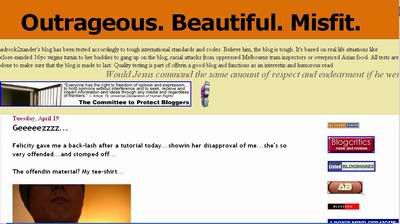 My blog is covered by Moses Francis of
AwesomeBlogs.com
...the graphic designer tracks down blogs across the net that appeal to him...the site is so very new...and it's funny how he found me...since he's so far from Melbourne...the graphic designer also interviews me...check it out...
To Moses:
Hey mate thanks heaps for that 'publicity stunt'...props to you...
Subscribe to Posts [Atom]