Sunday, October 9
RMIT Communications Ball 2005 Part Five


The party moves to St Kilda...where the entire entourage is shipped in Party Buses...

I like the idea of Party Buses...they're really what they're described as...picture a bus with flashin strobes of lights...loud blarin music and lots of space to stand and dance on...it's quite a sight when it zooms past long stretches of roads with people people gawkin...

You cant have a party and not have Prof Comm's bronzed-football-player-wanabe Giuseppe Matt...there's just somethin bout him..."It's his eyes!" all the girls reiterate...Ok ok i get it! Girls cant seem to get enough of him...guys like his infectious enthusiasm...in fact...i felt like a poor cousin next to him...inferior even...so i decided to mask out my face...the spotlight's on you Giuseppe Matt!



And then i saw her...Nicola! You cant not have a ball without the lovely Nicola...she looked beautiful with her mink (?) coat and sheer dress...her boyfriend Sam's a riot...and kinda drunk...if he's not tryin to kiss me...he's mixin drinks taken out of his bag...so why're we payin $70 again?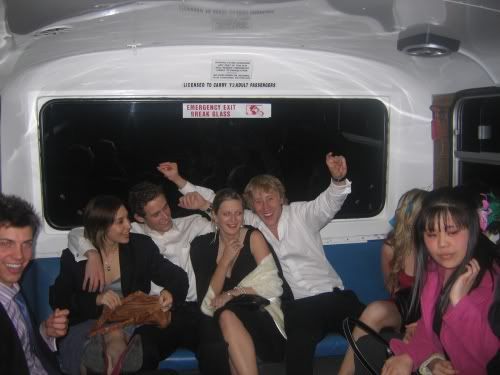 It's hard to dance with everyone standin...some of my furry friends decide a sittin posture would aid in their bowel movements...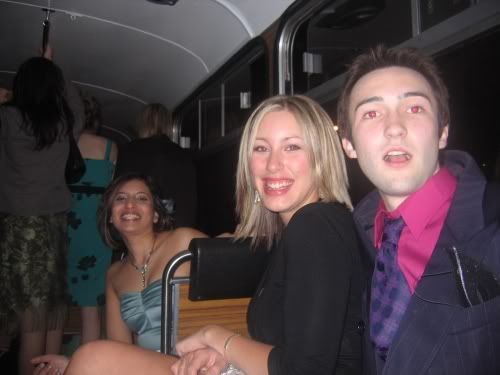 Huntin for Nicola is hard work...so why not frame a picture of her for posterity with the smoke effects? Very cool huh...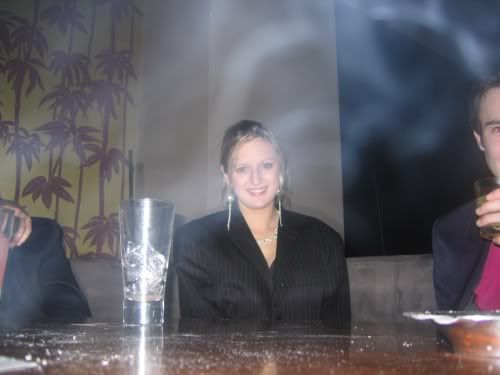 Unfortunately...the afterparty in St Kilda was a freakin disaster...majority of the crowd left within 20 minutes...the music was terrible...the public toilets a mess...and the drinks...well...they're overpriced...where's Sam and his free drinks when we need him? Alana and Joe decide to chain smoke the night away...

How dull...and what a bummer...a great start to the night...endin on a whimper...was good while it lasted...and hey...i dont mind doin it again next year...but this time i'll be headin to another club along St Kilda...where the music is great and the crowd is hot...

I would know...coz that's where i went...

But that's another story for another time...
Subscribe to Posts [Atom]