Saturday, October 8
RMIT Communications Ball 2005 Part Two
In Part Two the action takes place away from adrock2xander's table as he goes in search of more interestin insights on the push-up bras, short skirts and heaps of pashing (Aussie slang for kissin)...but before he does...

Damn ive put on weight! Winter truly is over...there's really no need for the fat now...look at my puffy cheeks...gota lose that weight... 'Psycho' anyone?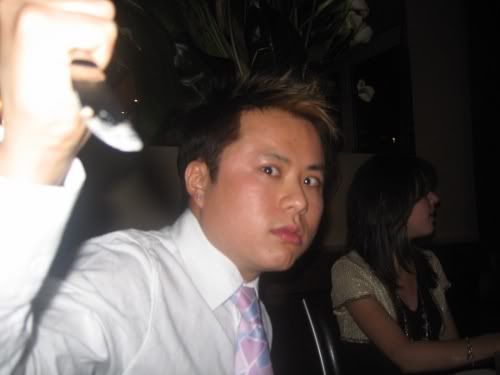 Joe doesnt seem to agree...what with his very effeminate remonstrations...Batman couldnt have looked any better...


The 'High Cats of Blonde Fashion' were sittin across the room...so i slid over for some exclusive shots of Prof Comm's very own Rodeo Drive...the 'High Cats of Blonde Fashion' are more often than not talkin bout fashion...lookin the part...and well...just glammin it up at every moment...

That's our bartender-cum-Lecture Dozer Clare...she's gettin all excited bout the prospect of being served drinks for once...while her current beau Hugh doesnt look too pleased...maybe it's the gnocchi...Liv didnt need any assistance in the blokes department...with a dress like that...they'll be linin up to cop a feel all day everyday...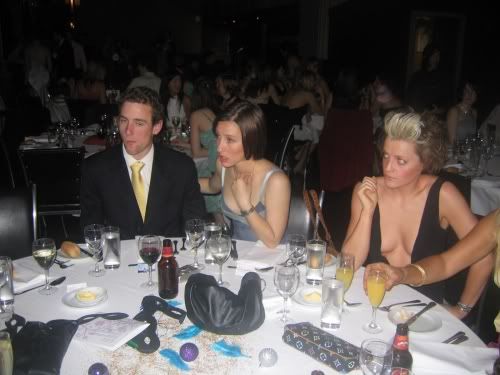 Then we've the sweet and job-swappin Felicity...all bronzed up for the occassion...i had to take a picture of her...Liv and 2 unidentified blokes (sorry guys!) decided to cop a feel join in the picture...Question: Has anyone seen Nicola yet? Why isnt she in the shots?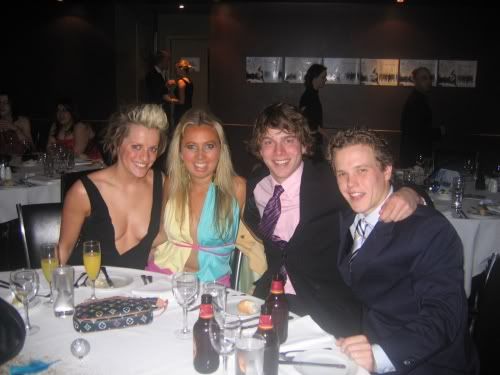 That's the willowy Siobhan...i reckon on a good day she's taller than i am (im 5'11" or 180cm)...it must have been a bad day for me...coz she chose to wear heels...and i was dwarfed by her...

*in-joke between the two of us...stay away from me Siobhan! Hair lice!*
Siobhan: "Hey Auskar what do you reckon? Head & Shoulders or Tresemme shampoo?"
Auskar: "Thank God ya sittin down...coz i hate talkin to women's chests..."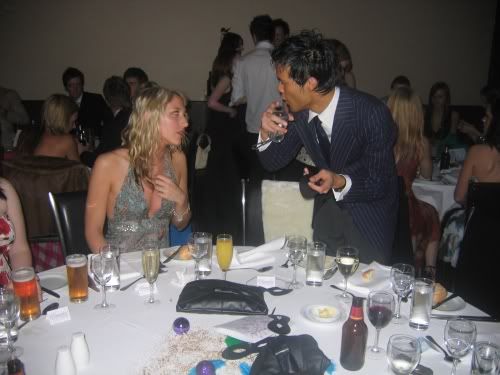 Aidan and Lauren deserve special mention for their matchin outfits...paintin the town red (pardon the pun) guys?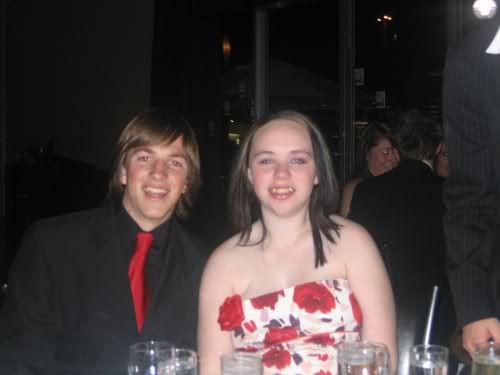 Subscribe to Posts [Atom]