Wednesday, October 26
"The O.C and The Gilmore Girls"
Profitting BIG TIME through eBay: 69 days left.
Those are Viet boy Nguyen Tuong Van's favorite television series...
Pity no one in Singapore's gona know...coz not many Singaporeans are aware of the impendin hangin of Viet boy...

While journalists in Melbourne go nuts in Australian newsroom...my mom in Singapore...and very possibly the entire Asian nation...remain blissfully unaware of this hot news...

She had completely no idea what i was talkin bout when i spoke to her yesterday evenin...this is a woman who devours news in all media format...

Nuff said...

It doesnt surprise me...Singapore doesnt have a habit of announcin anythin news worthy...much less death by hangin...uptight government-controlled newspaper...pfft...shove an avocado up ya arse...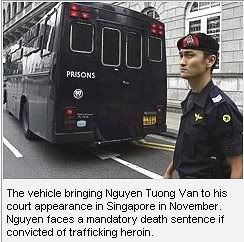 Here's a macabre
post
by journalist Nick Carter on how Mr Nguyen is to die come Friday mornin...i felt a chill in my bones just readin it...i pity the family...

My Nguyen is quite a character indeed...with just days to live...he still wears his
sense of humour
on his sleeve...fuckin respect that mate...

Noone...absolutely noone...is to die by capital punishment regardless of the severity of the crime...a lifetime of imprisonment is punishment enough...Singapore isnt gona win any friends by continuin its strict policy on just about everythin...and i guarantee you Singapore's decision to pursue this 'death-by-hangin' policy will sour the Australian-Singapore relationship...

Mr Nguyen...may God bless you when you die by decapitation...
Subscribe to Posts [Atom]