Tuesday, June 28
adrock2xander Live on radio


adrock2xander is 4 months 29 days without a cigarette.
Profitting BIG TIME through eBay: 185 days left.

My first radio appearance has been secured! I'll be on air tomorrow afternoon on 88.3FM Southern FM
Community Radio
...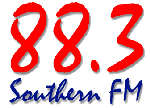 Several weeks ago i had the pleasure of a chance encounter with one of Melbourne's finest social critique Peter Harrington...Peter had needed some help with photo-copyin (as he's not exactly swift of sight) so friendly me decided to help him out...we kinda chatted and hit it off...Peter is a P.R representative and works for the City of Melbourne's Legal, Leisure and Business Precinct so he has all the cool connections and acquaintances...

I'd casually mentioned how i was lookin for a holiday job..and Peter...being the most generous bloke...decided to help me out...

Ive always aspired to be a radio DJ...bout 6 years ago radio station Perfect 10 98.7FM Singapore had an audition to try out for a replacement DJ and i'd taken part in it...i was in the final shortlist of 8...but lost the coverted role to a female...insiders said it was DJ Carrie Chong...maybe my voice just wasnt radio-friendly enough...or perhaps Perfect 10 was lookin for a female voice...but in any case...i lost it...and now im gona have another shot at it...

So for readers/listeners in the Southern suburbs of Melbourne...if ya able to...do tune into Peter Harrington's show at 4pm on 88.3FM...i hope to bore y'all with my dull and placid tone...

Watch this space for tomorrow's radio highlights!
Subscribe to Posts [Atom]