Wednesday, June 1
All aboard the tram! Or the train! Or Not!
adrock2xander is 4 months 2 days without a cigarette.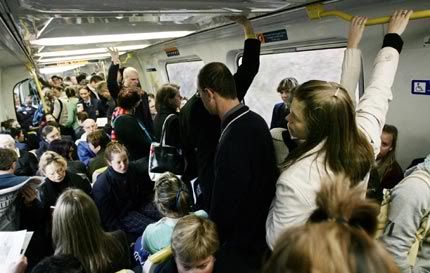 Phil Moore
...a resident in Melbourne...has hit the mother-lode...The Age has given him free publicity with his blog on how consistently inconsistent (wow...try sayin that 10 times!) the Melbourne trains are...

I am one to concur with Phil's sentiments...coz i take the tram...not the train...i so feel Phil's pain and anguish...*insert lame cue card here*

Trams in Melbourne are an oddity...they're incredibly punctual on weekdays...tardy on weekends...they have a weird smell (the kind that screams "Wash me i havnt showered for 10 years") and are involoved in a traffic accident almost everyday...only becoz all trams travel on one line...if Tram 1 dies...Tram 2 cant move...Tram 3 is stuck...Tram 4 takes a bong...you get the picture...takes 30 minutes for Tram 1 to start movin again...by that time...Phil might just think bout usin trams to get around...
Perhaps Phil should suggest that Connex build a tram service to Sandringham...yeah he should get to work right on time...*insert sarcasm here*
Subscribe to Posts [Atom]