Friday, June 30
Australia's Impossible World Cup Bid



The Outrageous

Prime Minister John Howard has once again proved his questionable prime ministering skills is no match for his complete ignorance to football, or soccer if you wana get all Australian on me.

After Australia's
successful World Cup campaign
John clearly was letting the success get into his head by claiming that "There is no world event that is beyond the capacity of Australia to organise superbly."

He went on to say, "We are very good at it, we proved that in Melbourne in 1956, we proved it in Sydney in 2000, Melbourne again with the Commonwealth Games (this year), and the very successful Rugby World Cup (in 2003). I'm sure, anywhere in Australia virtually, where there's a large population and the necessary infrastructure, we could do it."

Picture:
John Howard celebrates Australia's success in his official residence in Canberra.

John clearly has been smoking too much dope lately, and the effects have been affecting him somewhat. There's simply no way Australia will be able to host a World Cup event.

Firstly, Australians have been fed on a diet of cricket, Australian football and rugby. (All bullshit sports btw). Non of these football fields are sufficient for a football (soccer) ground.

The size of football pitch is different from a cricket and Australian football pitch. The markings are different from a rugby pitch. And who plays football on an oval pitch!

Secondly (and more importantly), will Australians endear themselves to a football code that has been ridiculed, bastardised and abused for decades? Will they get tickets to watch World Cup games that does not involve the Socceroos?

USA serves as an excellent example. It's size is relatively similar to Australia; the population follows its own brand of sport that is unique from the rest of the world. Football is lags behind popular team sports in USA (after American football, ice hockey, basketball, lacrosse, and baseball) However USA has hosted the World Cup in 1994, and it may not have registered a blip in most Americans radar, but football has increased its profile in USA indefinitely.

If USA can do it, i suppose Australia will be able too? I doubt it.

Let's analyse John's claims and examine Australia's chances of hosting the World Cup.

A common theme in all countries that has hosted a World Cup is the number of cities that're large enough to accomodate millions of fans, tourists and locals alike. Australia has 5 'big' cities - Sydney, Melbourne, Brisbane, Perth and Adelaide. By any stretch of the imagination, only Sydney and Melbourne truely qualify as big. A World Cup has 32 nations and is divided into 8 groups.

Going by that logic, Australia needs 8 world-class stadiums AND cities to accomodate 4 nations in any one city.

Problem is, Australia does not have 8 large cities. Or even 8 world-class stadiums. Or do they?

Let's look at USA's participating cities in World Cup 1994.


9 cities - that fulfills the quota of 8 cities. USA proved that distance is not a problem if a successful World Cup is to be held. However, what USA has is a myriad of large cities all over the country. And large cities mean a good infrastructure.

If Australia adheres to the 8 cities rule, it should be perfect as there're 8 states in Australia. Each state will be elect a city to host the games. I can see some problems in some states, particularly Northern Territory and Tasmania. Such is the reputation of these 2 states, I can't envisage anyone living there having ever seen a football!

Australia has a trump card in her stadiums. That is, bar Northern Territory and Tasmania, there's a world-class stadium in every state. Here're the biggest stadiums, statewide, that're the only viable option for a World Cup game. Information sourced from austadiums.com.



New South Wales



Telstra Stadium in Sydney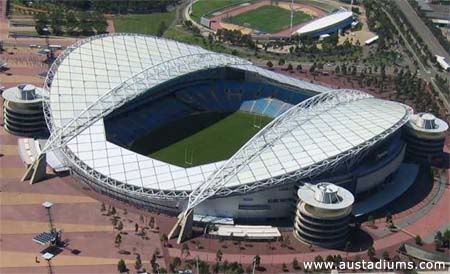 Capacity: 83,500
No problem here. Telstra Stadium hosted the Sydney 2000 Olympics and also witnessed Australia's historic win over Uruguay in last November's World Cup playoff. However, it's an oval stadium (to accomodate Australian football); spectators would be too far from the football action.



Victoria



Melbourne Cricket Ground in Melbourne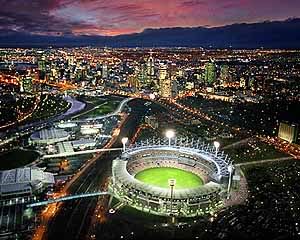 Capacity: 100,000
As the name suggests, it's an oval stadium to accomodate cricket games. As is Sydney, it's home to many Australia football games. I work in the MCG, and i can't deny it'll be an excellent venue for a World Cup game. Too large though i reckon.



Northern Territory



Herein lies a problem. NT does not have a stadium at all. ROFL. Pity the residents there.



Western Australia



Subiaco Oval in Perth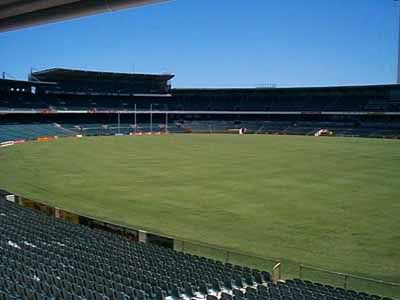 Capacity: 42,922
Subiaco has an advantage over MCG and Telstra Stadium in the sense that her capacity is perfect for a World Cup crowd. I simply cannot see FIFA releasing 100,000 tickets around the world for a game in the MCG. It's simply too many. It allows for an abundance of black market sales and a mad rush for tickets. On game day a lack of crowd paints a terrible picture for the bigger stadiums.

As with most Australian stadiums, the pitch is oval. Too far from the crowd.



Queensland



The Gabba in Brisbane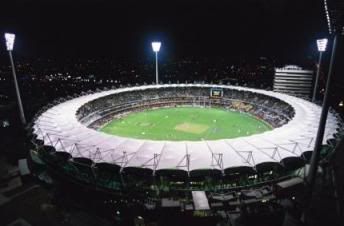 Capacity: 42,000
Another stadium with the perfect capacity. But again, it's oval.



South Australia



AAMI Stadium (formally Football Park) in Adelaide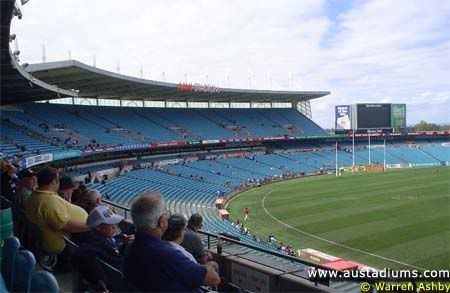 Capacity: 51,515
Another stadium with a wonderful capacity. Pity the shape though. What's with Australians and the egg shaped objects? Geez...

Australian Capital Territory

Canberra Stadium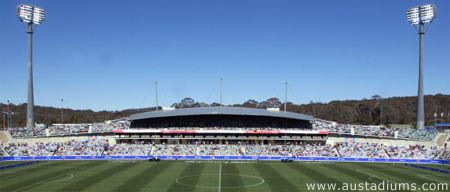 Capacity: 24,647
Here's a peculiarity. This stadium is rectangular in shape and is perfect for football games. However, the capacity leaves a lot to be desired. A 20,000 increment in seats would be perfect.



Tasmania



Aurora Stadium in Launceston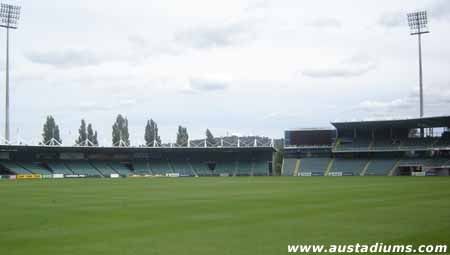 Capacity: 23,000
Another Australian Football-catered stadium. It is, however, too small for a World Cup venue.

Other potential venues include Suncorp Stadium in Brisbane (capacity 52,000), Queensland Sport and Athletic Centre in Brisbane (capacity 48,300), Telstra Dome in Melbourne (capacity 56,347) and Sydney Cricket Ground in Sydney (capacity 44,000).

So that's a grand total of 11 stadiums - 9 of which have a good capacity and are considered above average to world-class standards.

I can't see the Australian government building a stadium in Northern Territory just to accomodate the World Cup - the stadium would be left to ruins after the Cup anyway.
Launceston is a wonderful
place
to visit
; it'll be wonderful if the government can increase the seating capacity to around 45,000. A boost to Tasmania's tourism industry.

Canberra Stadium is ideally suited for football. However the size and A.C.T's lacklustre image could undermine its potential. As far as i'm concerned nobody has any business to visit A.C.T unless you wish to visit John Howard! Why a wonderful rectangular stadium sits in, of all places, Canberra is still up in the air for discussion.



Which brings me to 2 prickly topics. The World Cup, held in June and carrying over to July is a summer event

. However, as Australia sits in the Southern Hemisphere, visitors will be greeted with a chilly winter blast during this period. I can't understand how people will watch a football game while huddling together in near freezing conditions.



Another topic, and more pressing, is the World Cup sits in the middle of the Australian Football and rugby season

. The World Cup runs for about 4 weeks, and that could be a logistical nightmare for the Australian football officials. The Australians are mad about their football. Does that mean their loyal (if not stupid - oval balls? Lol!) fans will have to wait a month before the Australian Football or rugby season resumes? Again, another problem for Australia to contend with.

Well let's wait and see how Australia plans to work this out. A lot of money will have to be spent for upgrading and publicity. Perhaps just once, people will remember Australia for her wonderful people and great cities instead of kangaroos and deserts.
Subscribe to Posts [Atom]