Thursday, March 9
Let's Talk Tasmania Day 7 and 8 - On A Horse.



The Misfit

Goin to the races is a tradition in Australia...it's in everyone's roots...cup names are named after themselves...very presumptuous indeed...in Melbourne it's the Melbourne Cup...and in Launceston it's the Launceston Cup...

Aussies need no invitation to be seen and to see on Cup day...98% of them dont even give a rat's ass bout the races...they're just there to look good and get really drunk...it's like...goin to the races is just another excuse to drink...gota love them Aussies...

These pictures are self-explanatory...one word: p-a-r-t-y...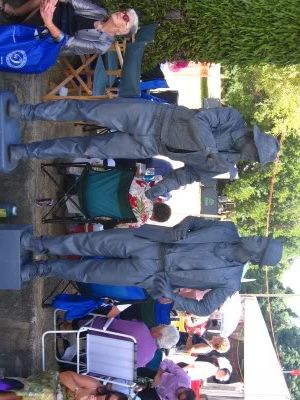 Why, oh why do these buskers even bother?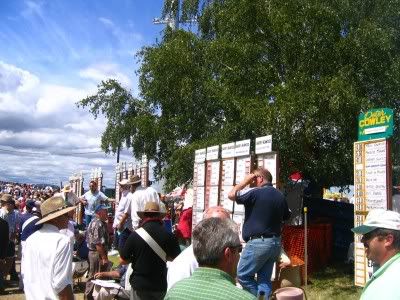 Yes, people do come here for a flutter.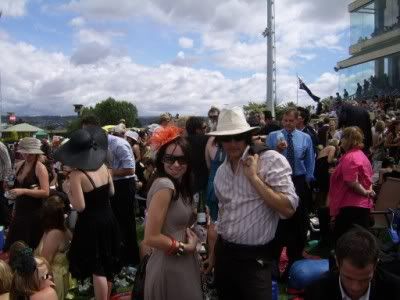 Samantha and Tom. I felt guilty lookin at Samantha. She was stunnin.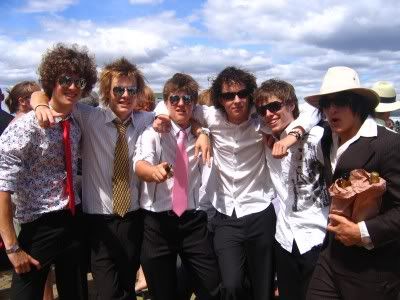 Bunch of Aussie blokes and Tom.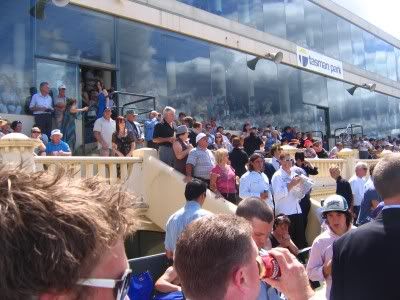 The priveleged few bask in the air-conditioned buildin.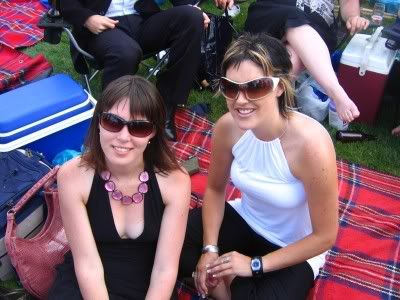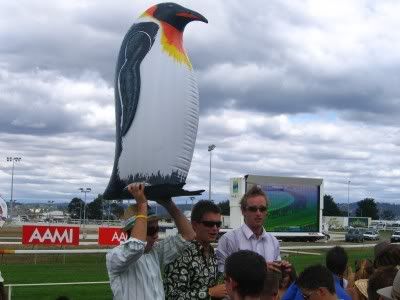 I dont know. *shrugs*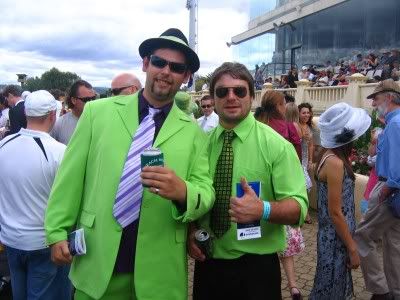 Pretty in pink green.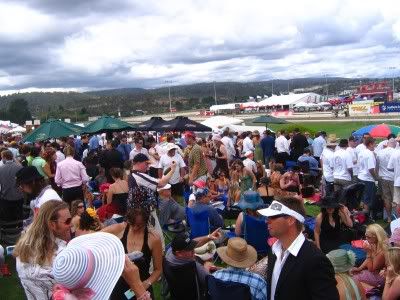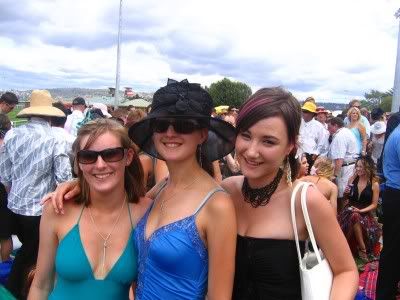 Why hello there!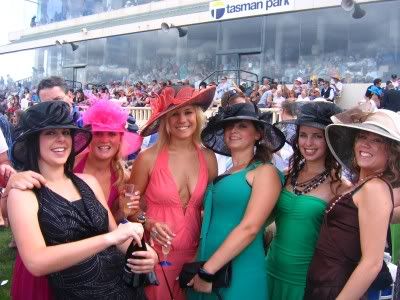 Fat, slut, hoe, klepto, vegetarian and doesnt shave. NEXT!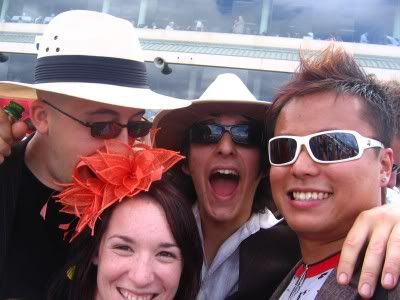 *sniffs* Ohhh...Samantha...your hair...*moans*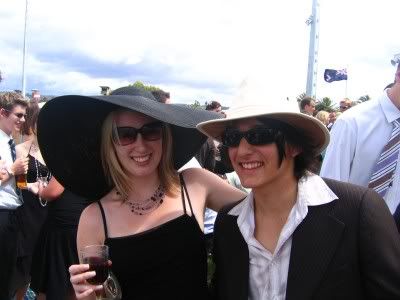 Tom...you're everywhere. Stop gettin in my pictures!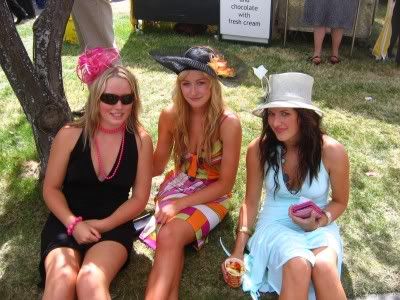 Oh la la la la! Santa Maria!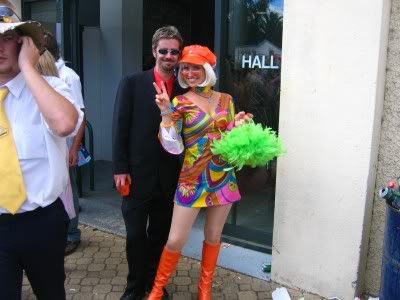 I love a dominatrix who cant color coordinate.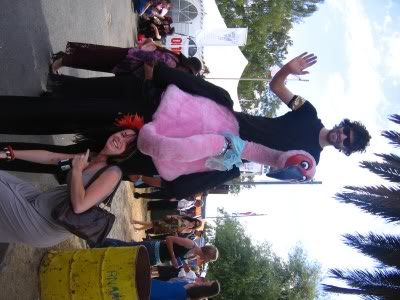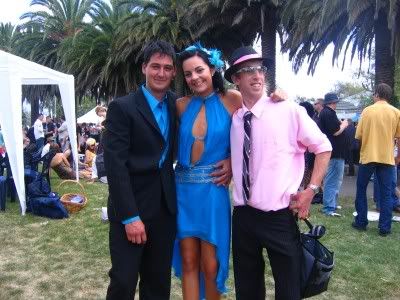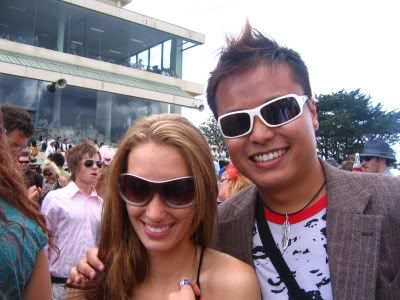 She was sittin on an esky. All alone.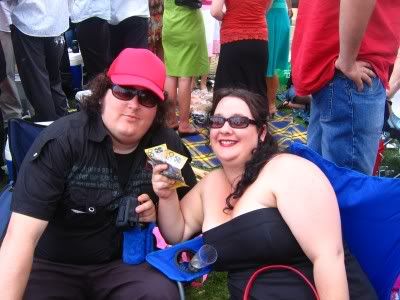 Simon and Kai. Kai won some money. I hate Kai.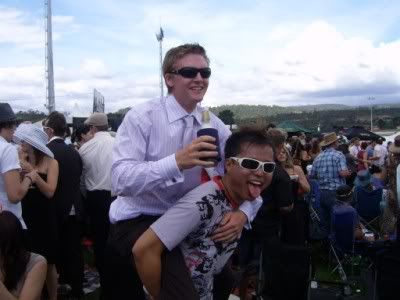 Mark and adrock2xander. I had to piggyback him as he couldnt see the races. Riiight...you just wana rub your crotch against my back didnt ya!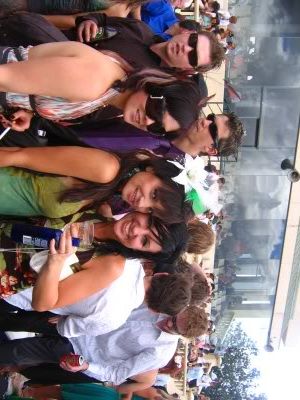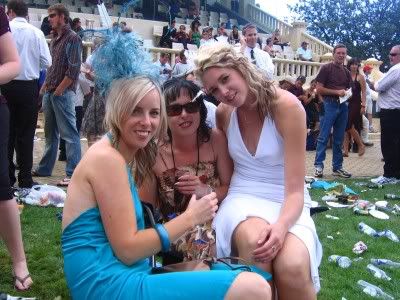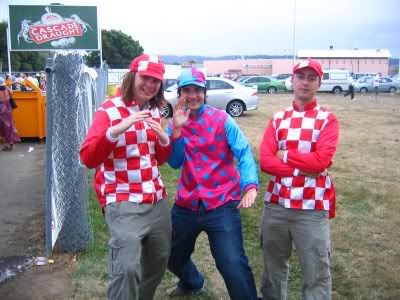 MCA, King Adrock and Mike D (or the Beastie Boys) were in town too.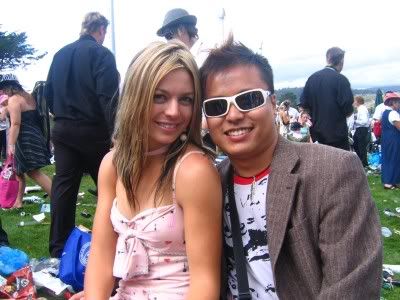 Im smithen with her. She plays basketball. Im not revealin anymore :-O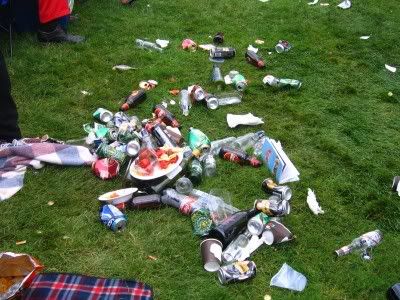 The aftermath.
We staggered home at 11pm after an incredibly late dinner of McDonalds and some silly half-drunk antics at Brad's...and if ive to defend myself again...i will. Here this: Brad you dingbat. It wasnt just one blueberry cruiser! xoxo.

All in all...it was a very pleasant trip...i had felt Melbourne-sick after day 3...afterall i was cut off from the outside world what with no internet connection or big city hustle and bustle...but incredibly it got really comfortable once i told myself im on a holiday..."That's what a holiday is all about! Leave your inhibitions behind!"

People claim time and time again that Tasmania is a hole and isnt worth a second look...i beg to differ...it is NOT the cultural backwater all mainlanders claim...yes there is Coles...there is running water...there's even a chemist here who stocked my Ventolin...now how can i argue against that?
Perhaps it's my big city upbringin...but the laid back life...slow pace of livin and being surrounded by Nature's wonders just serenades to you...i could have backflipped around in joy what with no traffic jams...smog and polution...im even thinkin of returnin as ive yet to visit
Cradle Mountains
and Hobart...call me crazy but Tasmania has found a fan in me...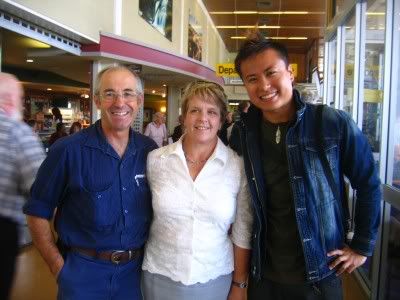 Samantha's family has been too kind to accomodate me and i have nothin but nice things to say...in strangely morbid ways her family reminds me a lot of my family...Robert's your regular dad...man of few words...strong and silent...but loves a good joke...Debra's the fun-lovin mom...nothin really fazes her...she has my vote as she could tolerate my annoyin humour and irreverence...

I hope i havnt left any upholstery upturned and apologise for sleepwalkin in my boxers...i certainly have no intentions of traumatisin the entire family...send my dry cleanin bill to your precious daughter while ya at it...she was the one who spilled ketchup on my suit...lol...

And until my next visit (with a driver's license in tow i promise), here's to more flatheads! *toasts*
Subscribe to Posts [Atom]