Tuesday, June 20
Green And Gold - Australian & Brazilian-Style



The Misfit

So when i said
last week
i'd make my way down to Federation Square to watch Australia take on Brazil, i wasn't kidding.

micheLe and i decided to brave near freezing winter temperatures - it was 4 degrees yesterday night - and cheer on the Socceroos.

Apparently, 12,000 other Socceroo 'fans' - i wonder how many of them even follow the game - thought the same too.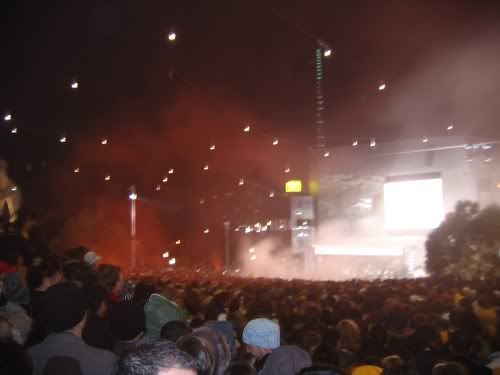 It's crazy. I've never seen so many Australians watching what they call a 'foreign' game. 12 months ago i'd never have thought it possible. The Australian media has whipped the entire nation to an almost tribalistic frenzy; not that i was complaining. My only concern is how long is this sudden interest towards the round ball code going to last.

To show my support for soccer in general and to a lesser extent the Socceroos, i decided to drape myself in the Australian flag. Generally a very 'white' thing, this was a very uncommon practice for an Asian to do - i was getting weird stares from skips and wogs. If only they knew i wasn't even Australian. That'd be funny wouldn't it. Then again i've never felt Singaporean. Fuck Singapore. Go Australia.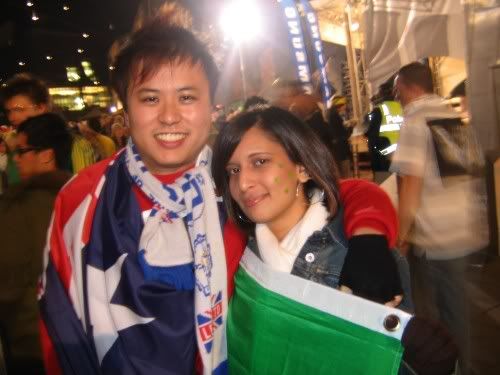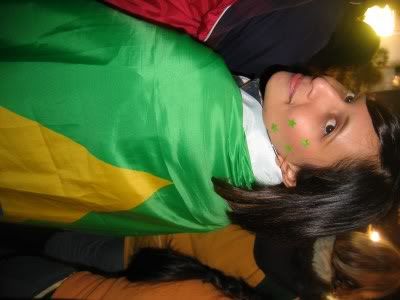 I reckon micheLe has been living with me for far too long. She's picked up my habit of being a rebel to the norm and decided to head to Federation Square draped in a Brazilian flag! She copped a fair amount of verbal abuse but got away with a physical beating as Australians are pansies who wouldn't touch a woman but would beat up a man without rhyme or reason.

Of course, i'd not given enough thought to what standing in the middle of a 12,000 strong Australian crowd standing together to keep warm would be like. It truly was one of the days when you simply needed an excuse to head out and join every other man or woman, Brazilian or Australian, and party to the world's biggest game. My back hurt from standing from standing for 3 hours, my feet was getting trampled on and my bladder was bursting for relief. But i enjoyed it. It was enjoyable torture. Watching Australians getting excited over soccer truly is a feat in itself. I was not going to miss this moment.

Crowd trouble! One thing missing from the English Premier League is the use of flares. It's a very continental-European thing to do; for 2 hours Federation Square had a distinctively European feel to it. I didn't quite enjoy the smell of the burning flares though. Nor was i too please when the smoke obscured my view of the giant television. I hope those guys who set off the flares got away with it.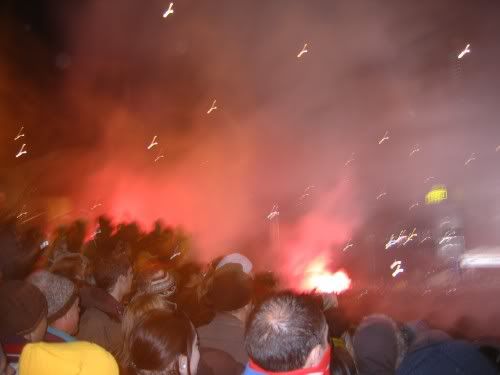 Those who didn't get away with it, were the extremely stupid gits who decided to climb the Federation Square structural supports to an unused platform on the 3rd level for a better view. Firstly it was dangerous. The structure did not look like it was able to support 20-odd rowdy blokes and sheilas. Secondly it was stupid. The platform was off-limits to the public for a reason. And there was a high police presence. You'd be found out sooner or later. Sure enough, cops were shouting and physically forcing the kids to come down after several minutes or so. Did i mention they're stupid?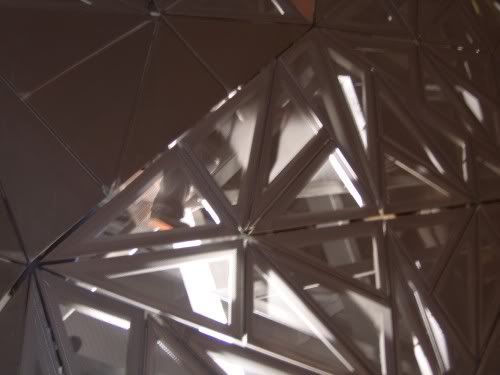 I wonder how the pubs and eateries coped with the crowd. This is Hungry Jacks at 1am - one hour before the game started. I'd rather go hungry than brave the crowd. When fast food staff gets busy, large chips tend to become medium chips, your burger has less tomato sauce and your drinks have no ice in it. Yes, i'd rather go hungry.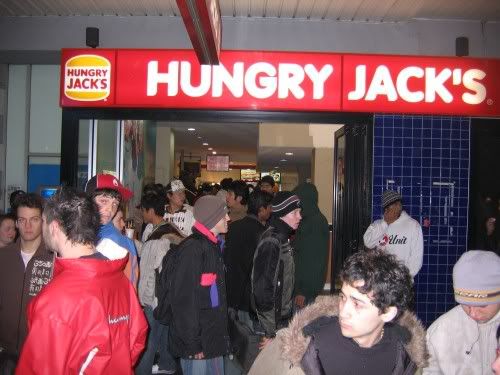 It's a pity the game ended with an Australian loss. Australians, so used to seeing their sporting heroes winning golds, are learning quickly that they're not the best in all forms of sports. But i say that with great optimism, for Australia's 2-0 loss was not a true reflection of the game. It's not always about the result, sometimes the way you've played your game matters just as well. And that's what Australians need to see - how soccer truely is played. It's not as boring as they've previously thought and it's not about the statistics.

Now, if only 12,000 Australians understand that.
Subscribe to Posts [Atom]