Tuesday, June 13
The Barmy Green & Gold Army!
The Beautiful

Australia 3
Japan 1
"Only soccer does this to you," said soccer fan Craig Bailey. "As far as sport goes, that was
the most amazing thing
I've ever seen."
Well said Craig.
I woke up this morning to the ring of Australia's 'Advance Australia Fair' in my ears.

I may not be Australian, but i'm proud to be
part of this moment
.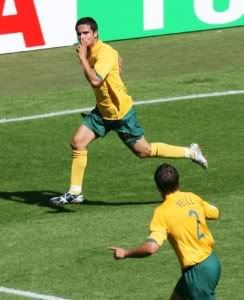 It took just eight minutes for Australia's day of reckoning after 32 years in the World Cup wilderness to turn from agony to ecstasy. With 6 minutes left of regulation time, and Australia staring at a defeat, attacking midfielder Tim Cahill wrote his name into the record books as the first Australian to score in the World Cup.

For anyone not having lived in Australia, it's hard to explain it. When soccer is the 4th most popular code of football here (after Australian Footy, Rugby League, Rugby Union), it's hard for a passionate soccer fan to show his love for the world game. So imagine my surprise and somewhat amused look when talk of 'soccer fever' is sweeping through the nation in The Age and The Australian.

The feeling cannot be described. I shouted and cheered myself hoarse last night. My neighbours must have been wondering what the fuss was all about. Of course, i wasn't silly enough to head out in 5 degrees cold last night to Federation Square, where 6000 Socceroos fans gathered to watch the game. Come to think of it, i should have made the journey to the CBD. The atmosphere must have been electric. Hmmm, i'm seriously contemplating a trip for the next game.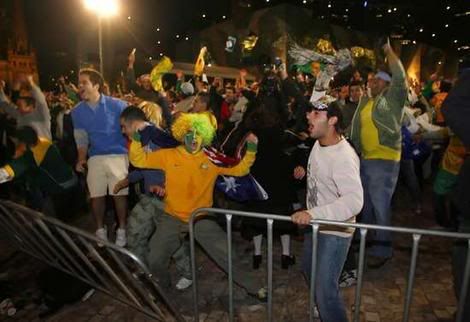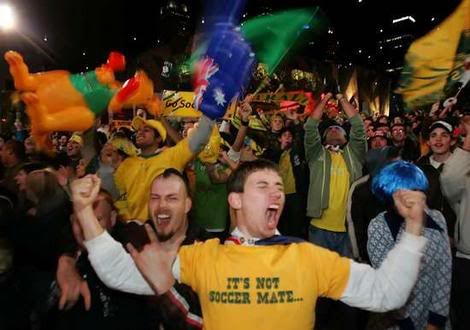 Let's dispense with the joke that is Australian Footy for once, and revel in this history-making moment. Perhaps, just for once, myopic Aussies are opening their eye to what truly is football?

Cheers Socceroos and Guus Hiddink. You've done everyone proud. You've shown the world that Australia can play football without the use of hands, weird scoring systems and 8-storey high goals.

Now for Brazil.
Subscribe to Posts [Atom]