Wednesday, April 19
Krispy Kreme Records Profit Loss
The Outrageous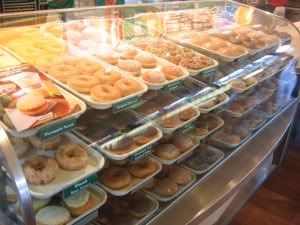 Apparently, the market researchers in Krispy Kreme haven't been doing their bloody homework. How is it possible that the world's best tasting donuts are
losing profits
?

Krispy Kreme isn't even open in Melbourne yet! I have,
on several
occasions
, made angry accusations at the fast food chain's myopic expansion over the last 12 months.

How is it possible that a massive demographic of Melbourne, with a population of over 3.6 million Krispy Kreme noobs, has never ever heard of Krispy Kreme? And opening an outlet in bloody Narre Warren isn't helping either.



Where the hell is Narre Warren anyway?

Why is Krispy Kreme announcing its launch in Melbourne in a ghetto like Narre Warren? Those people can't even afford donuts. They need more things like schools and abortion clinics.

Is it so difficult to open one in the bloody inner city? I'm not driving bloody 45 minutes to the south-east suburb for Krispy Kreme.

*crosses arms*

Nope, i refuse to.
Subscribe to Posts [Atom]