Tuesday, May 3
A Weekend In The Country - Full Post Part 1


adrock2xander is 3 months 4 days without a cigarette.

Before i start...a note to the wonderful Noske-Turner family:

i wish to inform you that it wasnt Emily's decision to ride the horses without a helmet...i was just so excited to ride a horse in the country...she simply had to oblige...please do not ground her for life should you read this post...

-----------------------------------------------------------------------------
adrock2xander's Art of Survival #18 - Never wear a helmet when one is ridin a horse...even if it risks the host's youngest daughter being grounded for life...
-----------------------------------------------------------------------------

Back to the post:

The Noske-Turner family had so kindly invited me out to the country 2 weekends ago...their daughter Jessica is a schoolmate of mine...i was bitchin to her bout how borin Melbourne was...and i needed a change...thank you Jess...ya a star...

Since returnin from
the country
a week ago...i havnt had the time to sit down and make a decent post bout it...what with the hustle and bustle of my life takin precedence over bloggin...but this being a beautiful Monday in Melbourne...ive hauled my ass up relly early and plonked meself down in front of the laptop...intent on gettin this post done...

It's hard not to like Echuca...picture perfect houses and quiet neighborhood...no picket fences...no walls...everybody knows everybody...it's like a trip to
Wisteria Lane
without the secrets and lies...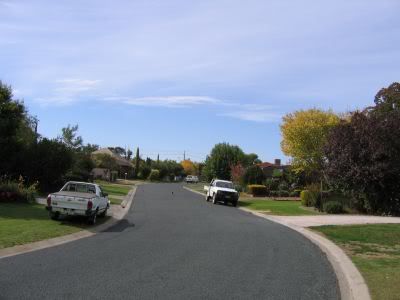 Beautifully manicured shrubs...(note: blue hue a result of toyin with camera functions)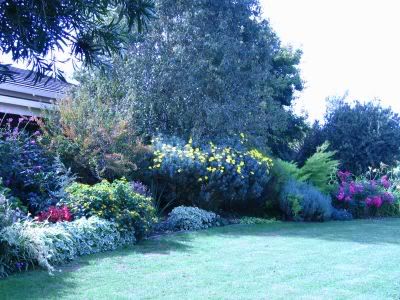 The Noske-Turner family live in a modest 4 bedroom house...modest by Australian country standards...huge by Singapore and most city dweller's standards...it's got ya typical trappings of a happy home...pool...large kitchen...lounge...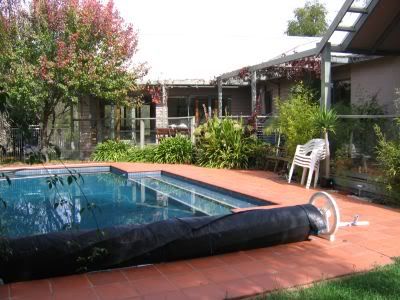 2 cars...a decent sized garage...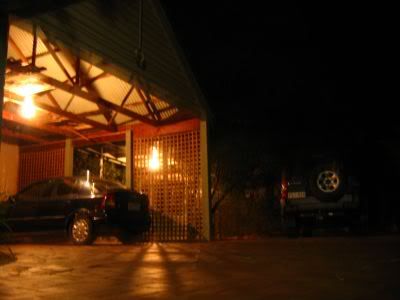 When you factor in the family's backyard...which sweeps out across in all directions...ya talkin bout a modest home with a huge backyard...an acre of backyard...that's right...an acre...holy shit...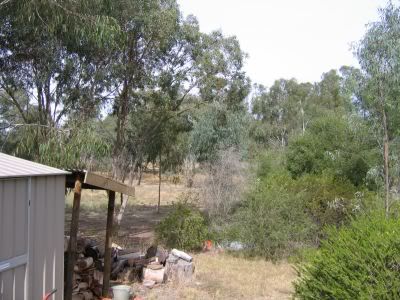 Amazingly...i didnt get to take a picture with the family...daddy Chris is a pharmacist...and mommy Marg is a physiotherapist...birds of a feather i must say :O Their youngest daughter Emily's still in high school...and has a wonderful and most interestin hobby...she rides horses...

Needless to say...she's into equestrian and absolutely adores horses...Jessica had warned me not to mention how i could 'Eat a horse' when i got hungry...lol good thing i remembered that...dont wana make a 15yo girl cry...

I must add that ive never rode a horse before...y'know...big city kid...only horses you'd ever see are those in Discovery Channel or the local Zoo...so to see one up close and ride them for free was a real thrill...there i was...a 26yo adult behavin like an 8yo kid...not knowin how to brush a horse...or mount it...feed it...strap the saddle and horse stuff on...OMG i just said horse stuff...there goes my ignorance...

That's Emily (without a helmet) and i (without a helmet)...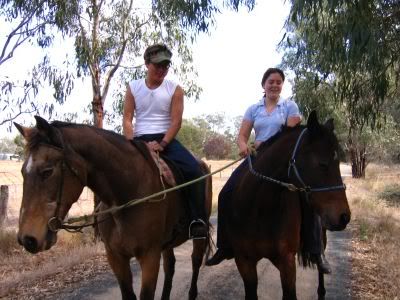 Horse shit is most amusin when the horse ya ridin decides to take a convenient dump...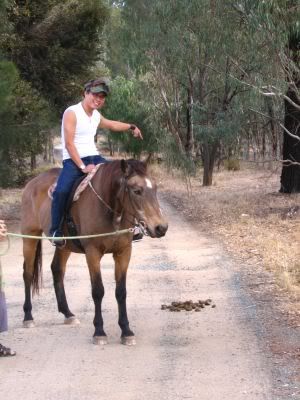 Wine-tastin is a huge thing in Australia...it dont matter where you are...in the city...or in the country...there'll always be a store that provides excellent wine samples...here in Echuca...i spent an afternoon with Chris and Jessica...drivin around the many vineyards...samplin different wines...it's amazin how many companies are fightin over a small wine market...i wonder how they survive year after year...harvestin the grapes and producin the excellent wines...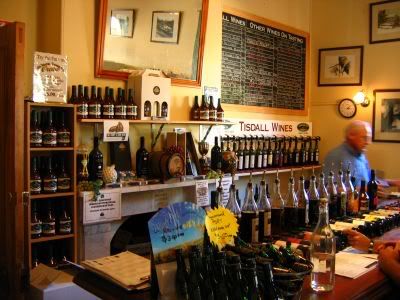 As Echuca straddles the states of New South Wales and Victoria...we had to drive out of Victoria to some of the vineyards in NSW...crikeys...i joked that i didnt bring my passport...and that i couldnt get into NSW without it...it's all quite foreign to me...growin up in a country that's the size of Melbourne...Singaporeans had to travel everywhere and anywhere with a passport...now here i am...drivin into a new 'country' where rules and regulations are different...there's a seperate legislation and governin...quite strange indeed...

From where i stood...NSW can be seen across the Murray River...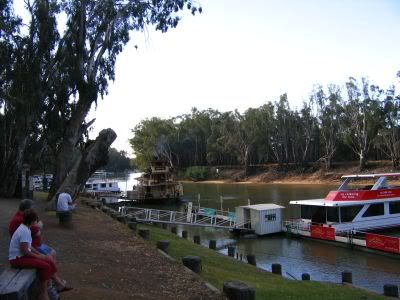 This is the bridge that connects NSW and Victoria from Echuca...woopeedoo! We're illegal immigrants! Someone arrest us already!




The region around Echuca sits large areas of magnificent red gum trees...these strappin behemoths are truly appreciated for their hardiness...beautiful furniture and structures are carved out of the huge trunks...i could barely fit these trees into the picture...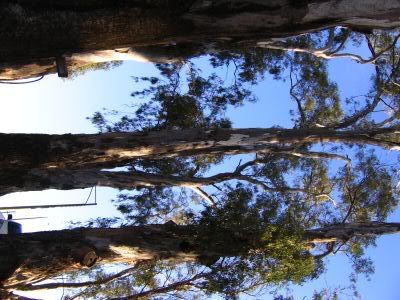 Chris told me he's seen trees that're 4 times the size of this...holy crap...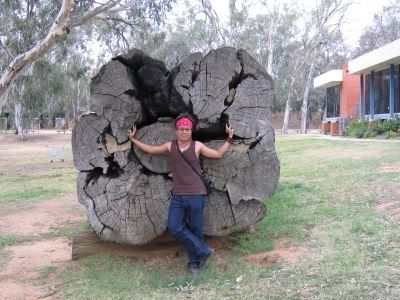 Oddly enough...the red gum is one of several hundred types of eucalyptus...suffice to say koalas dont like the red gum too much...perhaps it's the reddish sap?

Part 1 ends here.
Part 2 begins next post.
Subscribe to Posts [Atom]