Monday, January 17
Joe's Apartment (no not the movie!)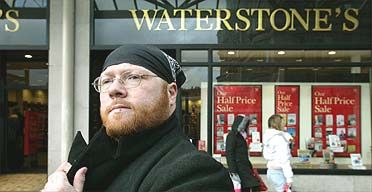 This is Joe Gordon of
The Woolamaloo Gazette
...a fellow blogger who resides in the dreary land (no thanks to the weather there) of the Scots...a
spat over the beautiful Chinese actress Zhang Ziyi
6 months back made us friends...and since then we've been tradin satirical views and throwin brusque barbs on worldly issues and events that represent an interest to us...as a result...we're firm allies in the war against freedom of speech (as readers of my blog would already know)...Joe has a story to tell...and a damn good story it is...

Now this story could start from many angles...dependin on how you look at it...it could start from 11 years ago...when our young protagonist Joe (now 37) applied for...and got...a job with a leading chain of bookshops called Waterstone's in Edinburgh, Scotland...im not familiar with Waterstone's...as i live in Asia...but from what ive read and gathered...Waterstone's is somewhat similar to what Singapore (and most parts of the developed world) have in the ubiquitous Borders Bookshop...

Or the story could start from just several weeks back...where Joe chanced upon my post on
Germaine's police threat
as a result of my very rude verbal backlash on her...Joe gave a hint of his problems back home (read the comments of that post) which piqued my interest greatly...

Reason for writin all this? On January 5th this year Joe was charged and sacked for alleged gross misconduct and bringin Waterstone's into disrepute...my friend's offense? His blog...which has been maintained in his own time and at his own expense from home...
Most of Joe's posts involve his thoughts on publications (books and the likes) he has read...literary events that go in and around Waterstone's or just silly observations on life looked upon from afar...Joe does however...on the rare occassion mention his time at Waterstone's...as he puts it..in his usual self-deprecating humor: " Like many folk I am not always happy at work"...coinin terms such as "Bastardstone's" and have a character called 'Evil Boss' (" my equivalent to Dilbert's Pointy Haired Boss - in fact I compared head office directives to being in a Dilbert cartoon ")...

Sometimes i find it hard to believe that people graduatin from the School of Stupidity still exist and are allowed to traverse the dark depths of the Internet...i mean...is that a brain in their head or is it just gray matter? Dont these people read?
Right off the bat...in a fashion that's almost too similar to mine...Joe's blog starts off with this disclaimer:" The Woolamaloo Gazette is a satirical newspaper I first started on email way back in 1992. It allows me to vent steam on stories which are bugging me or amusing me and hopefully make people think at the same time. Satire is the best defence in any democracy. Items in the old Woolamaloo Gazette style newpaper articles will be obvious from the bold-face banner headline. Anything else is just my ramblings, mumblings or rants."
It's a wonder how Joe has been maintainin his site over these years...and seem to have safely gotten away...not knowin he's been threadin on thin ice...playin with the cacklin fire...i wonder how long the management at Waterstone's has been monitorin his site...

Perhaps the Waterstone's Head Honcho...sittin comfortably in his reclinin armchair...doin nothin but signin unneccesary papers while rakin in the thousands of dollars daily...has finally found somethin meaningful to do in his office as he heads out to work in the mornin...Head Honcho has been takin down notes in his trusty PDA...allocatin points to Joe's posts that's determined by the severity of his 'crimes'...

Head Honcho *reads out aloud while scannin through The Woolamaloo Gazette*: "...workin at Bastardstone's..."
Head Honcho *thinks out aloud*: "God damnit...that Southern Fairy has tarnished the Waterstone's name far too many times...that's a 10 points penalty..."
Head Honcho *continues scannin*: "...my Evil Boss..."
Head Honcho *leans back against chair...nostrils flarin and clenches his fists*: "This fuckin twat has gone too far...that's a 15 points penalty...and it's 5 points to much...im gona have to fire him..."
Ok i kid...but who knows what racy thoughts the Head Honcho has in his head?

So what exactly is wrong with use of an Internet medium to vent one's steam bout the daily trappings of his life? One only has to scratch the surface of Joe's past posts to find an extremely intelligent young man who has an infectious and impressive grasp of the science fiction genre...many of his posts involve excellent buyin recommendations...author readings and signings in and outside of Waterstone's...over the years Joe has built up a creditable reputation as one of THE guys to turn to if you wanted an opinion that's both trusted and valued...Joe not only unwittingly built up Waterstone's reputation but...as The Guardian puts it..."Joe was disproportionately influential."
Im guessin Waterstone's...no wait...at this point i find it strangely appropriate to refer to them as Bastardstone's too...
It's a strange world out there...the modern society frowns upon acts of euthanasia...terrorism and Communism...proclaimin proudly the ills of intentional deaths and an oppressive government...they champion Free Speech and Movement...and denounce barbaric acts that make headlines and run rife in the daily newspapers...yet...when a lovin husband severely wounds his wife's rapist in blindin rage or an innocent black man is incarcerated for decades for a crime he did not commit...the world turns a blind eye and the punishment is dealt out according to Victorian-age doctrines...the husband goes to jail and the

white men gets

away scot-free...
Likewise...Joe's humorous outlook in life...when presented in an innocuous and easy-to-read format that is his blog...is the subject of scrutiny from top management...when news of Joe's dismissal exploded across the media...his daily routine is not only severely disrupted from the myopic view and thinkin of the top dogs...but is also dissected and discussed in forums and media worldwide...
Where is the fairness in this? Joe...a hardworkin...honest and likeable lad who has...over the years proved that he has been an asset and indeed...brought out the best of what Bastardstone's had to offer...what the bookstore couldnt provide...Joe gave...it's rare to chance upon a person who would contribute willingly ...but it's another to have him in your employ...what Bastardstone's did was...for me...akin to ethnic cleansin...wipin off someone off ya slate over somethin you never truely understood...

Bastardstone's was wrong to fire Joe...yes...callin him into the office for a private behind-the-doors chat was sensible...but to stir the brew while the coffee's still cold is simply reprehensible...unethical and downright rude...has Bastardstone's considered the thousands of hours Joe has faithfully put in? How bout the emotional duress Joe was subjected to? How would the Head Honcho like being subjected to the glarin eye of the monster that is the media? And..is there a law statin Bloggers are violatin company policies if and when they write ills bout their office place? Last i checked i didnt think so...

To a certain extent...i sympathise with Joe...as a fellow Blogger who finds solace in writin...it is in our best interest to write with earnest and feelings...our Blog is an extension of our personalities...writin untruthfully is one thing...but when you write with a song in your heart and a whistle to every word that you magically conjur...only to be hauled up to the courts for transgressions that you knew nothin of...you simply have to ask yaself...where is the justice in this?

Is it safe to walk the streets anymore? Someone could be watchin you from afar...

Could i make the trunk call to my loved ones halfway around the world? Someone could be tappin my phone call...

Can i even blog about the yellow starship that parked in my garden yesterday evenin? The National Security Agency (NSA) could be keepin close tabs on my apartment now...what am i to make of it? Im not an alien!

OR...

Could i still even mention Germaine's name now? If Joe was sacked for being an exemplary employee...what of me then?

Is there hope in the world at all?
Subscribe to Posts [Atom]