Monday, July 24
Pirates > Ninjas
The Beautiful
"Finally, a movie worth seeing over and over again" - Larry King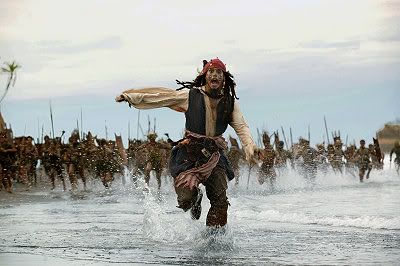 This movie in as many words as possible.

A movie based on a theme park ride. I'm speechless. First hour is a snore fest. Rest of movie: LMFAO.
Three Stooges!
Johnny Depp to win another Best Actor? I'll run around Bourke Street topless.
Keira Knightly in a corset, pushed up cleavage and all: Priceless.
Well worth your A$15.
Larry King boring me on CNN: gay.
Larry King watching a cheesy Hollywood popcorn summer flick: gay.

Perhaps this movie settles the thousand year old argument: pirates truly are better than ninjas.
Subscribe to Posts [Atom]