Sunday, July 2
The Crying Shame
The Outrageous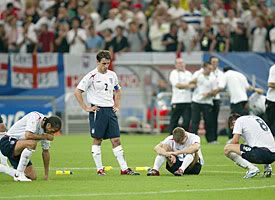 Wana know what's more sickening than a rich white man telling the world to clamp down on racism?

A bunch of adults sobbing on the football pitch after a
quarter-final elimination
.

These footballers each earn in excess of £80,000 per week just for kicking a football; they're multi-millionaires over and over again and can buy anything and do everything. Yet here they are crying like a fucking jailbird.

I can't understand why they're crying. The English team has for years, under performed. Their elimination didn't surprise me. Overpaid footballers with egos the size of Mount Olympus crying on the pitch did.

Stupid retards. Money can buy you anything. Even the World Cup. Go home to your fat bank accounts, give oral pleasure to your Latin maid and act like a man for once.
Subscribe to Posts [Atom]