Monday, June 26
A Snore-Fest In The Battle Of Nuremberg

The Outrageous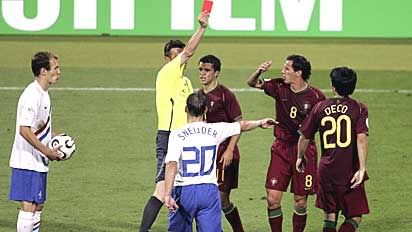 "Here, have a whiff of my armpit for the umpteenth time." Image off Getty Images
Before this morning's games, I had believed 17 days of sleep deprivation and a coffee and apples diet deserves some mentioning.

No longer.

I was barely able to keep myself awake at 2am at England's
comatose display
against Ecuador. It was so bad, i was anxious to find any source of interesting visuals to keep me awake. A streaker. A sexy English or Ecuadorian fan.

Hell even a couple of fat beer-bellied English fans with the Union Jack painted across their viscera would have been nice

.

Which serves to remind me why i've never followed the English team; English league football is one thing (Glory Leeds United!) but the national team is a fucking joke. Give me a traditional meat pie over David Beckham anyday.

The game at 5am though, was a
complete cracker
.

Aptly called the 'Battle of Nuremberg', the Russian referee Valentin Ivanov decided to take centerstage and dish out 16 yellow cards and 4 red cards. If the final round game between Italy and USA was a
farce
(where 3 players were sent off), this game was Russian Roulette where all 22 players were in the firing line while a diabolical madman (in this case, the referee) takes pot shots at the players.

Which means England play Portugal in the quarter-finals. If this morning's spectacular performances were anything to go by,

i'd need a defibrillator, lots of dry whiskey and a large packet of smokes

.
Subscribe to Posts [Atom]