Sunday, May 7
Free Comic Book Day
The Beautiful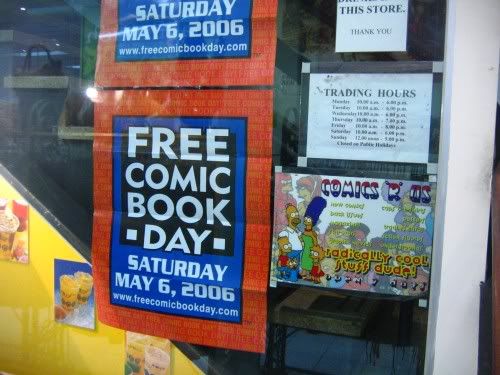 Saturday, the 6th of May was
Free Comic Book Day
.

Did you pick up your free comic book from all respecting comic book shops?

For those not in the know, Free Comic Book Day is a single day when participating comic book shops across North America and around the world are giving away comic books absolutely free to anyone who comes into their stores.

It still amazes me when lesser beings laugh at adults with a comic book in hand. It saddens me as the jokes on them; they're the ones who're oblivious to an essential skill taught the moment they can walk - reading.



Comic books are an original American

art form, created in the early days of the twentieth century. They are fun to read, featuring a wide range of diverse storylines that capture the imagination of the readers, and have survived: the dominance of radio, the ubiquity of television, the spread of color and sound motion pictures, the rise of videogames, and the Internet.



I'm hoping to inspire my readers to pick up a comic

at your neighbourhood comic dealer. I've been reading comics, particularly
Marvel
comics, from the tender age of 8. Dotted in this blog are several, if not many, posts on comic fandom and just general thoughts on comics. Comics and visuals have an important role in my life. They taught me how to read and imagine when i was 8; they're still teaching me how to read and imagine as i approach the big 3-0.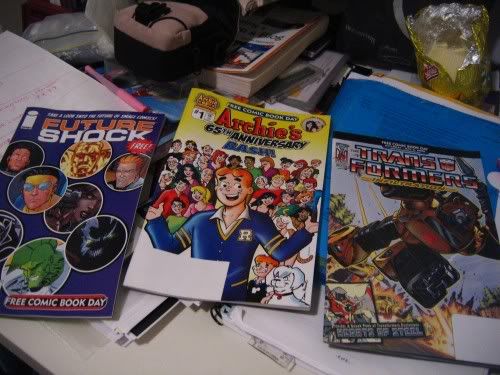 I picked up these 3 comics for free. Future Shock (a peek into the future of
Image Comics
), Archie's 65th Anniversary Bash and Transformers Infiltration.

Now, excuse me while i read them in isolation in the toilet.
Subscribe to Posts [Atom]