Wednesday, May 24
Are You A Fan Of European Football?



The Misfit

I've decided to, on a frequent basis, start talking about a sport i'm completely batty about.

If you're Australian and obsess about kicking an oval ball at the mention of 'football', i suggest you start fellating your big hairy toe - there'll be no references to a 3rd world sport here.

I am, of course, talking about the world game -

football, or soccer

as some countries call it.

I have no problems with the term football or soccer. For easy reference with my largely Australian and Singaporean viewers, i'll stick to the term 'soccer'.

With Australia's qualification into the World Cup next month, the profile of soccer has been raised considerably. You know Australia means business when Australian ministers - soccer aliens themselves - bring up soccer and Australia's chances in their speeches.

Not that i care. Nor is the big brouhaha about calling it football or soccer. There's been so much hubris whipped up by some journalists lately over the correct term that for awhile it seemed like

Australia had problems identifying what a round ball is

. For fuck sakes, football or soccer. It's the same thing. I'd call it stupid-ball-that-hits-you-in-the-gonads-if-you-do-not-shield-your-wiener if it pleases me.

Which brings me to the matter of European soccer. I'm going to incur the wrath of many soccer purists here, but i stick to my guns. English soccer over the years has become increasingly more cosmopolitan, with a glut of foreign imports from continental Europe. But the basis of English soccer is still the same; the kick-and-rush attitude that epitomises the industrialness of post-WWII England. It's all guts and glory. Nada skill.

The only facet of English soccer that sells is its global appeal - which stymmies me. Watching soccer is a 'continental Europe' package.

You can't have a cheeseburger without the tomato ketchup

. Similarly, you can't just watch soccer from a country's league. Different European soccer league plays out a different soap to you.
The Italian soap shows you how to defend.
The Spanish soap shows you how to entertain.
The German soap shows you how to work as a team.
Ask an English soccer fan in the streets of Melbourne what he thinks of the latest Arsenal signing from the Czech Republic, you'll get a wide-eyed huh? I'm better off flagellating myself.

I am of course, talking about the Czech maestro Tomas Rosicky.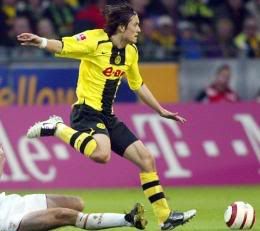 I'm a big fan of Tomas and have been following his career for the last 2 odd years. In Tomas, Arsenal finally gets the complete midfielder they've been craving for since the sale of Patrick Viera to Juventas a season ago. Equally adept with both feet, incredibly industrious and an eye for the killer pass, Tomas is most effective as an out and out attacking midfielder.

At only £7million, Arsenal has scored a transfer coup for a world class midfielder who cost his old club Borussia Dortmund £18million in 2001. His stock is sure to rise in this World Cup - not like he needs more as he's already considered one of the best center midfielders in the world.

As you'll have no doubt figured by now, i'm a huge fan of the Czech Republic. I'll be following their progress from the group stages. That's not to say i'll forsake Australia. I remember cheering and shouting myself hoarse when John Aloisi scored the vital penalty that took the Socceroos to the World Cup.
This will be an interesting World Cup. Many new gems will be unearthed, many stars will fall. I rub my hands in anticipation - an entire month of soccer. Live from my home. Time to rethink my priorities - out goes my social life, my work and other distractions.
Don't forget to ask Melburnians who Tomas Rosicky is. The look on their English soccer face will be an instant classic.
Subscribe to Posts [Atom]