Thursday, March 9
Point of View - Building A Mystery
The Misfit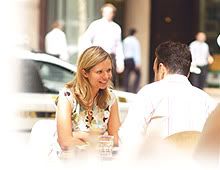 A man is waitin in a cafe for his girlfriend.

He is nervous.

She arrives late.

He asks her if he can borrow $100.

She is workin three jobs just to pay the rent.

Man:
"I hope im not too late. They're pushin me into a corner. I really need the drugs. Why cant they give me another week? I just need another week. I swear i'll pay up. Oh she's here. God she's gorgeous. I love her so much. I'd give her anything to her happiness. But why's she so late? She's 15 minutes late. Will i be 15 minutes late? Will they increase the price? Why can't she be on time? I'd have to ask now. She knows and understands my situation. She loves me and will help me. What? Why? I love you baby! Why cant you understand me? I really need this. Im payin for stuff too! That's not fair!"

Woman:
"Sally was so nice. I really needed the shift. I'll have to invite her over for dinner one day. Damn it's almost 4.30. I hope baby doesnt mind. He'll understand. I miss him already. I wana give him a big kiss. He deserves it. Oh he looks worried. Why is he sittin in this corner? And he's still smokin! What? No! Is that why he asked to meet? He lied to me! No! Please darlin. Stop takin the drugs. I thought we talked about this. I love you so much. The drugs will kill you! They will kill you!"

Subscribe to Posts [Atom]