Tuesday, March 7
Let's Talk Tasmania Day 6 - Back To Hagley



The Misfit

After 5 days of constant travellin...i was glad to return to Hagley...Samantha's home will be my base of operations for the next 2 nights...honestly i'd grown tired of all the drivin and packin...Phileas Fogg would've been proud of me...

Instead of drivin west to Hagley via Campbell Town...we took the route less travelled and headed north...along the magnificent Tasmanian east coast and up the narrow, twisty roads of Mount Elephant...there...we stopped for elephants pancakes at the aptly named
Mount Elephant Pancakes
...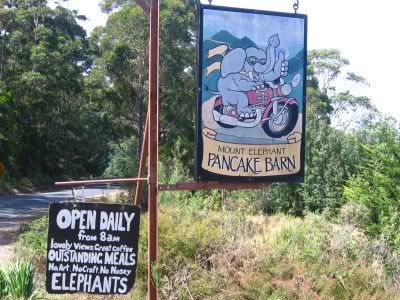 A Mount Elephant Pancakes is one of the more memorable dining experiences in Tasmania. They've 2 outlets, one here, and another in Launceston.
What a twisted sense of humour! It took me awhile to understand the last line. It looked remarkably like the English spoken back in Singapore...for several seconds i'd thought the
country's embarrassin form of English
had arrived in Tasmania...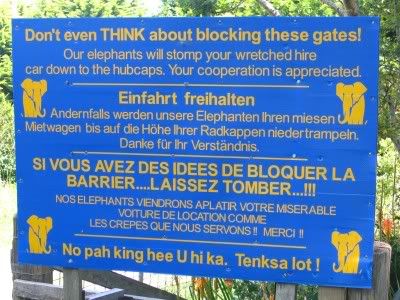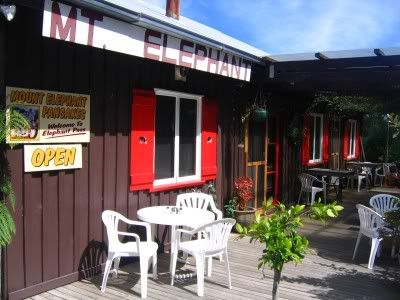 A pancake joint in a rustic-lookin shack sittin pretty atop a mountain. I dont know where to start laughin from.
Granted...they looked more like the European style crepes...i was thinkin more in line of the American style flapjacks...the pancakes in Mount Elephant come in two delectable choices: savoury (main course) or sweet (dessert)...Samantha went with a blueberry-ish ice cream pancake (sweet) with a coffee ("I've tasted better coffee," Samantha said) while i went with the chicken and mushroom pancake (savoury) with an apple cider. We had no complaints with the food...extremely tasty...i wasnt really hungry when we had stopped...but i almost ate the plate after the last morsel...Yummy!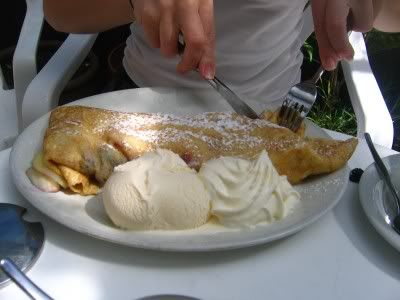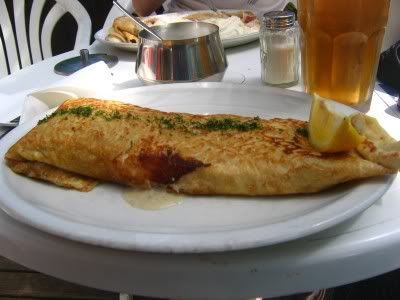 From Elephant Pass...we plodded along in the Tasmanian heat...the summer sun in Tasmania (and Australia in general) is extremely glaring and hot...it's nothin like the 'thick and heavy' heat in tropical Singapore...i'd come to Australia thinkin ive conquered heat...but i was severely mistaken...ive learnt it the hard way over the last 13 months...so for most parts of the journey i had Samantha's jacket draped over my legs and had my hands placed in front of the air-conditionin...yes it was that hot...

About 30 minutes from Launceston sits an odd occurence...the folks who own this farm love replicatin amazin feats of architecture throughout the world with bales of hay...it's really quite amazin...apparently it changes seasonally/annually...for summer of 2005/6...it's the English Stonehenge and correct me if im wrong...Mexican Pyramids...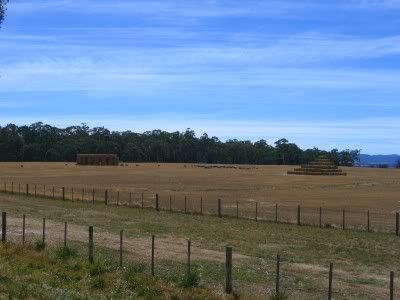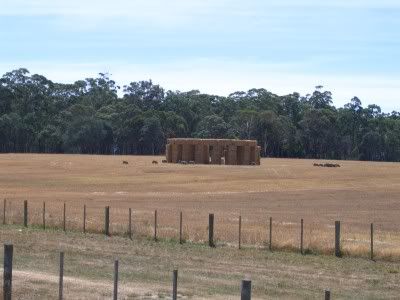 You can see sheep seekin refuge from the heat. Cute.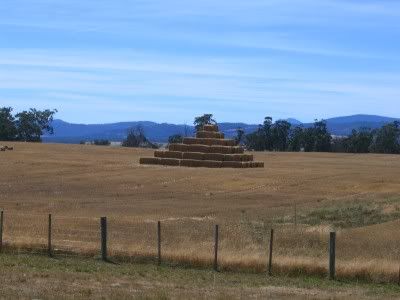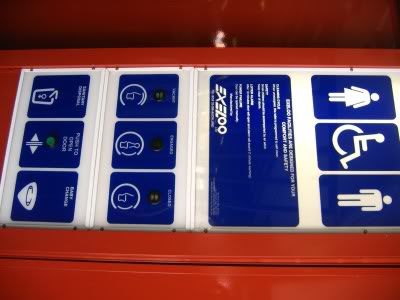 We arrived in Launceston in one piece (the heat was gettin to me though)...Samantha had errands to run...i found this self-automated toilet in the parkin grounds...i cant stress this enough...Melbourne needs more of this! Ive never seen one before...country bumpkin alert...

You press a button upon enterin and the door shuts ala Star Trek...music starts playin the moment the door closes...soothin classical filters through your ears...upon *insert toilet activity here* the toilet flushes automatically...cooolllllllllll...

More of these toilets in Victoria please...ive just about had enough with dodgy lookin underground toilets by the side of the road...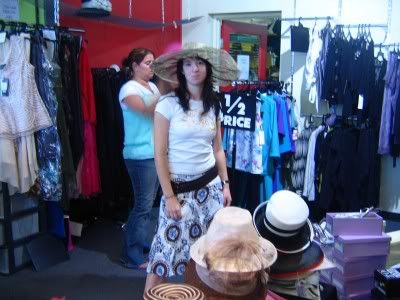 Samantha went shoppin for hats. It's the eve of the
Launceston Cup
and the tiny city's gettin all excited. She settled on a pretty orangey-reddish fascinator in the end. We're goin to the races!
Subscribe to Posts [Atom]