Thursday, January 26
A New Souvlaki Is Born?



The Outrageous

One of my first memories of eatin in Melbourne while on holiday in 2004 was of a Greek restaurant...

Situated at the corner of Russell and Lonsdale Street is
Stalactites Restaurant
...one of Melbourne's most endearin and well known Greek restaurant and indeed...'food cultural' icon i may add...afterall you dont get to operate 24 hours a day since 1978 if your food didnt taste any good!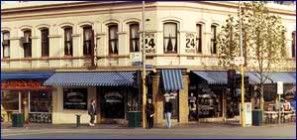 It's a restaurant i find myself visitin often due to its convenient location and satistyin food...i find myself stoppin by Stalactites for a juicy souvlaki after a day of shoppin or uni...in fact i visit it so often i even remember the prices of the dishes i often order!

The service is nothin to shout about...the Greek waitresses are rather pretty and the blokes are sadly almost always old and greyin...where Stalactites really shines is in its authentic Greek dishes...the first time i sank my teeth into a plate of saganaki (A$8) and a chicken souvlaki (A$7.50)...i knew there was no way my incestuous love affair with all things Greek will end...

Imagine my surprise when i discovered Australian Open
shock semi-finalist
Marcos Baghdatis has been visitin Stalactites regularly to recharge his batteries...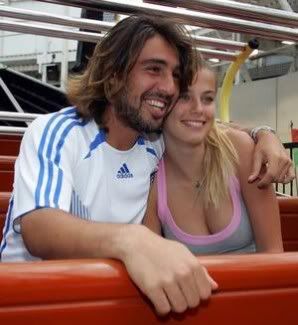 Left: Marcos and Camille relaxin in Luna Park.

In true Cypriot fashion...he's been mowin down souvlakis like his life depended on it...not that his stunnin designer girlfriend Camille has anythin to complain about...win or lose...Marcos is already guaranteed US$128,000 for his troubles semi-final appearance...

In fact Marcos
visits Stalactites so often
...the restaurant went as far as claimin it would name a souvlaki after him if he wins the Australian Open...

Im gona eat the bloody souvlaki if it's created...as that's probably the closest i'll ever get to a tennis superstar...

Or his hot girlfriend...

Haha...
Subscribe to Posts [Atom]