Friday, January 13
My First Foray Into Writing

The Misfit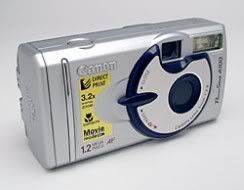 Does anyone of you remember the first time the writin bug bit you like the convenient pest it is? I almost didnt...

I was browsin and keepin myself in the know for digital cameras (im a geek and nerd like that) through Amazon UK when i chanced upon a review i wrote for one of the earliest point-and-shoot models from Canon...the Powershot A100...

The
review
was written in June 2002...that's pre-Outrageous. Beautiful. Misfit....which means it's a fuckin dinosaur...the style of writin and flow is a pre-cursor to my ellipsis-intensive, punctuation-free, hybrid American/British spellin and omission of 'ing' blog...which has undoubtedly frustrated many purists of the English language...

Hey just because i dont punctuate doesnt mean my written English is the pits..."To each his own!" as the old sayin goes...

My first article on the World Wide Web encouraged me to seek greener pastures in more recognised writin fields...over the years ive written for entertainment magazines (the wildly successful Juice Singapore)...music websites (the now defunct Indulge!)...reviewed
music
and critiqued
religion
...

Which eventually led to bloggin...the blog we've all grown to love is the fruit of all the work and effort ive put in earlier in my life...

So what was your first foray into writin like? And what got you interested in writin?

Subscribe to Posts [Atom]