Tuesday, January 24
Fabrice Santoro Rules The Tennis Roost



The Beautiful

I'd spent the afternoon watchin the live telecast of the Australian Open from the comfort of my home what with on-court temperatures reaching in
excess of 50 degrees Celsius
...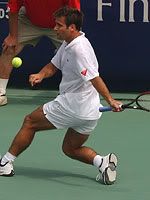 Reowned Doubles champion and always entertainin Frenchman
Fabrice Santoro
...playin in his first Grand Slam Singles Quarter-Finals was outplayed by big hittin Argentine David Nalbandian...fallin 7-5 6-0 6-0...

I do hope to see Fabrice play a few more tournies on telly before he retires...at the age of 33...his legs can no longer keep up with the younger and more atheletic competitors...but then again ive never watched Fabrice for his tennis...
At an age where tennis is consistently being mentioned in the same breath as power and stamina...Fabrice continues to astound critics and spectators alike with his cheery on-court antics and ridiculous array of shot tactics...how's this for starters - as far as im concerned Fabrice is the only player who uses a two-handed backhand AND forehand...that means...he can slice a shot either way he likes...

Above: Right-handed Fabrice with his very own variant of the two-handed forehand...a cunnin weapon to conceal the direction of his shot...what a fuckin genius...

The Age summed up Fabrice best in this article...it really makes for easy and entertainin readin...

The future of tennis? Not all strength and power i hope...
Subscribe to Posts [Atom]