Tuesday, January 17
Australian Open Beckons!



The Misfit

Im a huge tennis fan...how huge? Huge enough to shell out a Vodafone Arena day ticket on openin day of this year's Australian Open...


Tennis Virgin
Ive been watchin tennis for over 12 years...never on the grounds...always on the telly...and with this year's Open promisin to be one of the best ever...i knew my time had come to be a wide-eyed tennis virgin and venture into territory never before ventured...viva la tennis!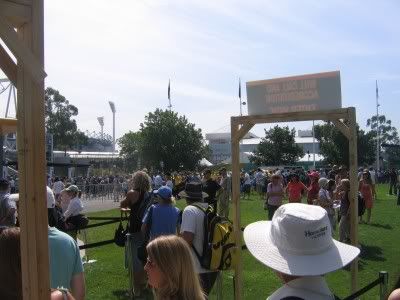 Weather Conditions
Purchasin tickets at the grounds...weather conditions didnt bid well for tennis fans...rain and thunderstorms were predicted in the late arvo...the mornin weather however was wonderful and very Melbourne...mild and sunny...comfortable indeed...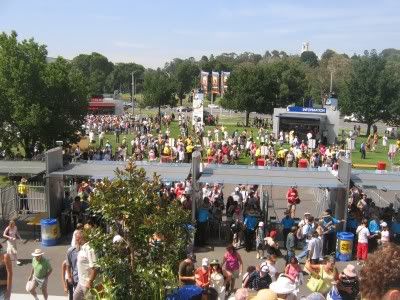 Some Crowd!
Until the huge mid-day crowd began to arrive...the mornin crowd on openin day got off to a slow start...i was able to stretch my legs at my first game...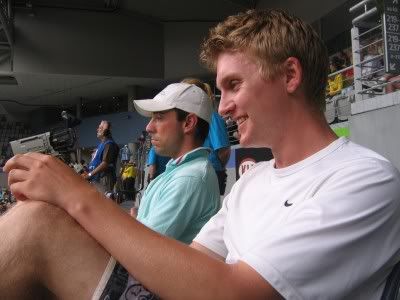 Tennis Bus
Watchin the games with me were micheLe...good mate Mark 'Psycho girls need not apply' Lockwood and his mate from Tasmania Stuart...hey Stu...why the long face...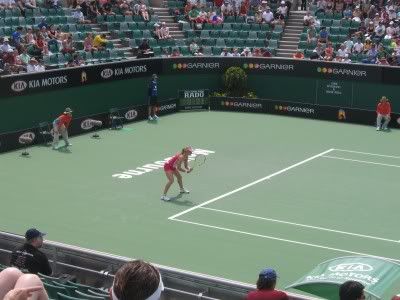 Dementieva Goes Out
Speakin of my first game...i chosed Show Court 2 for a glimpse of one of my favorite Russian girls Elena Dementieva...who's playin German Julia Schruff...in what was later a day of upsets...Elena was the first seeded player in the Open to choke and eventually lost...nerves perhaps?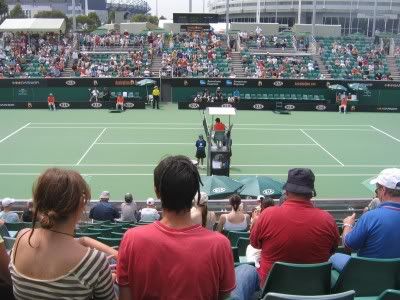 Neck Tennis
It wasnt too comfortable for my neck...turnin left...then right...then left again...neck tennis anyone? Otherwise...i had a good view of the game...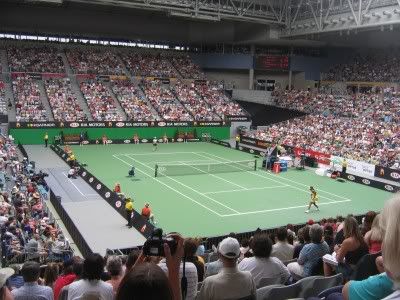 Uruk Hai!
That's my good mate Rudy's take on the Williams' sisters resemblance to the warlike great Orc warriors Uruk Hai of the Lord of the Rings fame...i headed to a packed Vodafone Arena to watch Elder Uruk Hai a.k.a Venus Williams (in a shockin yellow dress and cap no less) take on young Bulgarian upstart Tszvetana Pironkova...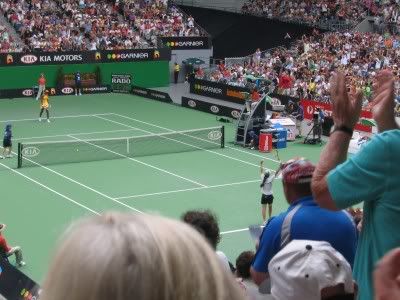 Venus Crumbles
She's strong...she's fast and she's black...she may have faded in the last 18 months...but intimidation doesnt get any better than Venus...unfortunately that didnt help Venus...an unbelievable 65 unforced errors virtually gave the unheralded Tszevetana the win...credit to Tszevetana though...in her very first Grand Slam and match...she played like a seasoned professional and some unbelievable winners and coupled with Venus's immobility...
took the victory
...just unbelievable...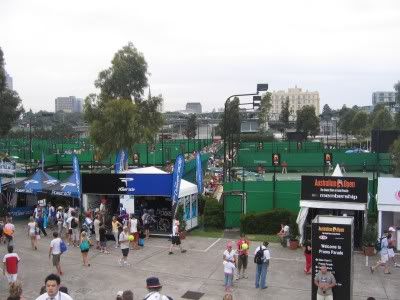 Lunch Time
Close to 3pm...i wandered around the grounds for lunch...take in more tennis in the smaller courts and keepin my eyes peeled for more upsets...the weather was now a drabby gray...tiny speckles of rain had begun fallin...wet enough for some brawlies to pop up...but not enough to disrupt play...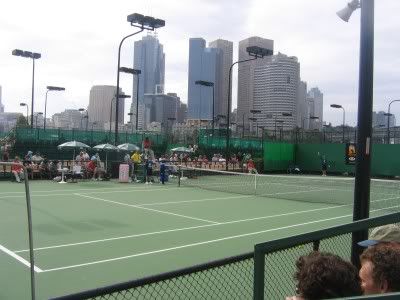 The City Looms
Like a grand old dame watchin out for her young niece...part of the Melbourne skyline overlooks the tennis grounds...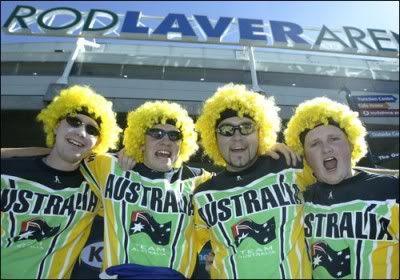 Fanatics
A Grand Slam isnt complete without its fans...there were nutty outfits...zany chants (a posse of Australian girls clad in American tops singin out American James Blake's name to the tune of Christmas carols in Show Court 3 come to mind)...the atmosphere reminds me of football (soccer) matches with their tribal allegiances...war paints on bodies and their proud displays of national flags...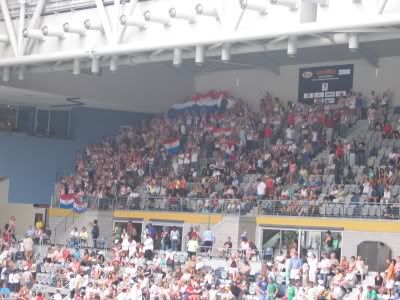 Croatian Pride
One of the most vociferous, boisterous and most noticeable fans are the Croatians...since the 2nd World War a large Croatian and Eastern European community have made Melbourne their home...the Australian and Croatian fans' singin and chantin in Vodafone Arena will mirror that of this year's football World Cup in Germany what with Croatia drawn together with Australia in the preliminary group...

Subscribe to Posts [Atom]