Monday, December 12
Cronulla Idiocy



Im back from Queensland...but i'll get to that in another post...

I did some catchin up with news every night in my Gold Coast apartment...and the racial riots in North Cronulla Beach in South Sydney piqued my interest...

For the uninitiated...South Sydney is the scene of one of the
worst violence
seen in recent times...i firmly believe the underlyin tension in Sydney is mostly racial...and yes racial tension is as ubiquitous as the next door Chinese seafood restaurant or Fish-n-Chips stall...but the outbreak pointed to somethin that Australian politicians and media has largely ignored...and that is not enough is being done to educate stupid minorities...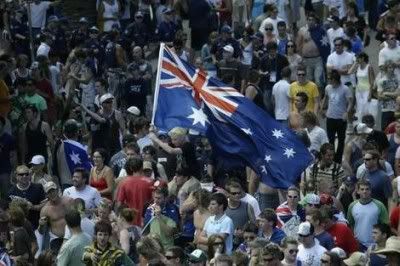 Yes...some are gona say...for every Lebanese Muslim and/or Middle Eastern bloke who gangs up on Caucasian Aussies...there're 2 Caucasian Aussies who gang up on the minority races here in Australia...who'd like to testify against that? But that's not the point...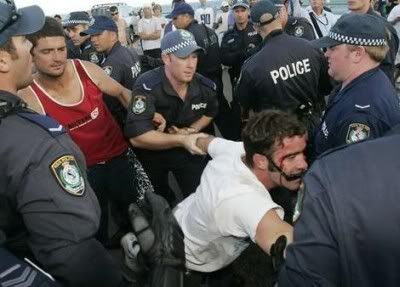 Yes...we have the silent friendly majority of Australians who have embraced the Australian way of life...and that is an open and acceptin attitude towards all religions and races...but the vocal minority needs to be educated...

Blonde hair blue-eyed? Dark hair dark-eyed? Fuckin skip? Soddin wog? Why make the distinctions and segregate ourselves? We're all here to make a livin in a country that has blessed us with the freedom to do what we want...who are we to distinguish ourselves as the homo superior? There's no one look to being an Australian...it's a wonderful country that has allowed migrants from all over the world to flourish as long as they're able to contribute to the Australian society...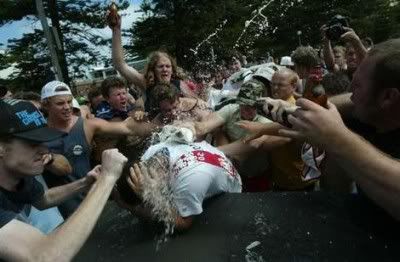 Funnily enough...in early reports policians and the media have largely portrayed the number of rioters to number in the hundreds...i beg to differ...in a matter of 10 minutes several hundreds were arrested...that means the rioters numbered in the thousands...

Thousands...imagine that...

Thousands of angry...alcohol-fuelled and racially-charged rioters...wow...how did it get to that?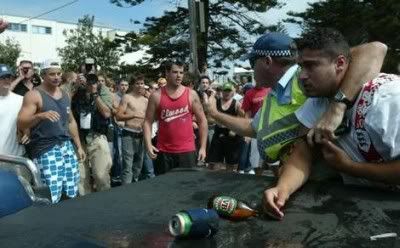 There clearly is a rogue element...White Australian? Muslim Australian? Why are these people makin a distinction? The way things are in South Sydney now...it reminds me of the anti-black sentiment that swept America in the mid 1950s...i just overheard on radio...how a girl of Middle Eastern appearance was told to get off her seat in a bus by a Caucasian girl...what the fuck?

How bout the 2 little Indian girls who were attacked? Beatin on 2 innocent volunteer lifeguards just coz you number in the tens or hundreds? Cmon...that doesnt make you an angry discriminated minority...it just means you're fuckin stupid and needs an education...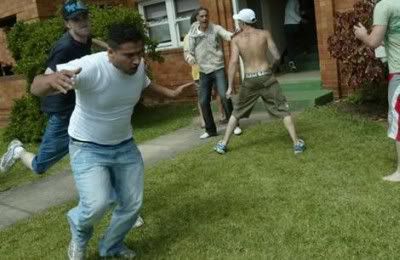 Im Asian...im a minority...i dont need to hang out with Asians or speak my mother tongue to feel comfortable...my friends in Australia come from all kinds of backgrounds...black, white, yellow, skips, wogs, gooks...i definitely dont see a need to travel in packs to intimidate and frighten people...if i feel racially harassed or marginalised...i turn to my blog and write instead of turnin to bats and beer bottles to settle a score...coz one educated man who thinks with clarity will always outfight and outdodge a mob of morons...

In post-Saddam Hussein Iraq...Australian troops of all kinds of ethnic backgrounds are defendin a Muslim country against their own people...does anyone see the severe irony here?
Subscribe to Posts [Atom]