Saturday, December 24
Christmas 2005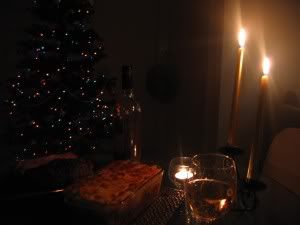 It's my first Christmas away from my family...there's a certain emptiness in me...it just doesnt feel right...but i try not to think too much bout it...afterall...such is life...and im not a bratty 16yo no more...things like these will occur more often as i get older...

It's a good thing micheLe's with me...we spent an hour preparin dinner...and as she had to work on the night of Christmas Eve...we had an early dinner...our lights were dimmed and candles lit...some good rose, shephard's pie, potatoes & cheese and smoked ham later...we felt perfectly comfortable and held each other until she had to leave for work...

So here i am...all alone on Christmas Eve...i'll be alone too when Jesus is born...

OMG im paintin a tragic picture...then again...it couldnt be further from the truth aye?

Have a happy Christmas everyone...hold on to what you cherish fondly...and never take it for granted...as it may just be taken from you...
Subscribe to Posts [Atom]