Saturday, November 12
Mouthwaterin Indeed
Singapore may be famous for the wrong reasons...but one of the world's Top 10 dance club sits right smack in the tiny anti-free speech regime...you cant mention Pacha or the myriad of awesome dance clubs in Ibiza and not mention Zouk in the same breath...

I may have bought a one way ticket to Melbourne and have no intention of returnin to the regime in Asia....but some of my best memories rest comfortably in the walls of Zouk...nights out to Zouk are always special...so many long nights on the dancefloor with awesome DJs and their monster sets...if i return to Singapore it's only really for Zouk...where people really know their music...and no drugs are needed...the rest of the world could take a clue...

This year's annual outdoor Zouk party
Zoukout
is in its 5th reincarnation...i couldnt believe my eyes as i read the stellar lineup...fuckin GOLD...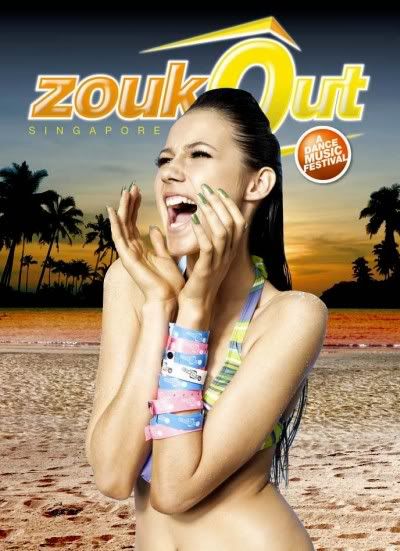 Im salivatin and havin multiple orgasms just readin their names...

Armin van Buuren killed me in 2003...and again in 2004...trance hath no fury like van Buuren...

Nick Warren's sets these days tend not to impress me too much...some of his better sets and mixes are littered across his Global Underground albums...however i'd like to check him out...it's been a few years since ive heard him mix live...

Peter Kruder of Kruder and Dorfmeister fame? I was pleasantly surprised to see his name...i was only exposed to Peter Kruder's works in Melbourne...oh boy he has some nasty tricks up his sleeves...i think the word to describe K&D's tracks is trip-hop...incredibly funky and head shakin-worthy...think Beastie Boys second album Paul's Boutique with the dance grooves...a real pity i'll be missin him spin...
Martin Solveig...i dont really know his stuff...come to think of it...i havnt given myself the pleasure of listenin to him...perhaps one day?

Lil Louie Vega and DJ Jazzy Jeff...LOL do these two blokes even need an introduction? Old school house and hip hop...i may not be a huge fan of either genre...but hey they're fuckin legends...

Chus and Ceballos...never heard them live...but hey they're tribal house enthusiasts...and that's my kinda language...

Stephane Pompougnac (lol how do you pronounce his surname anyway?) of the famed Hotel Costes cd series is another surprise...i dont own any of the Costes series...but i know it's chillout-by-the-beach and funky grooves kinda stuff...i wonder how that'll fit into all the genres...but hey...it's all good...

That said...i'll miss the event...i do hope i get to hear them live in Melbourne soon...
Subscribe to Posts [Atom]