Thursday, November 3
Bomb Scare In Williamstown
Profitting BIG TIME through eBay: 61 days left.
Way back in July...in the aftermath of the London bombings...I'd written a thoughtful post on
how safe Melbourne is
from a potential terrorist attack...

4 months on...i dont know what to think...turn on Australian radio or the tele these days...or even flip through the major papers...and you're destined to chance upon reports on Melbourne's security issues...what with the city hostin the Commonwealth Games next year...these are bleak times for the Australian government...

I had the pleasure displeasure of experiencin what a potential bomb scare is all about just 2 days ago...

It's easily the hottest Spring day (it was 31 Degrees...crikeys!) and the bomb scare could not have come at a better time...it was Melbourne Cup day...and the entire city is gripped with
Makybe Diva fever
...well i knew i wasnt gettin caught up with it...horse-racin and gamblin just aint my cuppa tea...and dressin up for the event? LOL mate i dress up all day everyday...it's Melbourne Cup day everyday for adrock2xander...

Anyway...i was out with some friends at beautiful Williamstown for lunch...one of those quaint roadside restaurants with cutesy umbrellas that barely provided ample shade on a hot November day...we were halfway through our seafood meal when we spied cops drawin up police tapes around the area...cordonin off the surroundin restaurants...restrictin the movements of people who were more intent on a fun time than causin public trouble...

A cop was stationed just behind our table...turnin people away and advicin them to make a detour...before long...i heard the cop tellin curious passers-by that there was a suspicious package by the side of the road...and they were just takin safety measures...

"A bomb...blogworthy!" i thought...without any regard for my safety (what a complete dumbfuck i am)...

Several minutes later a huge crowd had gathered all around the surroundin park and road...business was affected and people were gettin agitated...some had their cars parked along the road or had their family on the other side of the cordoned area...i wasnt too pleased either as people were standin too close to my battered shrimp...

A large truck with the words POLICE emblazoned across its body roared by us...and stopped on the other side of the road...all of a sudden...the cops decided to evacuate everyone...people sittin along the road were ordered to move inside the restaurants to finish their meals...or pay and leave...in other words...somethin's up...

We left our half-eaten meal...much to our dismay...that's my battered shrimp on the left of the picture...meh...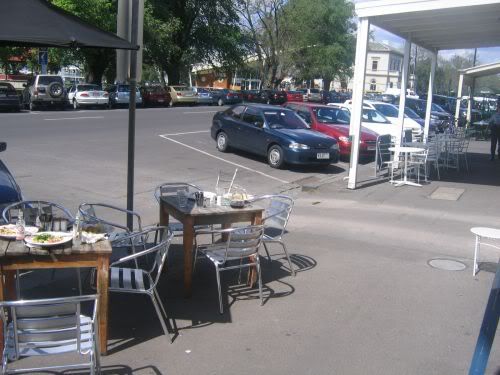 Cops were evacuatin the curious onlookers and hungry folks...suffice to say noone was happy...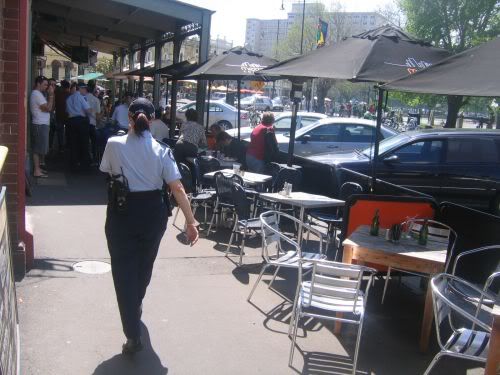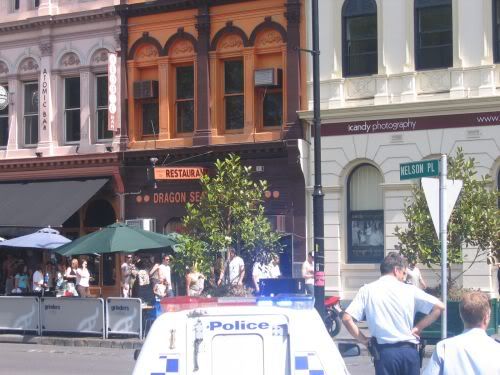 I love cops...they've the best job in the world...i mean...how else could you stop and divert traffic and not get insulted in return?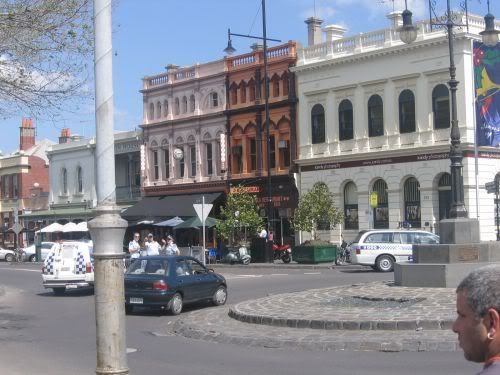 The grumblin crowd moved to the other side of the safety zone...hopin to catch a glimpse of the action...


And action they got...a robot came amblin along...one of those remote controlled ones with an arm-grappler that we're all familar with...i could barely make it out...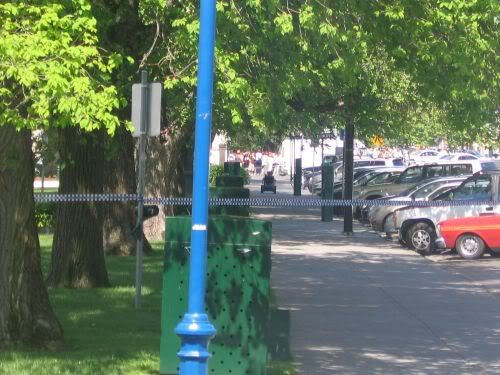 That's where the suspicious package is...between two cars...imagine how anxious the owners were...hehe...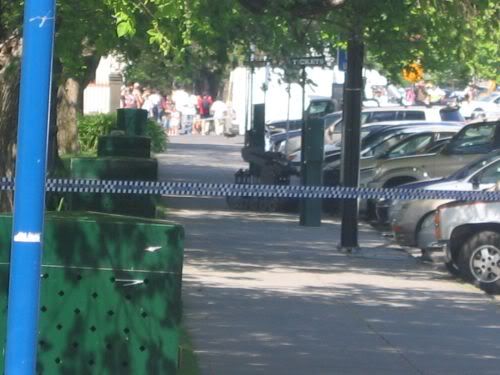 An extendable arm picked up the package...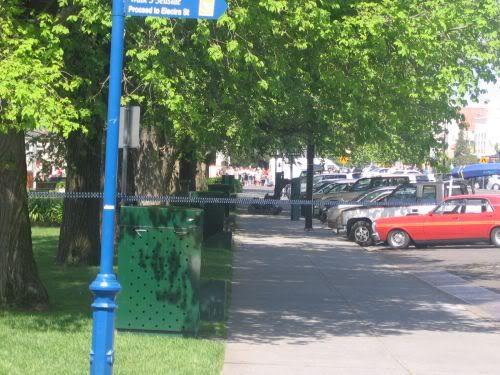 The heat got to some of the folks...they took refuge under a large tree...it was really hot...after 6 months of freezin cold...the heat was a welcome change...but it got to me too...notice how beautiful the day was...blue skies and puffy clouds...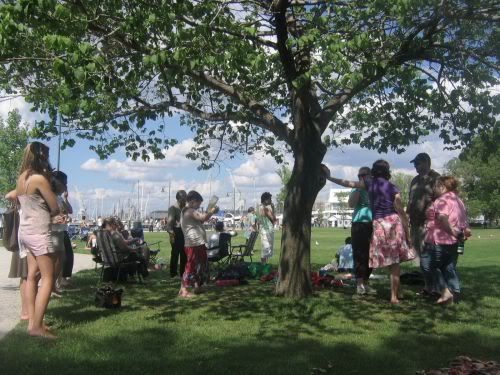 All the brouhaha...and nothin interestin resulted...as quickly as the police arrived 2 hours before...they silently disappeared...perhaps to celebrate Makybe Diva's 3rd consecutive win...or to check the contents of the suspicious package...or to collect their holiday overtime salary...God knows...

I have an opinion on who planted the suspicious package...this lady was seen walkin past our table at least twice...once before our meal was served...and once when the police arrived...while we were being evacuated she was seen millin in the area...lookin rather uncomfortable...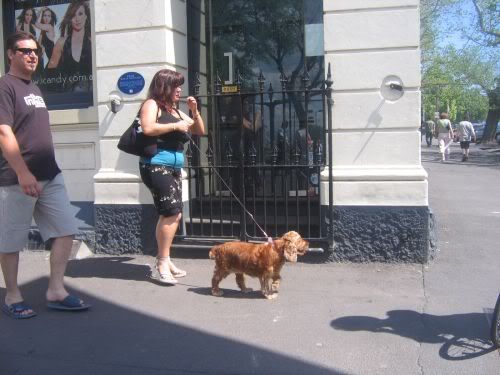 No doubt bout it...the dog is the mastermind...



Subscribe to Posts [Atom]