Thursday, November 17
Australia Through To World Cup 2006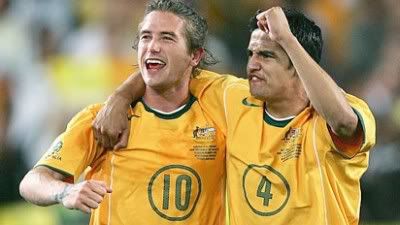 After 32 years of heartache and near misses...the Socceroos are
finally through
to Germany 2006...

With soccer languishin as the 4th most popular code of 'football' in Down Under (the other being Australia Rules, International Rules and Rugby), i dont get to brag bout soccer or watch a lot of soccer for that matter...Aussies are generally clueless bout soccer...what a sad sorry bunch i must add...the things they're missin out on...there's a reason why it's the WORLD game...

So for over 2 nailbitin hours i sat with my heart in my mouth...cheerin on the Socceroos...
Im pleased to see Harry Kewell rediscoverin his old Leeds form...Mark Schwarzer was the true hero with 2 penalty saves...Mark 'Dukes' Viduka holdin out the frontline like his life depended on it...highly underrated Vince Grella dominatin midfield play and the back trio of Lucas Neill, Tony Popovic and Tony Vidmar doin a superb job shacklin the Uruguayans...kudos to Guus Hiddink too...what a masterstroke and genius he is...he got his tactics spot on...
Urugwoi? Uruquay? Where the fuck is that? Someone pass me the map please...is it it China?

Im now officially an Australian fan...fuck Italy, England, Spain or some lame traditional powerhouses...it's go kangaroos, gold & green and Guus Hiddink...

Fair dinkum mate...
Subscribe to Posts [Atom]