Thursday, September 15
Radio Rendezvous


Profitting BIG TIME through eBay: 108 days left.

My stint on radio just gets better and better...if it's not pleasant banter with the DJs or a weekend surprise for couples...it's dodgy service from business centers...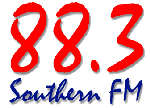 The reputation of one of Melbourne's finest clubs* took a bashin yesterday...

Peter Harrington and i were unable to travel to Moorabin in the afternoon for our weekly radio session...so we did the next best thing and used the club's Business Center to conduct a live phone-in via 88.3 FM's intercom...

Wadya know...the club's Business Center not only failed to provide us with decent service...but the phone network was dead...to facilitate us...the program manager pushed our timeslot back by an hour...but to no avail...we ended up usin the HR Department's phone...and we were only on air for 3 minutes...

3 minutes! Out of the scheduled 30 minutes! That is simply awful...both Peter and i are representatives of the Council of Melbourne City...it's a wonderful city to live in...we breathe life into the city with our wonderful weekly feedbacks and highlights...people tune into our program for the somethin special...and i feel like ive betrayed them with just a paltry 3 minutes...

I'd never seen a Duty Manager lookin so remorseful and apologetic...it doesnt bode well for this established club...i really wasnt impressed with the way the counter staff handled the situation...and far less impressed with the networkin of an 'established' club...and for God's sakes it's a Business Center...people conduct their BUSINESSES in there...

What if...and what if...John Doe had a multi-million business deal in Arizona that had to be done within 5 minutes and his cellphone was dead? Wonderful...

*The club name has been withheld for security reasons.
Subscribe to Posts [Atom]