Sunday, September 4
Melbourne's Cool Coz...


adrock2xander is 7 months 5 days without a cigarette. (Am i lyin if i say i didnt have 2 over the weekend?)
Profitting BIG TIME through eBay: 118 days left.

...where else can you possibly have dinner in total darkness?

micheLe had surprised me with a little treat over the weekend...
The Dark Side
(yep i was thinkin Darth Vader for one second) along St. Kilda road was as non-descript as its lightin...you could walk right past the restaurant and not notice it...

Food was ordered in a lighted room...there was an a la carte menu...but in light (pardon the pun) of the restaurant's edgy theme...i decided to be more adventurous...and stuck to the mystery menu...you'll eat whatever the chef cooks up...in the dark of coz...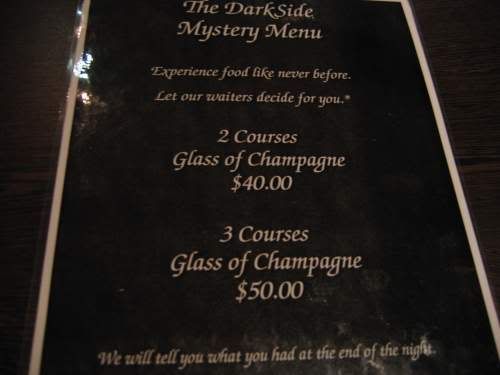 The trick is to tell the pretty waitresses what misgivings you have towards chilli or what-not...last thing you want is to suffer a spicy allergy...

We had to tie a paper bib on our necks...and in a single file and one hand on the person's shoulder...we're led into the pitch black room for our dinin experience...

The waiters had funky night-vision goggles so they could tend to us...if we wanted attention all we had to do was put our hands up in the air like we just dont care...ehm...ok just gettin kinda carried away there...


It's complete darkness...you couldnt even see ya hand up an inch from ya face...every senses is heightened...i started to appreciate my gift of sight...i cant imagine eatin blind...

The food and drinks came...our utensils came in handy for the first 2 minutes...but after the umpteenth attempt to fork a morsel of the mystery meal...i decided to ditch the fork altogether and used my hands instead...to my dismay i realised what a messy eater i was...ive to give a thumbs up to the Indians who've been eatin with their hands for thousands of years...

The fun part is tryin to figure out how many people were dinin next to ya...laughter became a loud din...the clinkin of wine glasses and cutlery were akin to steppin on broken glass...i had one hand on micheLe's hand most times...mostly out of somethin familiar to hold on to...and bottles of beer became a hazardous obstacle...trust me you dont wana tip ya bottle of beer over...its's wet and you CANT SEE the mess...

The meal was satisfyin...micheLe and i had fun tryin to figure out what we ate...feedin each other was the order of the day...and of coz...along came Mr Messy...

Sight is such a powerful gift most humans dont give a second thought about...for almost 2 hours i was gropin...feelin...listenin...touchin...tastin and smellin...it is true when they say your other senses become more attuned to the surroundings when your sight is gone...you simply have to rely on them to move around...

And we were only sittin down...i understand the plight of blind people a tad bit more now...

You cant even begin to imagine the stingin pain in ya eyes when you're led out of the restaurant to the bar outside...i had to blink them repeatedly for a minute or so before order was restored...

While payin at the cashier the cute counter bloke told us what dastardly deed was performed on our tummy's innards...turned out i had cream cheese and veal for entree...red snapper for the main and sticky date puddin for dessert...

Yummies...

Awesome meal experience...it's perfect for a second date (for obvious reasons haha)...
Subscribe to Posts [Atom]