Tuesday, August 9
A new Leeds United


adrock2xander has been a fan of British football for 14 years, during which his legendary and unwaverin loyalty to Leeds United Football Club was the stuff of legends with his mates in Singapore. In a region where Scumchester United reigns supreme, he has resisted the red tide of bandwagoners and football non-knowers and had the last laugh when Leeds qualified for the semi-finals of the Champions League in the 2000/20001 season after being branded as 'no-hopers'. He wishes to express utmost support for the club's renewed bid to return to the Premier League and also a big FUCK YOU to those who dont give a rat's ass bout Leeds United. Yeah...that's right...dont look away now...

The months has passed...the season is different...and the team has changed...but Leeds United has progressed...so much so that Soccernet.com deemed a special report was in order...all the hurt and the pain...will it be different this season? I cant wait...English football fans...i tell ya...the action is in Championship League...not in the Premier League...it's a foregone conclusion...coz Chelsea's gona win it again...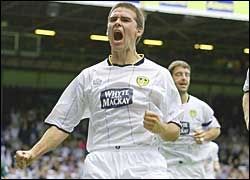 David Healy celebratin after scorin the first of his brace against Millwall in Leeds' openin game at Elland Road. Cmon Whites!

Norman Hubbard's article off Soccernet.com:



The road to redemption?



Norman Hubbard

"It could read 'what a difference a year makes'.

But at Leeds United, what a difference every year makes.

The change, however, is pronounced, even by Leeds' standards. Last year, manager Kevin Blackwell recalls signing three players on £500 a week on the eve of their opening match, against Derby County.

Frazer Richardson's goal gave Leeds a 1-0 win, but it marked the start of another traumatic season at Elland Road. Blackwell gave 28 debuts - to youth players, loan players and players on short-term deals - an average of more than one every other game.

A 14th-place finish was overshadowed by takeover talk, near bankruptcy and, eventually, their knight in a white beard, new owner Ken Bates. Cue more changes, though not to the management of the club. And for his second year at Leeds, Blackwell's squad bears little resemblance to the hastily-assembled mish-mash who started last year.

Of the team who faced Millwall on Sunday, only left-back Dan Harding could be described as inexperienced. Indeed, there were more parallels between Leeds last year and Millwall now, on their third manager in four months and recovering from a summer firesale.

The days of Peter Ridsdale's largesse are long gone but, in Robbie Blake, Leeds possess one of the biggest buys in the Championship this summer.

A hike in season ticket prices may have financed the move - and accounted for a comparatively deserted Elland Road on Sunday - but Leeds have been able to spend again this summer.

Besides Blake, Harding cost £450,000 from Brighton and, following a loan spell, Rob Hulse signed from West Bromwich Albion for an undisclosed fee.

Ian Bennett and Steve Stone are a pair of mature recruits on free transfers.

Eddie Lewis swapped Preston for Leeds while the versatile Angolan defender Rui Marques was a seventh addition.

It gave Blackwell a tougher job selecting the side to face Millwall. There was, he said before the game, 'a fag-paper' between Bennett and Neil Sullivan, who got the nod in goal. He was able to outline the competition for places throughout the team; Richardson or Gary Kelly at right-back, Harding versus Stephen Crainey for the left-back spot, Paul Butler, Sean Gregan, Matthew Kilgallon and Marques in the centre of defence. And so on.

The overall impression was that one of Jose Mourinho's stated aims - two players for every place - has found favour at Bates' new club. In the Championship, where the transfer window comes into effect in three weeks, it is a sound philosophy - if you can afford it.

And it can be necessary. With Hulse and Stone missing the start of the season, Jermaine Wright was pressed into action on the right of a workmanlike midfield where American Lewis provided the attacking outlet on the left. Without Hulse, Leeds have two proven Championship goalscorers in Blake and David Healy, who scored twice in the win against Millwall.

But their preference for playing with a target man ignored the strengths of the smaller Blake and meant they made hard work of beating a depleted Millwall side.

It meant Michael Ricketts was given a chance to resurrect his Leeds career from the bench though, after failing to score a league goal last season, it may take more injuries for him to feature regularly.

He has hardly scored for three seasons but Ricketts is one of nine players in the Leeds squad - with Bennett, Butler, Gregan, Stone, Wright, Lewis, Blake, Hulse and Shaun Derry - who have won promotion to the Premiership. It is often a good indication of a team's prospects in the Championship and bodes well for Leeds, where bonuses are based on a top six finish.

Though he has always denied reports he earned £37,000 a week, Seth Johnson should be less reliant on extra income than most. His release last week leaves Kelly and Eirik Bakke as the only survivors of Leeds' Premiership days, among the senior players, though their wage bill is still inflated by continuing commitments to other clubs for well-paid alumni. Like Johnson, the Norwegian has only had occasional outings in two, injury-hit seasons.

He has been treated very differently, however, with Blackwell enthusing: 'I think Eirik can get even better.'

It was Bakke's quick footwork that won Leeds the penalty for Healy's winner against Millwall. There was enough in his performance to suggest that Bakke, like Leeds, is on the way back.

Which won't meet with universal approval. Leeds' fall from grace - if a team that included Lee Bowyer could ever be called gracious - attracted almost unparalleled levels of schadenfreude.

The affable and ever-quotable Blackwell and his assortment of Championship promotion specialists are yet to reach such levels of unpopularity with opposing fans.

And at least with Simon Jordan aping Peter Kenyon with his one-eyed predictions of success for Crystal Palace, Bates may not be the most disliked chairman in the Championship.

But nothing irritates like success and that could change if Leeds mount a sustained promotion push. And that would be very different from last season."
Subscribe to Posts [Atom]