Thursday, August 25
Maccas Boycott
adrock2xander is 6 months 26 days without a cigarette.
Profitting BIG TIME through eBay: 128 days left.


Ahhh yes the Golden Arches' potato. Fries they call it in other parts of the world. Chips they call it in Australia. Different names, same thing. Taste wonderful dont they?

Now imagin a Big Mac meal without a side of fries. Yeah. Impossible to think isnt it? But if some people had their way...it may just come true...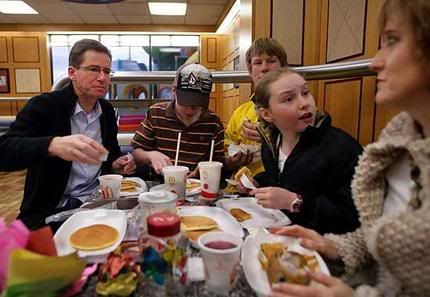 Senator Fielding with his family in Maccas last week.
Unprecedented first:

"Australians have been urged to boycott McDonald's fries in support of home grown products in a campaign the federal Labor Party has labelled irresponsible."

I couldnt care less bout the state of governin in Australia...but when a particular soft spot of mine is
under threat
from some profit-minded head honcho...it ticks me off...

Damnit i'll eat imported potatoes if i want to...im fuckin payin money for it...and potatoes are potatoes...dont matter if they're from Angola or Australia...they taste no fuckin different to me...
Subscribe to Posts [Atom]