Thursday, August 11
Below The Mercury


adrock2xander is 6 months 12 days without a cigarette.
Profitting BIG TIME throught eBay: 142 days left.

Now this is what winter's all about...

Winter 2005 in Melbourne has been a bloody let down so far...with 20 Degrees Celcius afternoons and cool evenings...it has been more like spring instead of winter...but lately our Winter Dance has been answered...and the cold came...and hasnt left since...

It's -1 Degrees Celcius right now...i'd made the mistake of headin to uni in just 3 layers of clothin in the mornin...non of them really favorin heat insulatin...how quickly temperature dips...imagine the shock to my system after steppin out of my first class...it was easily 5 Degrees and all i had was the flimsy tops i had...

When you've spent ya whole life in the tropical climate of Singapore...you kinda look forward to cold...it's a welcome and refreshin change...but when cold starts to hurt your bones...you dont wana be messin around with it...my fingers were so fuckin numb i couldnt even type out the report i had to present by 5pm...a warm cup of coffee did facilitate movement...but what us Melburnians need isnt warm coffee...it's a bloody hot tub of water to dip our hands in...

It was even snowin in the suburbs of Melbourne...the city had a 40% prediction of snow fallin...unfortunately we didnt get a white shower...it'd have been really nice to see snow fallin...

Im 26yo and have never seen snow in my life...kinda pathetic eh...well if i dont see it in Melbourne City itself i'll just have to head out to the mountains or higher elevation to see them...coz that's where all the snow's fallin...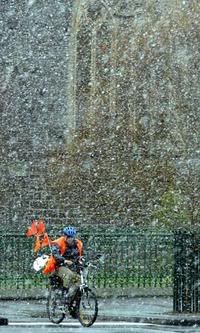 Snow fallin in the Melbourne suburbs
The Age's article on the
predicted snow
really got Melburnians all excited...snow was last sighted in the city 20 years ago...mush or not...it's still fallin pretty white things...and i'll love to watch them fall in my hands...beautiful sight...


So while the entire city embraces the cold...her people huddle at home to keep warm...the heater's turned on at home now...it's a comfortable 24 Degrees Celcius...cant complain there...

A cold winter's night...
Subscribe to Posts [Atom]