Saturday, May 21
"We're witnessin history in the makin..."
adrock2xander is 3 months 22 days without a cigarette.



That's what i whispered to micheLe as the black face mask was lowered onto the disfigured Anakin Skywalker...

It was the 2nd night of screenin...Star Wars fever still has a vice-like grip on Melbourne...i was one of the lucky few to see it before the weekend...Revenge of the Sith...is hands down...the Star Wars movie you'd wana see if ya still unconvinced of the Dark Side's lure...and for those who still cant differentiate Star Wars and Star Trek...well...good on ya mate...

So wasnt it pleasant to find several life-sized Star Wars figures millin around the crowd in the cinema lobby...i turned from a 26yo man to an 8yo putty in like a second...couldnt stop mobbin them...
Darth Vader was a lot shorter than he looked...but he's quite friendly i reckon...haha...


micheLe had designs on being the next Sith Lord...Darth Vader wasnt too happy with that...so he clamped his hands around her neck...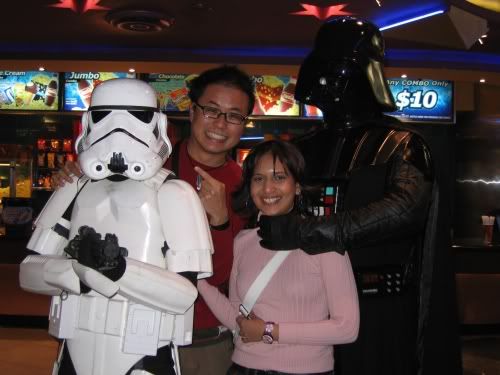 I wasnt too pleased...so i threw Darth a very threatenin look...




An Imperial Guard spotted me makin monkey faces at Darth...and that didnt go down well with him...as punishment he made me pose with him...and damn we look alike...hmmmm maybe it's the shirt? :O




Along came a Jedi Knight...who saw an Asian being harassed...he chopped down the Imperial Guard in one fell swoop...and saved my life...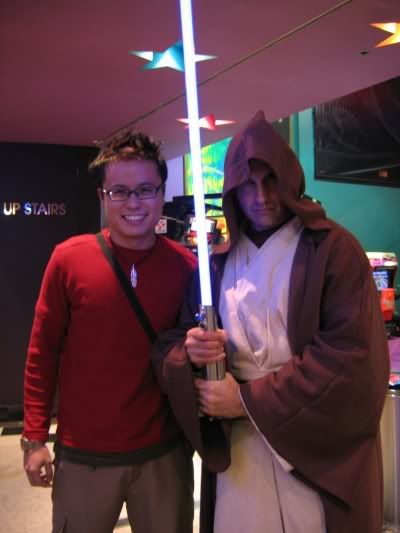 Somehow the Storm Trooper survived...last i saw he was holdin a bloke hostage in the arcade...poor bloke couldnt even play his game in peace...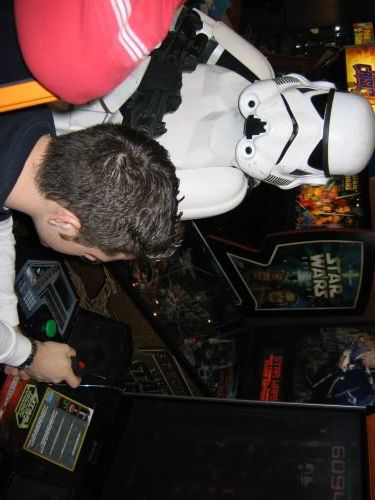 Not gona spoil it for anyone...but i suggest everyone should catch Star Wars Episode III over the weekend...it's 140 minutes of good entertainment...a 28yo saga that took 6 movies to deliver is finally complete...get a large popcorn and coke...sit back with some of ya buds...and enjoy...
Subscribe to Posts [Atom]