Tuesday, May 3
A Weekend In The Country - Full Post Part 2



Part 2 starts here.

Echuca is famous for transportin visitors back to the 19th century when the little town was once the busiest inland port in Australia...paddlesteamers were used to transport goods across the Murray River...which snakes around the states of New South Wales and Victoria...these days paddlesteamers are used primarily for touristy stuff...a new look or not...the fact that these steamers still exist and are operational after 150 over years amazes me...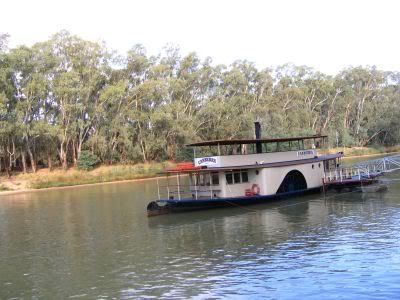 Funny Fact - Folks in Echuca must like being on the jury a lot...apparently drinkin coffee is a life and death matter...




And whoever said nightlife in the country was dead? You get the usual fare here...RnB...Top 40 hits and some lame teenage band doin even lamer covers of songs...but hey...like they say...if it aint broke...why fix it? :O

That's Jessica and Aunt Sue...she is hands down...the coolest aunt in the world...i dont remember the last time i could swop insults and hurl desparagin remarks at an adult without fear...and dont let the crows feet and wrinkles around her eyes fool you...for she's not a day past 30! *coughs* As if! *coughs*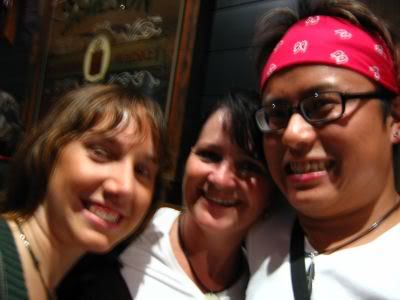 Aussie blokes and their girlfriends are game for anythin when they're drunk...such as posin for a picture with an Asian who sticks out like a sore thumb...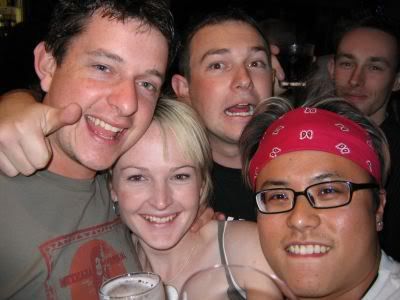 We ended up at some old fogey joint...we're talkin bout a place where every other person is a day away from retirement...as you can see...my bandana grew legs and travels around...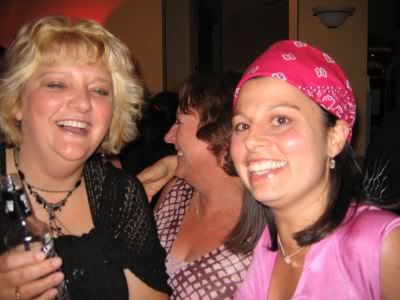 You cant not get out of the city and not have a lazy picnic...this is beginnin to sound a tad bit old...but growin up in tropical South-East Asia...the idea of a picnic is a laughable matter...it gets hot and sticky all day everyday...and one is better off in an air-conditioned shoppin mall...

So here i am...all 26yo of me...havin my very first picnic...in a beautiful vineyard...where the river flows behind us...some sunlight peeks in from the trees...everyone is happy...it's a scene straight out of The Wind in the Willows...where Badger, Mole, Rat and Toad are dancin along the river...havin fun...not a care in the world...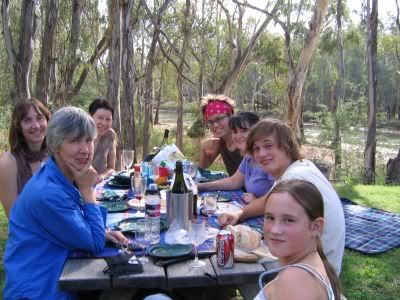 Anti-Clockwise from top:
Mommy Marg...Jessica...Aunt Siãn (pronounced Shan)...her daughter Anna...Mads (pronounced Mass) - he's an exchange student from Copenhagen, Denmark...Aunt 'Dont mess with me coz im hot' Sue...and adrock2xander...

Not in picture:
Daddy Chris...sister Emily...

All in all...the weekend in Echuca cleared up my troubled mind and refreshed me...im glad i took up the family's offer...i came to Echuca with no expectations...it was a lazy weekend...and after all the sightseein...wine tastin...eatin...horse ridin and sleepin...one cant not leave the town with a pleasant smile on ya face...it's no bungey-jump...no one's gona die while visitin Echuca...but it's the slow-ness of the town that really charmed the pants off me...

On the bus home...i cant help but question my identity and place in society...ive spent my whole life growin up in an Asian environment...contact with Caucasians were limited to telecommunication and her lesser cousins...ive never really understood what it's like to stick out prominently coz ya of a different race or skin color...my experience in Melbourne was less of a culture shock than 'fittin in'...i would never ever have a problem assimilatin in a Western society...but i always felt...that somehow...that people will always ostracise me coz im not 'Australian'...

But in Echuca it dawned on me that people in general are not always suspicious of somethin different...i could count with 1 hand the number of Asians i saw in all of 2 days...but i felt so comfortable...everyone was friendly and receptive...and i have my city outlook to thank...but no one questioned where i was from or whether i spoke English (geezz)...everyone instantly assumed i was from Melbourne and asked why i was in Echuca...

It's gona sound ironic...but for someone who's been tryin his whole life to be different...i realised that i am different...partly coz im an Asian in a White Man's world...and partly coz i dont have the im-desperately-tryin-to-fit-in-look...

Such a revelation...and i needed to travel 7000km to Melbourne...and 250km to Echuca to discover it...oh well...sometimes life deals out its trump card in its weirdest ways...

I would like to thank the Noske-Turner family for havin me...the food was wonderful...the company infectious...ive spent my whole life dreamin it...and up until this time last year i was still dreamin it...but i think i can now whistle my very own 'The Wind in the Willows' tune in my head...

Many hugz from the big city boy,
adrock2xander
Subscribe to Posts [Atom]